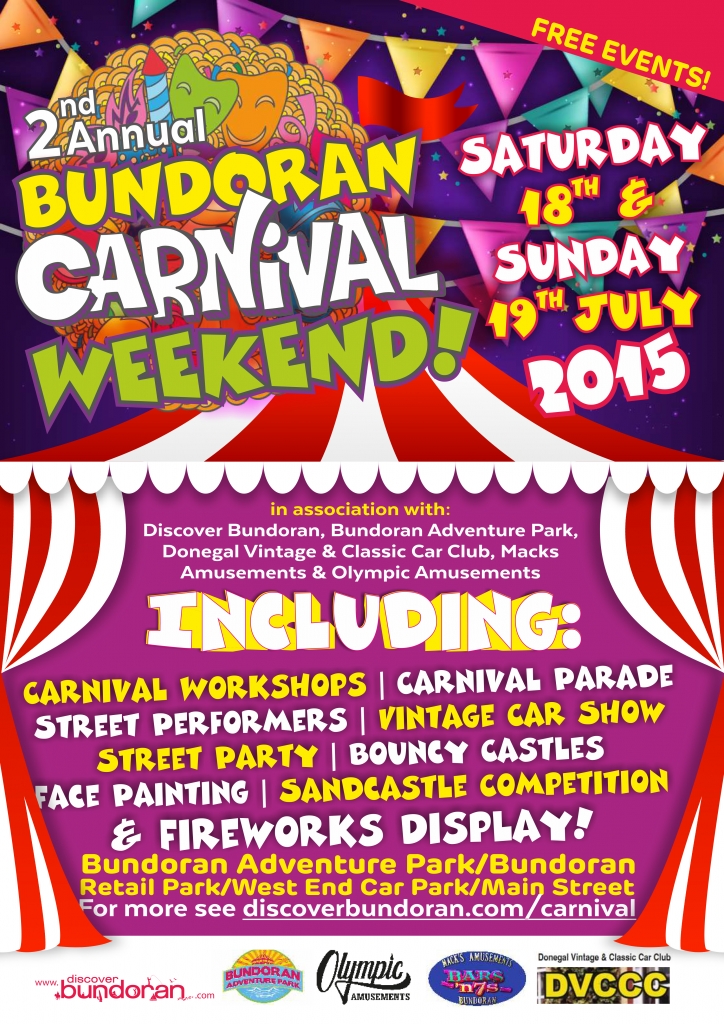 Full Details of Bundoran's Summer Carnival to follow!
Saturday July 18th:
Carnival Workshops at Bundoran Retail Park –
Workshops coordinated by dark daughter productions  
Unit 1   Retail Park Bundoran
Kids storytelling session / interactive fun   11am to 12 noon
All ages
Adm 5e     family rate available
Kids carnival workshops                                               12.30pm to 2pm  
Kids drumming workshop
Kids dance workshop
Ages 5yrs upward
Adm. €5   family rate available
All participants are invited back at 7pm to costume up and be in summer carnival parade
Family fun make and do carnival workshop /carnival prop / banner making workshop
Face painting                                         3pm to 5pm
Family rate 10e for family ( up to 4 in family)
On street circle drumming (bank of ire) 3pm to 5pm 
Facepainting also at this location   2pm to 7pm
All participants are invited back at 7pm to costume up and be in summer carnival parade
Circle drumming workshop      6pm to 8pm
Adults and teens
6pm to 8pm
Free to all
Carnival costuming / formation and line up         7pm to 8pm
Free Carnival Entertainment at Bundoran Adventure Park
Carnival Parade at 8pm (free)
Fireworks Display at 10.30pm (free) – Viewing area at Main Beach Car Park or along sea front.
Sunday July 19th:
Sandcastle Competition at 11am (free)
Vintage Car Display at 12 midday at West End Car Park (small admission charge)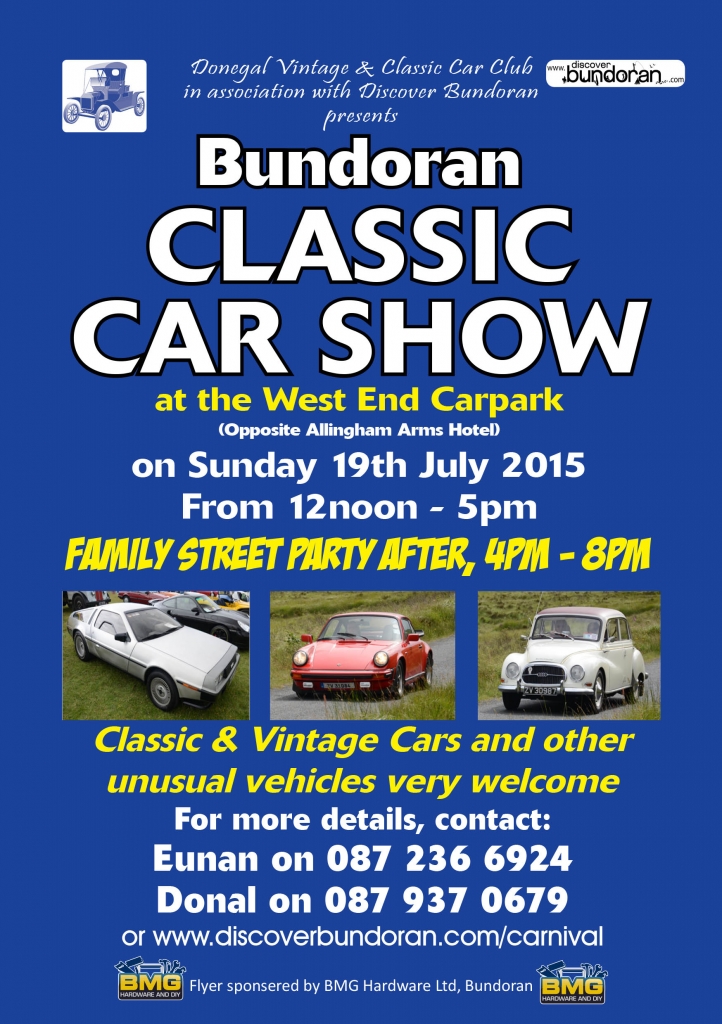 Street Party at 4pm on Main Street including bouncy castles, rodeo ring, bungee run and more. (free)
This is a FREE event for all the family and will include bouncy castles, a bungee run, an obstacle course, a rodeo ring, Unstoppable Street Band, facepainting, and lots more!
Traffic Restrictions:
Main Street Bundoran will be closed to through traffic from 3pm until 8.30pm on Sunday evening 19th July.
Event traffic can divert via Atlantic Way or Tower Lane for parking.
Through traffic for Donegal or Sligo should use the main N15 Bundoran Bypass
Parking restrictions will be in place on Main Street from 1.30pm on Sunday afternoon.
Cars will not be permitted to park on Main Street for the duration of the event and parked cars must have vacated the Main Street area (between the Olympic Towers and the Grand Central Hotel junction by 2.30pm).
Event Parking:
Parking for the event will available at Station Road Car Park (Library/Supervalu) and also at Atlantic Way – parking is free after 6pm.  Free parking is also available in the West End Car Park all year round.
Disabled Parking:
Disabled parking will be available at Station Road between the roundabout outside the Medical Centre and the Main Street
Weather:
Any updates on the event due to weather will be communicated via our website, Facebook, Twitter and Ocean FM.