Business and trade resources during the Covid-19 outbreak:
National Action Plan in relation to Covid-19 
Latest Government Covid-19 Updates
HSE Posters and other media resources
Latest Poster in English – 11th May 2020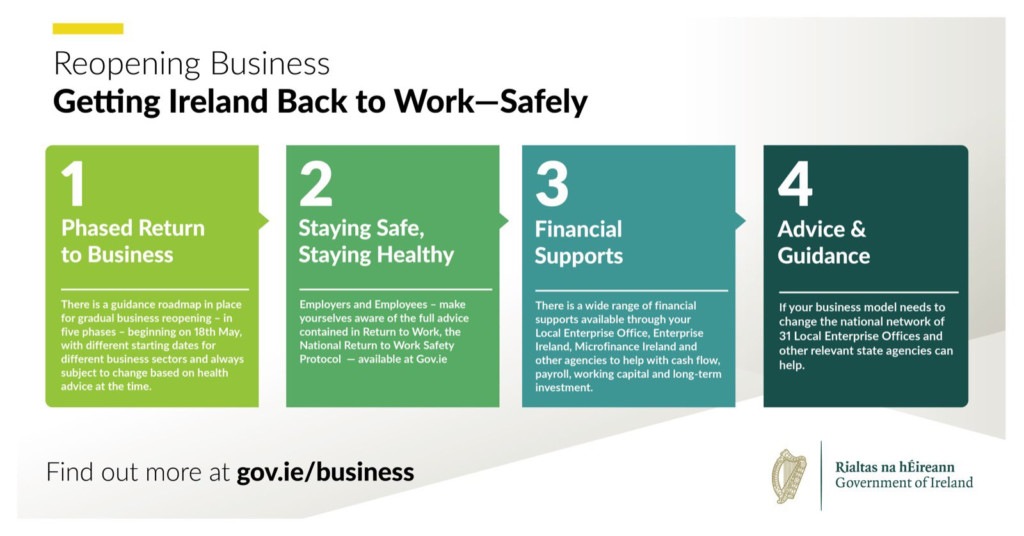 Getting Back to Work Safely Protocol Document
Covid-19 Irish Government Stability Fund – read the details and apply here
Updates from the Local Enterprise Office – more details can be found here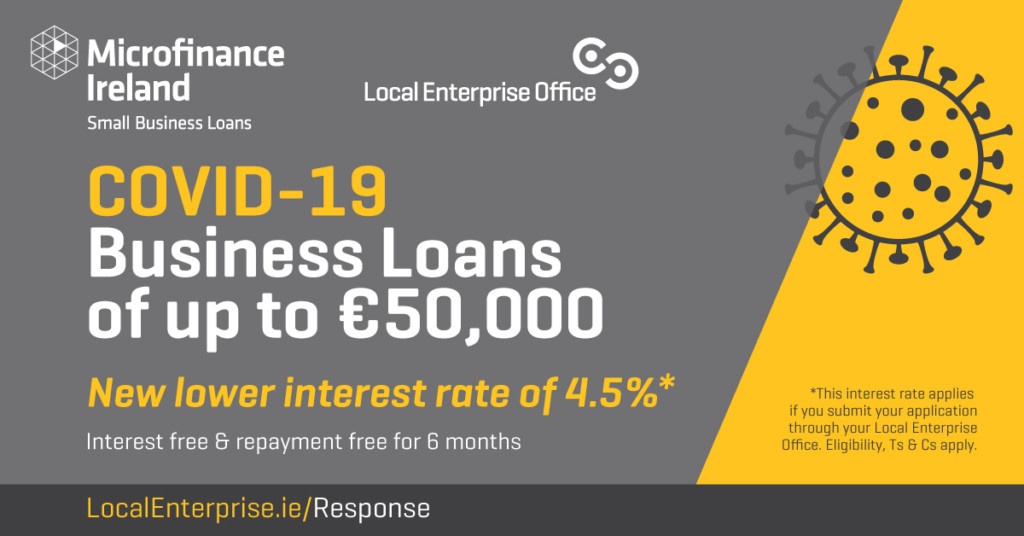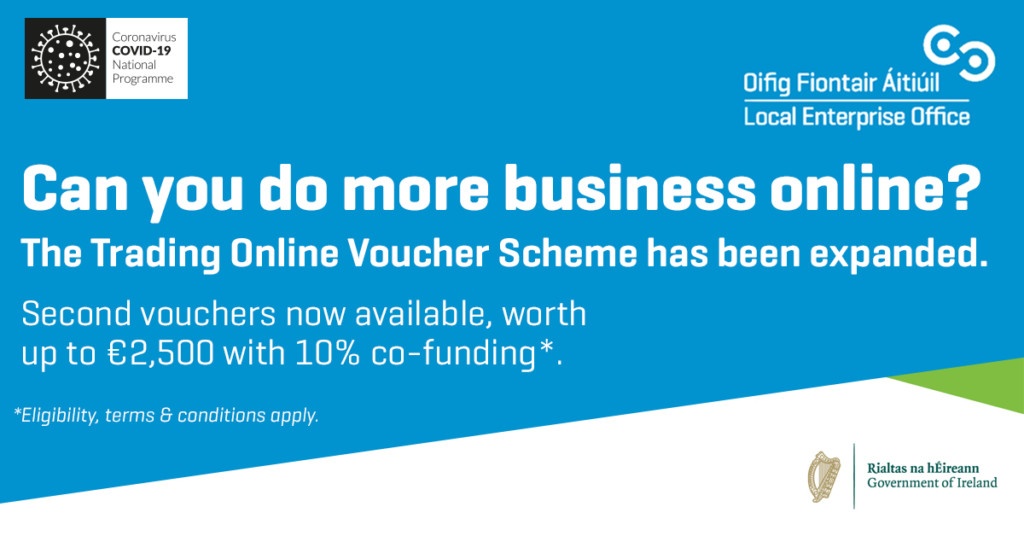 https://www.thedoorstepmarket.ie/store-setup/ – The DoorStep Market allows small, independent Irish companies (employing 50 or less) to register on it for free and set up their own online shop. It is been created in response to the COVID 19 crisis.
NSAI Retail Protection and Improvement guide
Failte Ireland webinars:
Failte Ireland – coping in unprecedented times
Playlist of videos from Failte Ireland with some useful information specifically related to the Coronavirus situation.
Facebook Small Business Grants Program
Updates from Donegal County Council
Department of Rural Community Development updates – communication pack
LEO Business Continuity Voucher
Updates and resources from Department of Business, Enterprise and Innovation
The livestream from Rural Enterprise Skillnet on Wednesday 25th March.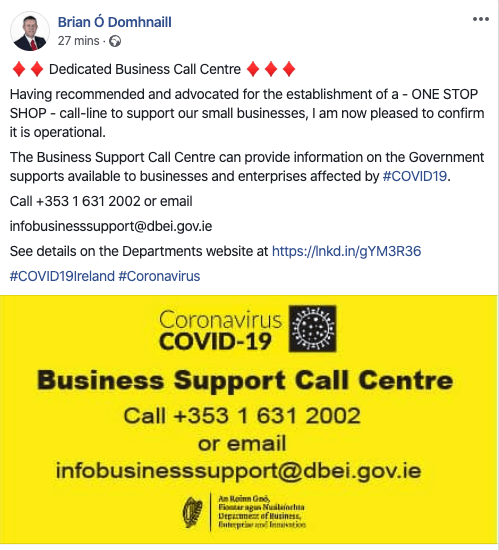 The Health Service Executive (HSE) HSE website is the main source of information: It has the most up-to-date information on the Coronavirus, and it is updated daily.
The Health Protection Surveillance Centre (HPSC Website) has a helpful 'Frequently Asked Question' (FAQ) section, and it is also updated daily.
Public Health Advice
For all questions arising as a consequence of COVID-19, employers are directed to the public health advice issued by the HSE. It is essential that all employers abide by this advice.
Income Support
The Department of Employment Affairs and Social Protection have a range of measures to provide income support to people affected by COVID-19 (Coronavirus) which are available here.
Business Continuity Planning Checklist
This checklist identifies a range of issues for enterprise to consider in responding to the COVID-19 outbreak.
Government Supports for Covid-19 impacted businesses
Practical steps for businesses to take in dealing with immediate and severe financial challenges arising from the Covid-19 crisis
Government supports for working capital
Strategic Banking Corporation of Ireland
MicroFinance Ireland Loans – businesses can apply through the Local Enterprise Office or directly to MicroFinance Ireland
Donegal County Council Commercial Rates
Ratepayers experiencing difficulties in paying their commercial rates are being encouraged to contact the Council directly by calling 074 91 53900 or by emailing info@donegalcoco.ie or contact staff directly dealing with their account- see detail here.
Other supports available
Business support agencies have a range of supports available to help businesses during this crisis:
Update for PPN Members – March 24th 2020
The National Public Health Emergency Team (NPHET) is leading our public health response to COVID-19 and a National Action Plan was published on 16th March, setting out a whole-of-society response and mobilisation of resources across Government and society to fight the spread of the virus.  This Community Response Action Plan supports the National Action Plan and is focussed on our initial response in supporting a community response to COVID-19.
We have produced a Communications Pack for community and voluntary groups and members of the public and we would appreciate if you distribute this information across your networks, to members of your group, neighbours, friends and recipients of your service.  This pack contains:
1.      Department of Rural and Community Development – COVID-19 Government Action Plan to Support the Community Response.
2.      Information leaflet "You, Your Community and COVID-19" – We would ask that you distribute this across your communities, to individuals and in particular, those that do not have access or knowledge of digital platforms.  Maybe include them as part of a meals on wheels drop.
3.      How can I volunteer?
4.      Sensible volunteering – Do's and Don'ts
5.      Advice for local community groups – how can we get volunteers?
6.      Advice for vulnerable people who need supports
7.      How to guard against fraud and generate trust
We remind you that the HSE website is the key source for health advice: www.hse.ie/coronavirus. It also includes posters and other resources that can be used in your community.
Our email helpdesk facility is available to assist you with advice or queries and is open 7 days a week – C&VSupports@drcd.gov.ie
We thank you for your assistance in spreading these important messages.
Kind regards
The Department of Rural and Community Development