All My sons at Abbey Arts Centre

All My sons at Abbey Arts Centre
Where: Abbey Arts Centre
When: Sat 7 May 2022 - Sun 8 May 2022
Time: 8:00 pm - 10:00 pm

Address: Tirconnell Street, Ballyshannon, Co. Donegal
Phone: (071) 9851375
Email: info@abbeycentre.ie
Website: https://abbeycentre.ie/

Description

Ballyshannon Drama Society Presents  'All My sons'  at the Abbey Arts Centre Ballyshannon on Sat 7th  May and Sun 8th May  from 8pm tickets:€15/€12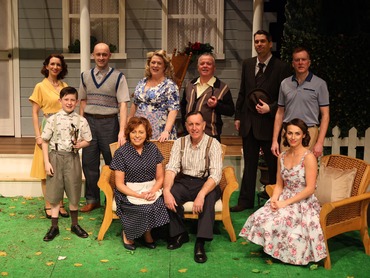 We are delighted to announce Ballyshannon Drama are coming back with their award winning production of 'All My Sons' before they head off to Athlone for the RTE All Ireland Open finals.
Joe Keller, the patriarch in All My Sons, desperately wants to secure and maintain the financial security and legacy he spent so many years building, ready to hand it down to his surviving son Chris. At the same time, Joe's wife Kate is still waiting for their eldest son Larry to return from war, determined that he is alive and will marry the former girl-next-door, Ann –the daughter of Joe's former business partner who is sitting in prison, punished for Joe's crimes. To complicate this family drama, Chris and Ann are in love and want to get married. In All My Sons, Arthur Miller creates a post-war American family in a tragic downfall of lies, greed, love, and loss, and demands its audience examine their own social responsibilities to all the sons of American wars.
Cast
Joe Keller…………Richard Hurst
Kate Keller………..Rachel O'Connor
Chris Keller………Troy Devaney
Ann Deever………Deirdre Ferguson
George Deever…Terence McEneaney
Jim Bayliss………..Tony Liston
Sue Bayliss……….Ailis McIntyre
Frank Lubey………Ronan Drummond
Lydia Lubey……….Audrey Davitt
Bert………………….John McHugh
Director……………..Trish Keane
Assistant Director ..Carl Duggan
Continuity…………..Linda Ritchie
Lighting………………Chris Dykes & Shane Patterson
Sound Design……..Trish Keane
Sound Technician..Seán O'Connor
Costumes……………Rachel O'Connor & Trish Keane.
Set Design & Construction…..Trish Keane,Paul McGonigle,John Travers, Carl Duggan, Mark Kirby, Seán O'Connor, Aiden McGuinness.
Poster Design………Lauren O'Connor.