Donegal Town Summer Festival 2023

Donegal Town Summer Festival 2023
Where: Donegal Town
When: Fri 30 Jun 2023 - Sun 2 Jul 2023
Time: All Day

Address: Donegal Town, Donegal Town,
Phone: 353871777140
Email: donegalfestival@yahoo.com
Website: https://www.eventbrite.ie/e/donegal-town-summer-festival-2023-full-weekend-ticket-tickets-622413434337

Description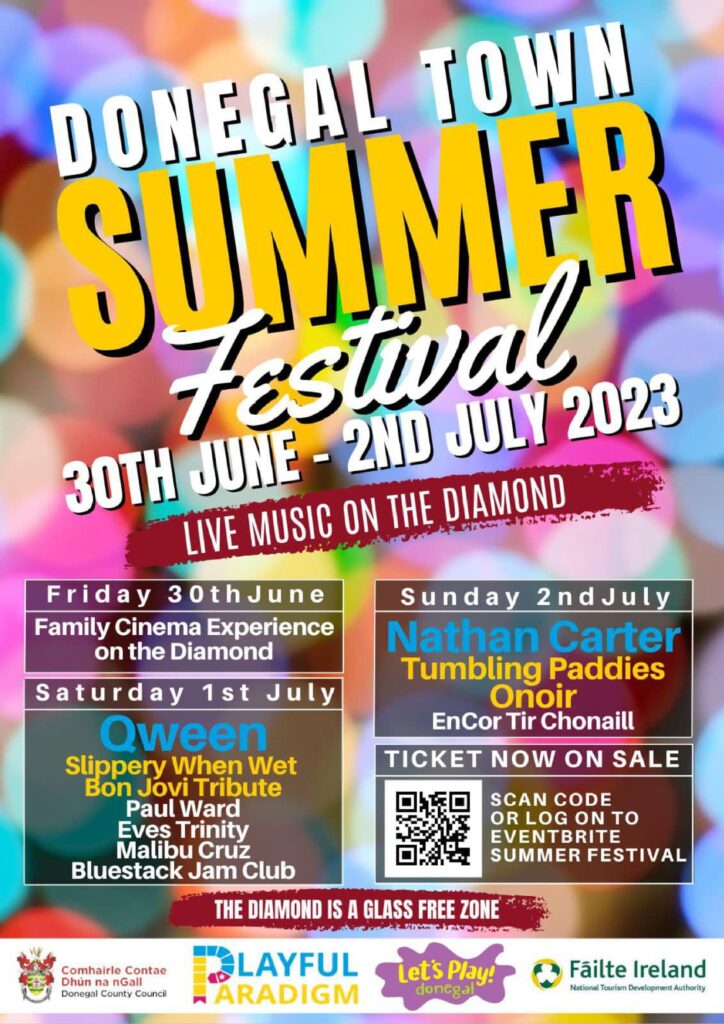 Donegal Town Summer Festival 2023
Whether you're a music lover or a film buff, there's something for everyone at the Donegal Town Summer Festival 2023
Summer is just around the corner and with it comes one of the most anticipated events of the year – the Donegal Summer Festival. This year's festival promises to be bigger and better than ever, with a jam-packed schedule of entertainment for all ages.
The festival will start on Friday 30th June with a family film on the Diamond, featuring the biggest screen in the Donegal Town area. This is the perfect opportunity for families to come together and enjoy a fun evening out. The film selection is yet to be announced, but there's no doubt it will be a hit with both children and adults alike.
Moving on to Saturday, the festival will start with Bluestack Jam Club from 2pm to 2:45pm. This will be followed by a performance from Malibu Cruz from 3pm to 4pm, Eves Trinity from 4pm to 5pm, and Paul Ward from 5pm to 6:45pm. As the sun sets, the stage will be taken over by a Bon Jovi tribute act from 7pm to 9pm, and Qween, a Queen tribute band, will perform from 9pm to 11pm.
With such an incredible line-up, there's sure to be something for everyone to enjoy. Children's entertainment on the Diamond will commence at 12.30pm with Fruity & Dishy and Let's Play Donegal.
On Sunday the festival will continue with even more live music acts. Starting off the afternoon at 4.00pm is EnCor Tir Chonaill, Donegal's newest contemporary choir, followed by Onoir, a contemporary band that infuses elements of folk and rock into their music for a unique sound. The Tumbling Paddies, a popular band known for their high-energy performances, will take the stage from 6.15 pm – 8.15pm. And to cap off the festival in style, the one and only Nathan Carter will perform a headline set that is sure to get everyone up and dancing. Once again, our extremely popular Children and Adults tractor races and other family games will take place at midday Sunday.
The Donegal Summer Festival is a celebration of all that makes this corner of Ireland so special – its vibrant music scene, rich cultural heritage, and warm hospitality. So, mark your calendars and get ready for a weekend of fun and entertainment that you won't soon forget.