History of the Abbey of Donegal

History of the Abbey of Donegal
Where: Donegal Town
When: Sat 12 Aug 2023 - Fri 18 Aug 2023
Time: 11:00 am - 12:00 pm

Address: Donegal Town, Donegal Town,
Phone: 0872598547
Email: seamus@abbeyofdonegal.ie
Website: https://www.heritageweek.ie/event-listings/history-of-the-abbey-of-donegal-the-odonnell-chieftains-the-four-masters-and-their-influence-on-the-history-of-ireland

Description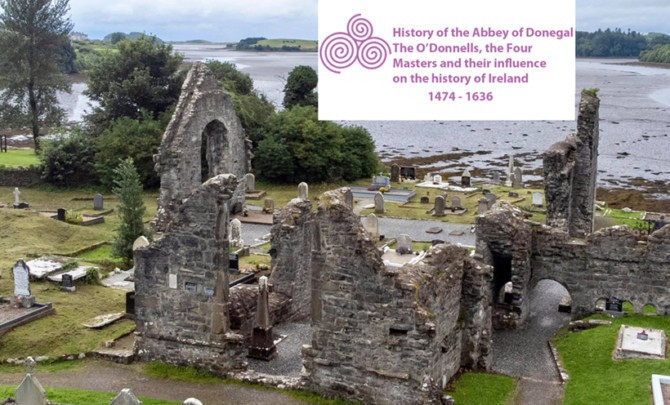 History of the Abbey of Donegal: The O'Donnell Chieftains, the Four Masters and their Influence on the History of Ireland
12 – 18 August, 11am – 12pm
Meet at the end of Donegal Quay each morning at 11 am
The Abbey of Donegal, built in 1474, is a Franciscan convent which has a tragic history linked to Donegal and the O'Donnell family who ruled the land of Tír Chonaill for nearly 400 years. By bestowing the land and the fishing rights on the Franciscans, the O'Donnell's created a place of piety and learning as well as a place of rest for many of the Donegal chieftains. It was also here that the young Red Hugh O'Donnell was educated and the Four Masters wrote the first history of Ireland.
On the tour you will hear about how the young prince was kidnapped by the English and imprisoned in Dublin castle before his dramatic escape back to Donegal where he was then crowned the 'The O'Donnell'. The Abbey was later to be overrun by the English and O'Donnell's army laid siege until the arrival of the Spanish Armada at Kinsale in 1601.
The destruction of the Abbey and the demise of the Gaelic chieftains was followed by the Flight of the Earls and the Plantation of Ulster when the English crown decided that the only way to keep control of Ireland would be to "plant" the confiscated lands with English soldier, farmers and landlords.
The tour will include a description of the Abbey buildings and how it functioned on a day-to-day basis. Visits to some of the more prominent graves will also be included.