Jon Kenny – Words, Lies & Songs

Jon Kenny – Words, Lies & Songs
Where: Abbey Arts Centre Ballyshannon
When: Fri 19 May 2023
Time: 7:30 pm - 10:00 pm

Address: Tir Connell Street, Ballyshannon, Donegal
Phone: (071) 9851375
Email: info@abbeycentre.ie
Website: https://abbeycentre.ie/

Description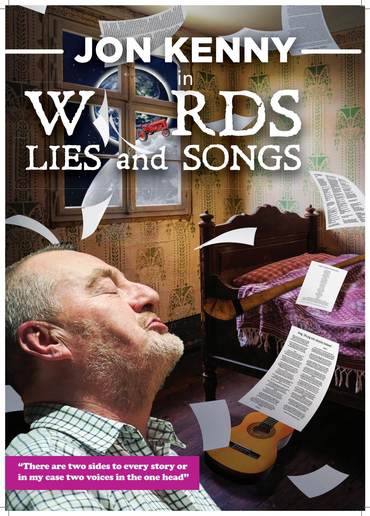 Venue name:
Abbey Arts Centre
Dates:
 Friday 19 May 2023
Time: 20:00, (Doors open 19:30)
Ticket Prices: €20.00(+ €1.00 fees)
Jon Kenny – Words, Lies & Songs
A show created from Jon's memoir which he began to work on during lock down.
"There are two sides to every story or in my case two voices in the one head"
Comic sketches and stories (Voice one)  are paired off against the writings (Second Voice) in this hilarious madcap journey only stopping off for a quick rendition of one of his "greatest hits" – definitely in his head.
By the way, we do a quick survey of audiences after each show. The early answers are in. you were a hit!
Here's what they said:
It was perfect!
It was a great experience.
you couldn't improve, the show was funny, the people greeting us were friendly, the theatre looks amazing. a heart warming experience on a dreary night.
I haven't laughed so hard in a long time. Thank you for the perfect night! a bit of laughter was needed and Jon delivered!
Bring Jon back again. Well done to Jon Kenny, it was one of the BEST and FUNNIEST nights out I've ever had. Loved every second of it