Lets Talk About Cancer
Where: Abbey Arts Centre Ballyshannon
When: Sat 13 May 2023
Time: 9:45 am - 1:15 pm

Address: Tir Connell Street, Ballyshannon, Donegal
Phone: (071) 9851375
Email: info@abbeycentre.ie
Website: https://abbeycentre.ie/

Description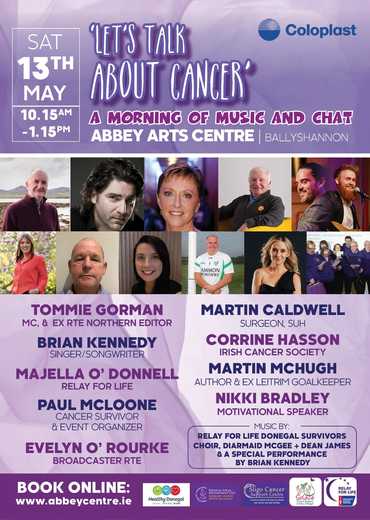 Venue: Abbey Arts Centre
Date: Saturday 13 May 2023
Time: 10:00,  (Doors open 09:45)
Ticket Price: Standard
€9.00
(+ €1.00 fees)
Lets Talk About Cancer
Let's talk about cancer is an event to highlight the excellent support services provided by the voluntary sector in the North West to individuals and their families following a cancer diagnosis. Events on cancer of this scale are seldom held outside Dublin or Belfast, so it is a real privilege for the Abbey Arts Centre to be chosen to host this occasion.
This will be a relaxed morning of chat and music with most of the guests having encountered cancer themselves over their own lifetimes.
Tommie Gorman has lived with cancer since 1994. He was diagnosed with neuro endochrine tumours in 1994 and has managed the condition since then. His documentary Ireland, cancer and Me was broadcast in 2021 whilst his book Never Better was published late last year.
Nikki Bradley is a motivational speaker, campaigner and adaptive adventurer. Diagnosed with a rare form of bone cancer at sixteen and a receiver of a second hip replacement at the age of twenty six, she truly has been on an unique journey.
Martin McHugh, former Leitrim goalkeeper published his autobiography 'Born to Save' last year. Diagnosed with testicular cancer in 2009 and prostrate cancer in 2015. Martin still lines out for his local team, gives talks to GAA clubs and is a football pundit on Shannonside Radio.
Evelyn O'Rourke, broadcaster with RTE chronicled her breast cancer journey 'Dear Ross' in 2014 and presented a documentary on breast cancer on TG4 in 2021. She currently works on Today with Claire Byrne of RTE1.
Majella O'Donnell was diagnosed with breast cancer in 2013 and had an award winning book 'It's All in the Head published in 2014. She was named as a Global Hero of Hope for Relay for Life in January this year.
Brian Kennedy remains one of Irelands most popular singing stars. Brian was diagnosed with colon cancer in 2016 and underwent a quadruple bypass in 2021 following a cardiac arrest. As well as still performing Brian is an ambassador for Action Cancer's Men's Health.
Martin Caldwell, Consultant General and Gastrointestinal Surgeon, Sligo University Hospital. He has worked in Sligo Hospital for nearly 25 years and will outline his experience of working with cancer patients in the North West over that period.
Corrine Hasson Director of Services for the Irish Cancer Society will present the incidence and type of cancers being experienced here in the North West. She will also speak about the many supports available in this region.
Paul McLoone has survived cancer on six occasions since he was first diagnosed with colon cancer in 2006.He is the organiser of this event.
Music will be provided by Relay for Life Donegal's Survivor's Choir, local artists Diarmuid McGee and Deane James, and a special performance by Brian Kennedy.
Tickets are €10 each and all proceeds will be donated to local cancer charities