Onoir Irish Male Folk Group

Onoir Irish Male Folk Group
Where: Abbey Arts Centre Ballyshannon
When: Wed 12 Jul 2023
Time: 8:00 pm - 10:00 pm

Address: Tir Connell Street, Ballyshannon, Donegal
Phone: (071) 9851375
Email: info@abbeycentre.ie
Website: https://abbeycentre.ie/

Description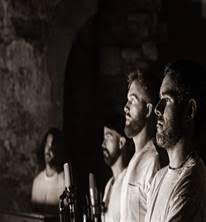 Onoir 
Venue : Abbey Arts Centre
Dates and Time: 12th/14th and 20th of July from 8.00pm
SOLD OUT
Onóir are a modern Irish male folk group, who sing harmony-focused songs and musical arrangements. Formed in August of 2020, when four individual, Donegal-based musicians; Tom McHugh, Declan Gaughan, Deane Connaghan, and Diarmaid McGee, joined forces to create a contemporary version of the famous Irish folk ballad; "The Auld Triangle", the music video for which went on to be seen by over 3 million people worldwide.
Onóir are currently touring their new theatre show across Ireland, The UK, and abroad, after a run of sell-out shows across The North-West.
The group's debut album will be released this year.