Off the Meter, on the Record

Off the Meter, on the Record
Where: Abbey Arts Centre Ballyshannon
When: Fri 6 Oct 2023
Time: 7:30 pm - 10:30 pm

Address: Tir Connell Street, Ballyshannon, Donegal
Phone: (071) 9851375
Email: info@abbeycentre.ie
Website: https://abbeycentre.ie/

Description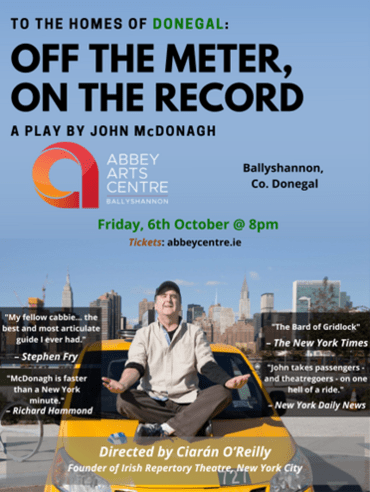 Off the Meter, on the Record
Venue:
Abbey Arts Centre, Ballyshannon
Date and Time:
Friday 6 October 2023, 20:00
(Doors open 19:30)
Tickets:
€15.00
(+ €1.00 fees)
After a sold-out run at the Irish Repertory Theatre in New York City, John McDonagh is bringing his one-man-play Off the Meter On the Record to Ireland. McDonagh, whose parents hailed from Donegal, takes his audience on a fascinating and funny ride through his 40 years behind the wheel of a New York Yellow cab. In a multi-media format, Off the Meter is not only a love letter to the ever-changing neighbourhoods of New York City, it is a behind-the-scene glimpse into the bizarre world of reality t.v. Add a touch of politics and brushes with celebrities who are itching to get behind the wheel of a NYC yellow taxi, Off the Meter is a gift that keeps giving.
When disaster strikes in NYC, RTE news goes to John McDonagh for a an update. When Aine Lawlor was doing a documentary about the financial crisis, she turned to John McDonagh. When Richard Hammond wanted to learn to drive a yellow cab, he called John McDonagh. When Stephen Fry was looking for the Goodfellas, he went right to John. Don't miss the opportunity to see John McDonagh when he brings Off the Meter on the Record home to Ireland.
From the Irish Repertory Theatre – A comedic glimpse into 40 years behind the wheel of a New York City yellow taxi, Off The Meter is a pithy social commentary from New York's most recognizable cab driver about life spent behind the wheel. John McDonagh, veteran radio host, has condensed thirty-plus years of activism, reality show antics and observation into a love song to the city that never sleeps.
From the plight of the NYC homeless to the crazy demands of Upper East Side matrons, McDonagh brings the audience from laughter to tears and back again faster than the apparition of umbrella dealers on a rainy day. Throw in his tales of brushes with the rich and famous, and you have Irish storytelling at its best.