"The Classic Beatles" number 1s Tour

"The Classic Beatles" number 1s Tour
Where: Abbey Arts Centre Ballyshannon
When: Sat 27 May 2023
Time: 7:30 pm - 10:30 pm

Address: Tir Connell Street, Ballyshannon, Donegal
Phone: (071) 9851375
Email: info@abbeycentre.ie
Website: https://abbeycentre.ie/

Description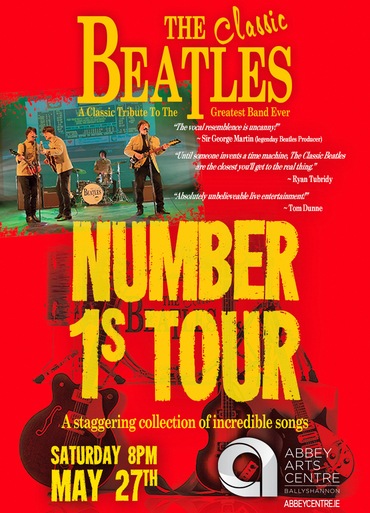 Venue: Abbey Arts Centre
Date: Saturday 27 May 2023
Time:20:00,  (Doors open 19:30)
Ticket Price: €24.00(+ €1.00 fees)
"The Classic Beatles" number 1s Tour
The Classic Beatles are the only Beatles tribute band in the world endorsed by legendary Beatle producer Sir George Martin and are the stars of the multi award winning Get Back Show. They're back on the road with "The Number 1s Tour".
This set gives the band the chance they have always wanted.. to play every Beatles number 1 live. It's simply incredible how many amazing songs they wrote, hit after hit and all presented with an authenticity and affection that's second to none. With multiple costume changes and a few hidden gems on the night, be sure to book early for this much anticipated show!
A Classic Beatles show brings all the joys of Beatledom to a whole new generation and allows first generation fans to relive the music that changed their lives forever.