The Seeger Sessions Revival

The Seeger Sessions Revival
Where: Abbey Arts Centre Ballyshannon
When: Thu 3 Aug 2023
Time: 7:30 pm - 10:30 pm

Address: Tir Connell Street, Ballyshannon, Donegal
Phone: (071) 9851375
Email: info@abbeycentre.ie
Website: https://abbeycentre.ie/

Description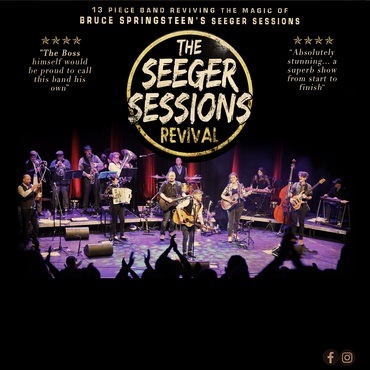 Venue :
Abbey Arts Centre
Date:
Thursday 3 August 2023
Time: 20:00,(Doors open 19:30)
Ticket Price:
€25.00
(+ €1.00 fees)
The Seeger Sessions Revival
Thursday 3rd August – 8pm – Opening Night of the 46th Ballyshannon Folk and Traditional Music Festival  
The Seeger Sessions Revival – The 14-piece band 'reviving' the spirit, energy and musical exuberance that was Bruce Springsteen's Seeger Sessions album and live shows.
This diverse group of talented musicians deliver a high energy 2 hour-long on-stage celebration with hits including 'Old Dan Tucker', 'Jesse James' and 'American Land' to name just a few.
Made up of Fiddle, Banjo, Accordion, Steel Guitar, Whistle, a thumping rhythm section, a superb virtuosic 4-piece Brass section and strong group vocal harmonies. Sit back and enjoy an evening of Traditional American Folk songs consisting of a Jambalaya of  Bluegrass, Folk, Country, Dixieland, Gospel, Rock 'N' Roll and Rhythm & Blues.
This Revival night has sold out everywhere, so don't miss out get your tickets now!