Two & One Productions present 'The Flowers of May'

Two & One Productions present 'The Flowers of May'
Where: Abbey Arts Centre Ballyshannon
When: Fri 30 Jun 2023
Time: 8:00 pm - 10:00 pm

Address: Tir Connell Street, Ballyshannon, Donegal
Phone: (071) 9851375
Email: info@abbeycentre.ie
Website: https://abbeycentre.ie/

Description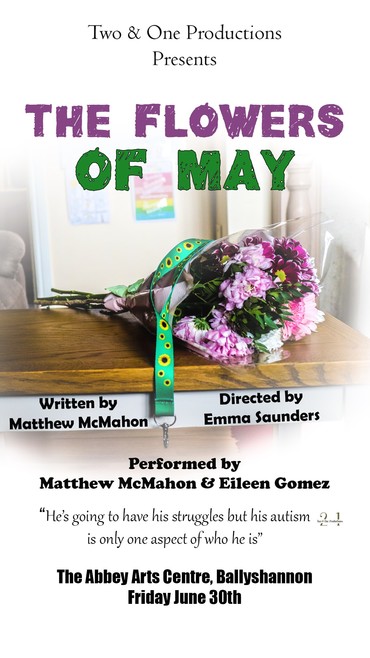 Location: Abbey Arts Centre, Ballyshannon
Date: Friday 30th of June
Time: 20:00(Doors open 19:30)
Tickets: Concession €14.00 (+ €1.00 fees), Full €16.00 (+ €1.00 fees)
The Flowers of May 
"He's going to have his struggles but his autism is only one aspect of who he is" Two & One Productions are proud to present, "The Flowers of May" Written by Matthew McMahon, "The Flowers of May" brings you inside the world of two parents raising a child with a hidden disability while facing up against the social stigmas that come with it.
David and Lisa had visions of what being a parent would be like, but their lives suddenly changed when their son, Conor, was diagnosed with autism.
Together they journey through the joys and challenges of being a parent of a child with ASD. Along the way they must deal with patronising in-laws, exclusionary neighbours while also trying to get past their own differences. The Flowers of May opened in The Garage Theatre Monaghan in April and was very well received.
TA R G ET A U D I E N C E
Two & One Productions is made of three people. We've all experience across various levels from theatre to screen to voice over.
The Flowers of May is our first project. "The Flowers of May deals with the topic of raising a child with autism and during the intial run in the Garage Theatre Monaghan we got great feedback from schools, parents and community groups. Our main target audiences would be: Schools communities Autism awareness groups Parents of children with autism
Cast
Matthew has trained previously with The Gaiety School of Acting. Some of his previous theatre credits include: "The Memory of Water" produced by Garage Theatre Productions. Matthew's screen experience includes the miniseries "Redemption" (Virgin Media/ITV), which was cast by Louise Kiely Casting. He was also cast in the short film "The Talk" which won the audience award at the Clones Film Festival last year and screened at the Chicago Irish Film Festival and won Best in Show at Wicked Queer: Boston's LGBTQ+ Film Festival in 2023. "The Flowers of May" is his first venture into playwriting.
Eileen Gomez is currently studying for her B.A in Theatre and Film Practice in Dundalk Institute of Technology. Her previous training includes acting for T.V and Film with Dublin School of Acting. On screen, she recently portrayed the character of Kim in short film One Moment. Eileen is one of the founding members of Two & One production's and plays the role of Lisa in their production of The Flowers of May, this story is very close to Eileen's heart being a mother of a child with Autism. Director Emma Saunders The Flowers of May is Emma's directorial debut, transitioning from acting to directing.