World Matchmaking Festival
Map Unavailable

World Matchmaking Festival
Where:
When: Fri 29 Sep 2023 - Sun 8 Oct 2023
Time: All Day

Address: , ,
Phone: 01 2530563
Email: info@showtours.ie
Website: https://showtours.ie/product-category/world-matchmaking-festival/

Description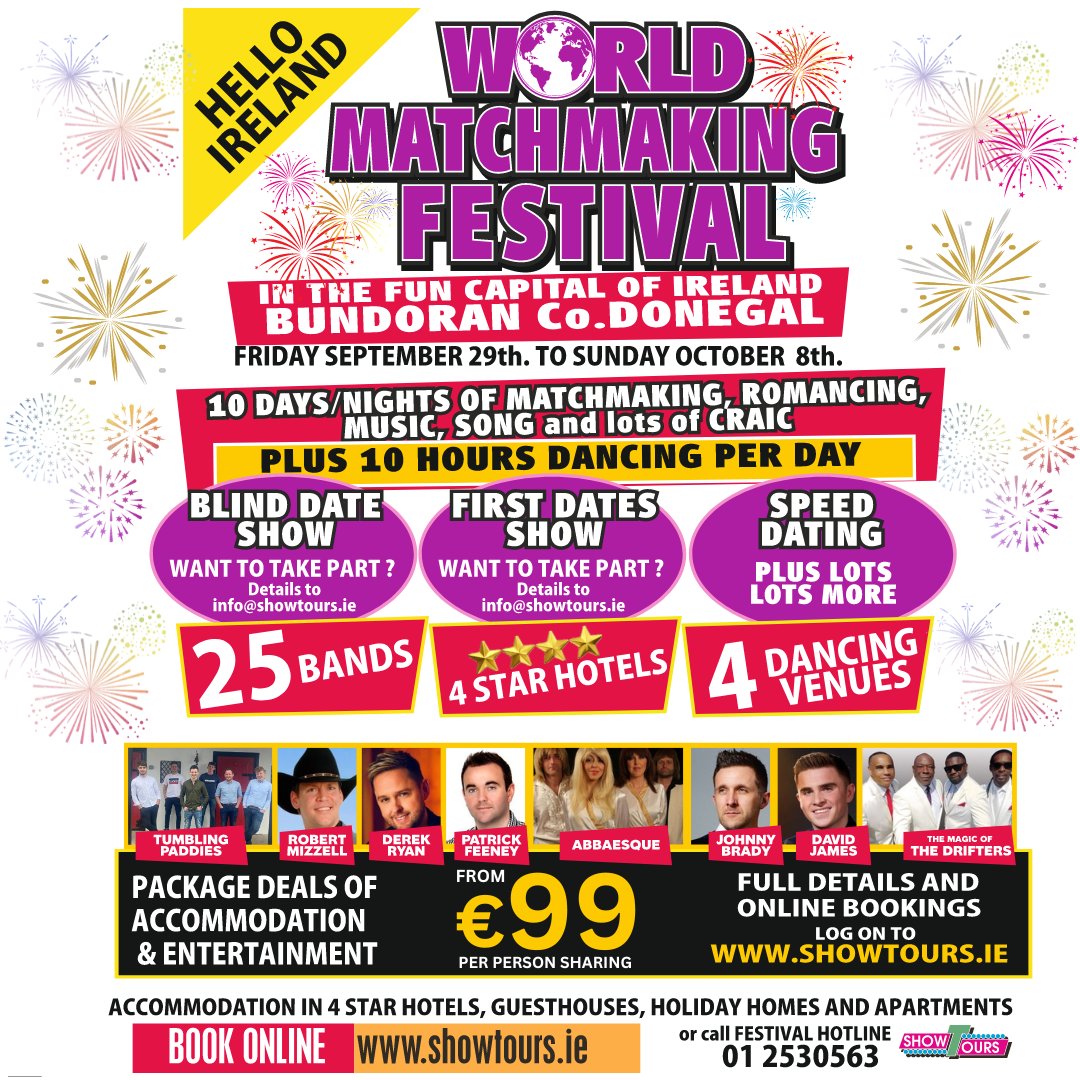 County Donegal's premier seaside resort, Bundoran, will become a mecca for revellers from all over the globe this Autumn when the 1st WORLD MATCHMAKING FESTIVAL is staged there over 10 days/nights from Friday September 29 to Sunday October 8. Thousands are expected to travel by air, sea and road to the renowned fun capital of Ireland to sample non-stop dancing, romancing, song and lots and lots of craic and avail of the various weekend and mid-week accommodation/entertainment packages being made available in 4 star hotels, top class guesthouses, apartotels, cottages and apartments. Organisers of the spectacular event, Showtours, whose managing director, James Cafferty, promoted the legendary and record-breaking Joe Dolan Music Festivals in Bundoran from 1996 until the sad demise of Ireland's greatest entertainer in 2007 is planning to make this festival the biggest event of its kind taking place this year.
Packages and details on the Showtours website
The package deals on offer are mouthwatering which includes entertainment/cabaret/dancing with the biggest entertainment acts on the scene like the amazing TUMBLING PADDIES, DEREK RYAN, ROBERT MIZZELL, DAVID JAMES, PATRICK FEENEY, JOHHNY BRADY, ABBAESQUE, the magic of THE DRIFTERS and many more to be announced.
All roads have led to Bundoran over the years for its music festivals and country dancing nights and this festival is expected to eclipse them all and a big welcome goes out to everybody whether they are seeking love, friendship, romance or out for a party with family and friends.
The Bundoran Weekly Podcast
Check out the latest episode of our weekly podcast below! To find out more click www.bundoranweekly.com