Address: Unit 3 Bundoran Retail Park, Station Road, Bundoran, , Ireland
Phone: 071 9833865
Email: hardybakerbundoran@gmail.com
Website: www.hardybaker.ie
Description
HardyBaker
HardyBaker Cafe at the Bundoran Retail Park . The café premises is a bright and relaxing space which is a firm favourite of locals and visitors alike. Serving premium coffee by Cork based specialty roasters Badger and Dodo and simple and delicious food in funky surroundings Hardybaker is a worthy addition to Bundoran's café offering.
Honest – Simple – Fresh. Everything is made in-house in the cafe's newly fitted kitchen. Taste the difference when trying out their home made raspberry jam on warm freshly-baked scones not to mention the mouth-watering daily treats on the cakes counter. The signature HardyBurger is a must and home-made preserves and cakes are also available to take home.
Artisan and local food suppliers are proudly supported – Le Fournil (Donegal Craft Bakery) breads and pastries, O'Reilly's Fish Ballyshannon, Frizzels Craft Butchers Bundoran, Tattie Hoaker Organic farm Cliffoney to name but a few. The HardyBaker ethos of using natural, local ingredients also comes through in the café's contemporary décor as a number of local artists and craftspeople were involved in the manufacture of the furniture and wall art that make this such a comfortable place to enjoy your coffee.
HardBaker main street shop, is located in the middle of the town, it is the perfect location to grab a coffee and some goodies to take with you when you're out and about in Bundoran.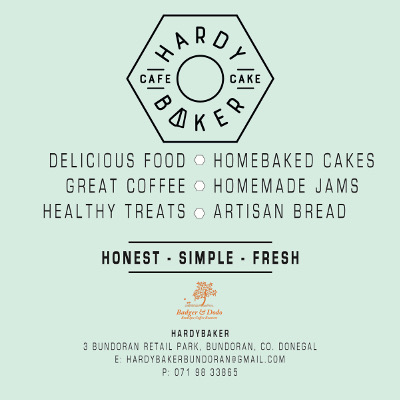 Hardy Baker
Unit 3, Building 2, Bundoran Retail Park
Bundoran is Open:
Monday 09:30 – 17:00
Tuesday 09:30 – 17:00
Wednesday 09:30 – 17:00
Thursday 09:30 – 17:00
Friday 09:30 – 20:00
Saturday 09:30 – 20:00
Sunday 09:30 – 17:00
HardBaker Main Street Shop, on Main Street.
Is Open:
Wednesday – Sunday, 9am-6pm

Upcoming Events
No events listed