The Bundoran Time Capsule was sealed on Saturday August 23rd 2014 at midday at a special ceremony at Bundoran Community Library.
The time capsule itself is an old ballot box which was been donated by the former Bundoran Town Council who were celebrating a centenary from 1914-2014.
The Time Capsule is on display on a shelf high up in the library where it will remain until Tuesday August 23rd 2039 when it will be reopened.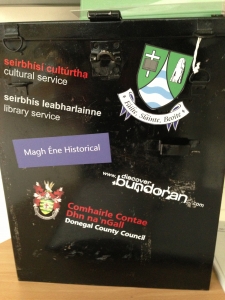 The Time Capsule contains:
Heritage weekend poster
RNLI Dinner dance poster
Carnival poster
Car display poster
St Patrick's day poster
Sea sessions poster
Street party poster
Easter activities poster
Soapbox poster
Bundoran brochure
Angling brochure
Magh Ene Calendar
Programme for Sealing of Time Capsule
Programme for launch of 100 years of democracy
Price list from supervalu
Minutes of final council meeting
Cinema programme
Lifeboat news release and photo
Photo of councillors
Photo of council staff
Proposal for 100 years of democracy
Photo of all who attended ceremony
Map of Bundoran
List of time capsule contents
Photos from St Macartans
GAA and Astoria Ballroom news articles
Parking ticket
Menu from Allingham Arms and flyers
Drawing from Oliver Ruane
Letter from Community Development Group
Letter to the future
Postcards
Bottle of sand
Sea Sessions pass
Shiela Flanagan book
Calvary DVD
Sinead O'Connor album
Total Film magazine
Ireland's Own
RSVP magazine
The Dealer
Library literature
Waterworld polo shirt
Waterworld frisbee
Waterworld staff badge
Waterworld pen
Waterworld keyring
Magh Ene College student list
Magh Ene College awards night programme
Fort Dunree DVD
Match programmes – bundoran v Fanad, Bundoran v Cloughaneely x 2, Armagh v Donegal (All Ireland Quarter Final 2014)
Minion toy
Photobooks x 2
Discover Bundoran folder of brochures
Loom band
Visitor book from 100 Years of Democracy exhibition
RTE Guide
Donegal Post, Donegal Democrat and that day's Irish Times and Irish Independent