Bundoran ready for St Patrick's Weekend celebrations!
With less than one week to go, anticipation and preparations are gearing up for the annual St Patrick's Day and weekend celebrations in Bundoran.
This year, an extra event will make the weekend even more special with the Cara Bundoran 10 Challenge happening from Friday 13th – Sunday 15th. Race director Paddy Donoghue said 'we have had a huge interest this year from near and far and as of the start of the week, over 1100 people had registered online to take part and we know there'll be a good few registrations on the weekend too. We are thrilled with the uptake and look forward to seeing everybody this weekend.'
With an abundance of activites and events across the weekend there really will be something for everyone's taste as Bundoran Tourism Officer Shane Smyth outlines 'first and foremost we have arranged the good weather for the weekend! The long range forecast looks very favourable for outdoor activities like 10 mile runs and also the big parade next Tuesday. There's lots of music right across the weekend also and of course we can't forget Mother's Day happens this Sunday. The "greening" of the town has also began in earnest with lots more businesses expected to be green before the weekend."
[fusion_builder_container hundred_percent="yes" overflow="visible"][fusion_builder_row][fusion_builder_column type="1_1″ background_position="left top" background_color="" border_size="" border_color="" border_style="solid" spacing="yes" background_image="" background_repeat="no-repeat" padding="" margin_top="0px" margin_bottom="0px" class="" id="" animation_type="" animation_speed="0.3″ animation_direction="left" hide_on_mobile="no" center_content="no" min_height="none"]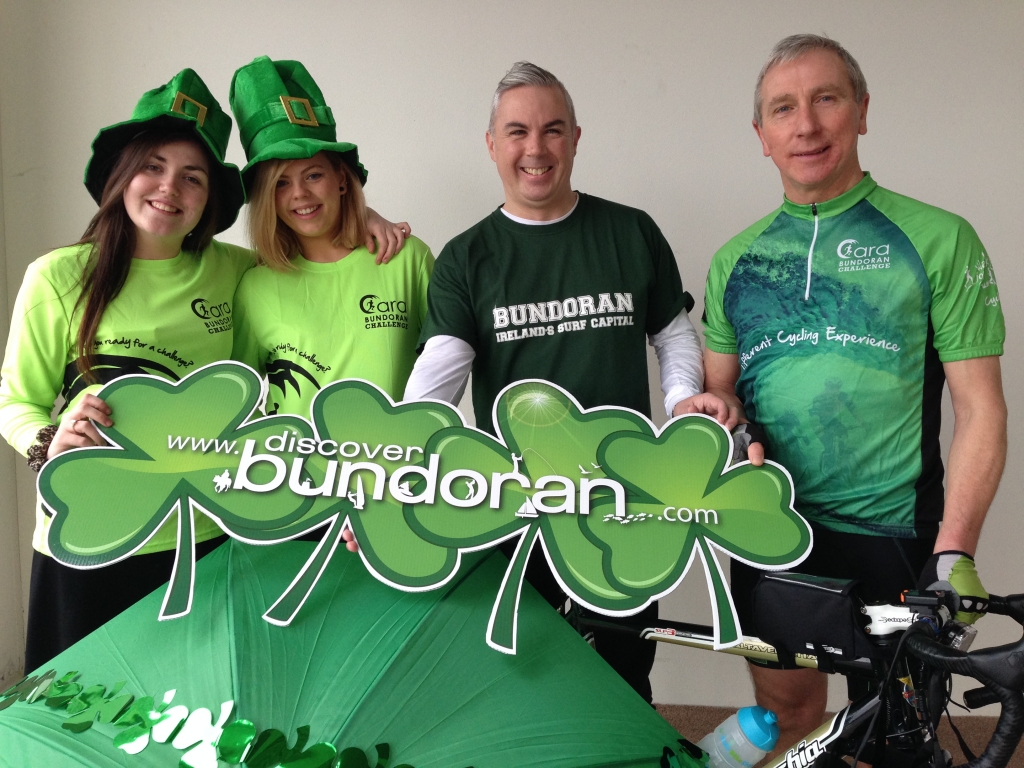 John O'Connell, event director for the St Patrick's Day parade said 'we have had great interest in the parade this year with commitments from at least 5 bands, the local Samba band, stilt walkers, scouts as well as students from the local stagecraft school and countless local businesses – there's still plenty of room left so get in touch and we'll see you on the 17th!'
The parade will start from the East End of Bundoran on Tuesday March 17th at 3.30pm and route up Main Street, West End and then return to Magh Ene College for the prize giving.
If you are a community group, a business or band and wish to take part in this year's St Patrick's Day parade in Bundoran, please contact john@atlanticapartotel.ie or 086 2266 799.
An extra piece of publicity will be generated for the town on Monday 16th of March as RTE's Nationwide programme visits arguably Bundoran's greatest ambassadors Nan and Patricia Brennan at the Criterion Bar on Main Street. The bar, on St Patrick's Day will celebrate its 115th anniversary and the programme will air at 7pm the night before.[/fusion_builder_column][/fusion_builder_row][/fusion_builder_container]