Bundoran is a lot closer than you think and very easy to access! Located at Donegal's most southerly point we're the first stop as you enter the county from Sligo and Leitrim on the main N15 Sligo to Donegal road.
If you're new to driving in Ireland, check out this great guide from Liberty Insurance which will tell you all you need to know!
Travelling to Ireland from the UK – Brexit.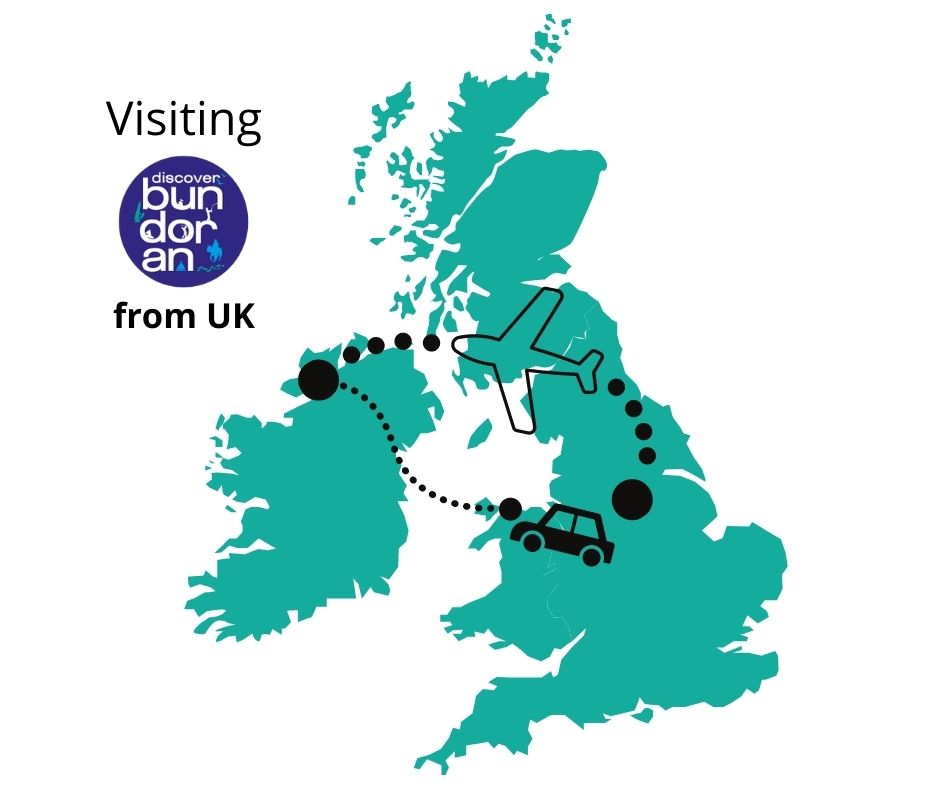 Visiting Ireland on a UK licence:
UK visitors to Ireland are not affected, there is no reason that you will not be able to drive in Ireland with your existing driving licence. You will not be required to carry an International Driving Permit with you in order to drive here, just ensure to carry your UK driving licence with you.
Motor Insurance and Green Cards (Proof of insurance):
Since 1 January 2021 a certificate called a 'Green Card' which is issued by your UK insurer, and proves that the vehicle is insured, will be required for vehicles from the UK, including Northern Ireland, being driven in Ireland or other EU Member States. This means that since 1 January 2021, UK and Northern Ireland registered vehicles will require a Green Card for cross-border journeys on the island of Ireland. A Green Card is a document that proves you have motor insurance cover when driving in another jurisdiction.
For up to date details check the government website or get specific travel information from Ireland.com
Useful information on the Common Travel Area between Ireland and the UK is also available from Citizen's Information
Travelling to Ireland during the Covid-19 pandemic:
From Sunday 6 March 2022, travellers to Ireland are not required to show proof of vaccination, proof of recovery or a negative PCR test result upon arrival.
There are no post-arrival testing or quarantine requirements for travellers to Ireland.
Any individual that develops COVID-19 symptoms while in Ireland should follow the HSE guidance in relation to isolation and undertaking antigen or PCR testing as appropriate.
From Sunday 6 March 2022, travellers to Ireland are no longer asked to complete a COVID-19 Passenger Locator Form.
Travel carriers will not ask to check a PLF receipt prior to travel to Ireland.
Read more on the Government of Ireland website
However, the public health advice is that if you are not vaccinated, you should avoid high-risk activities including international travel.
Full updated information is available from the Government of Ireland website and the Department of Foreign Affairs.
Quick links:
Approximate Distances
Dublin 128 miles/205 km 2.5 Hours
Belfast 112 miles/180 km 2 Hours
Sligo 26 miles/41 km 30 Mins
Knock 69 miles/111 km 70 mins
Galway 112 miles/180 km 2 Hours
Shannon 161 miles/258km 3 Hours
By Car
Bundoran can be reached by the following routes:
From Dublin via Cavan, Enniskillen N3
From Dublin via Sligo N4 – N15
From Galway via Sligo N17 – N15
From Belfast via Enniskillen M1 – A4 – A46
Plan your route with the AA Routeplanner
Please note services continue to be affected by Covid-19 restrictions. We have done our best to keep these updated but please check with your transport provider in advance of travelling for any further updates.
By Coach
Regular services operate to/from Bundoran offering connections to Dublin, Galway and Belfast. Please note that due to Covid-19 restrictions, many of these services are operating on a reduced capacity. The operator's website or social media should be consulted before making any journeys.
Bus Eireann Route 64 (Derry/Galway) – Timetable
Bus Eireann Route 480 (Derry/Sligo) – Timetable
Bus Eireann Route 30 and X30 (Dublin/Donegal) – Timetable
Ulsterbus (Pettigo/Enniskillen) Service 194b – Timetable
Bus Feda Galway to Donegal – Timetable
Local Link services – please see below.
By Rail
The nearest railway station is Sligo, which has frequent services to/from Dublin. Current timetable here.
By Air
Nearest airports are at Donegal (Carrickfinn), City of Derry and Ireland West Airport Knock (IWAK), Belfast International and George Best Belfast City Airport are only 2½ hours away and Dublin International Airport is only 3 hours away. Check out this guide to Dublin Airport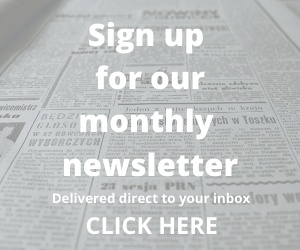 Local Link
Route 983 – Kinlough – Bundoran – Ballyshannon – Timetables valid from Monday June 28th 2021.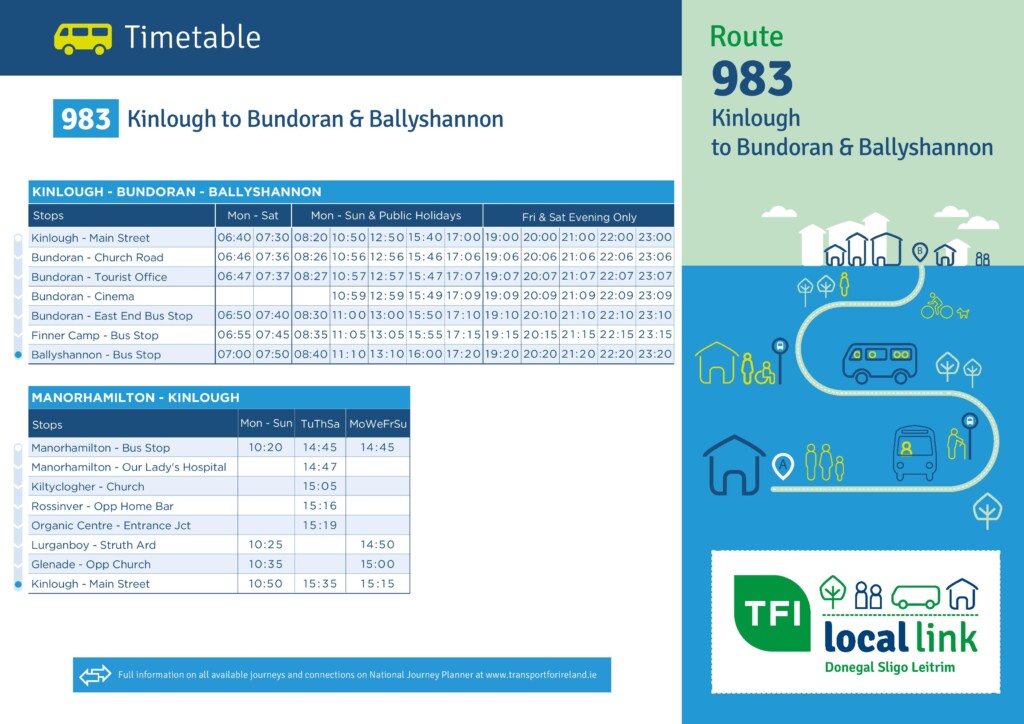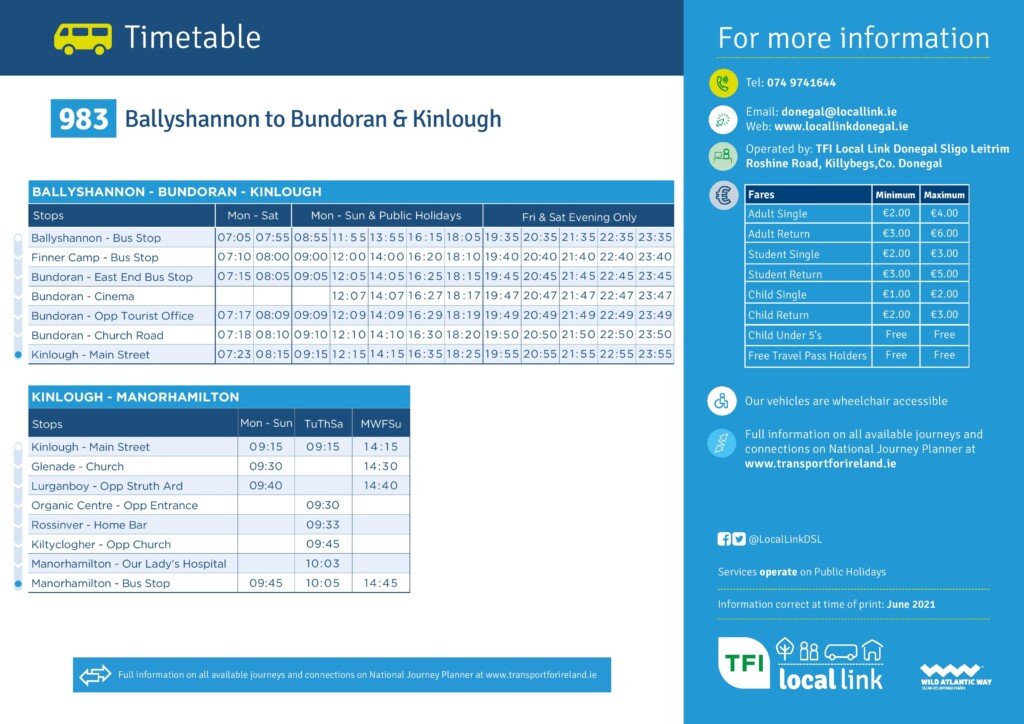 Sligo to Ballyshannon via Bundoran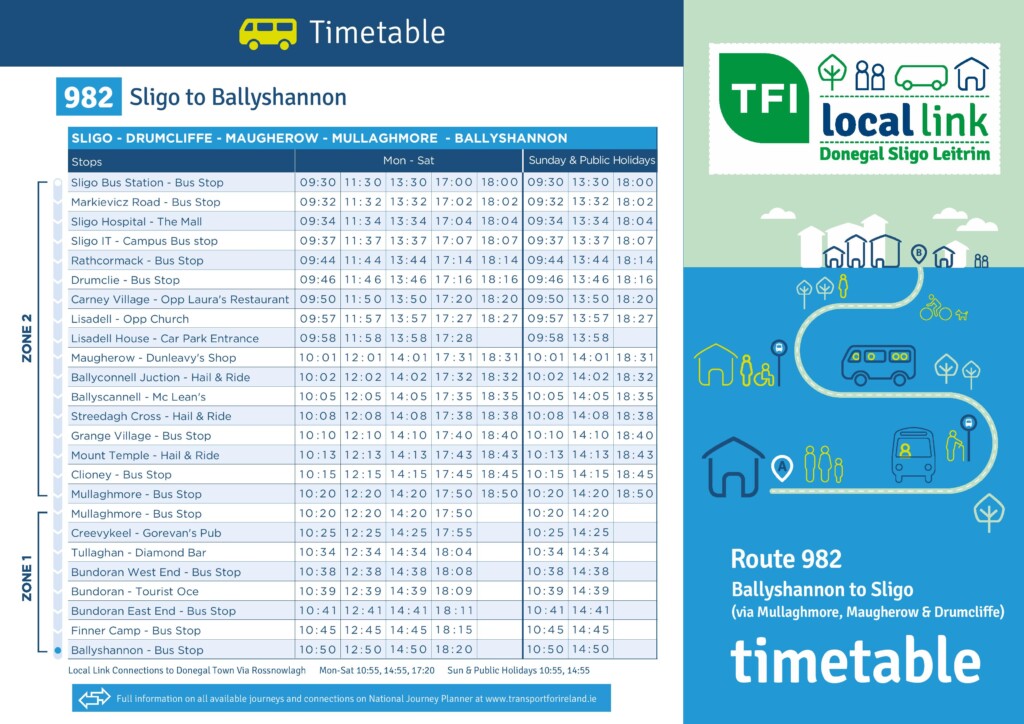 Ballyshannon to Sligo via Bundoran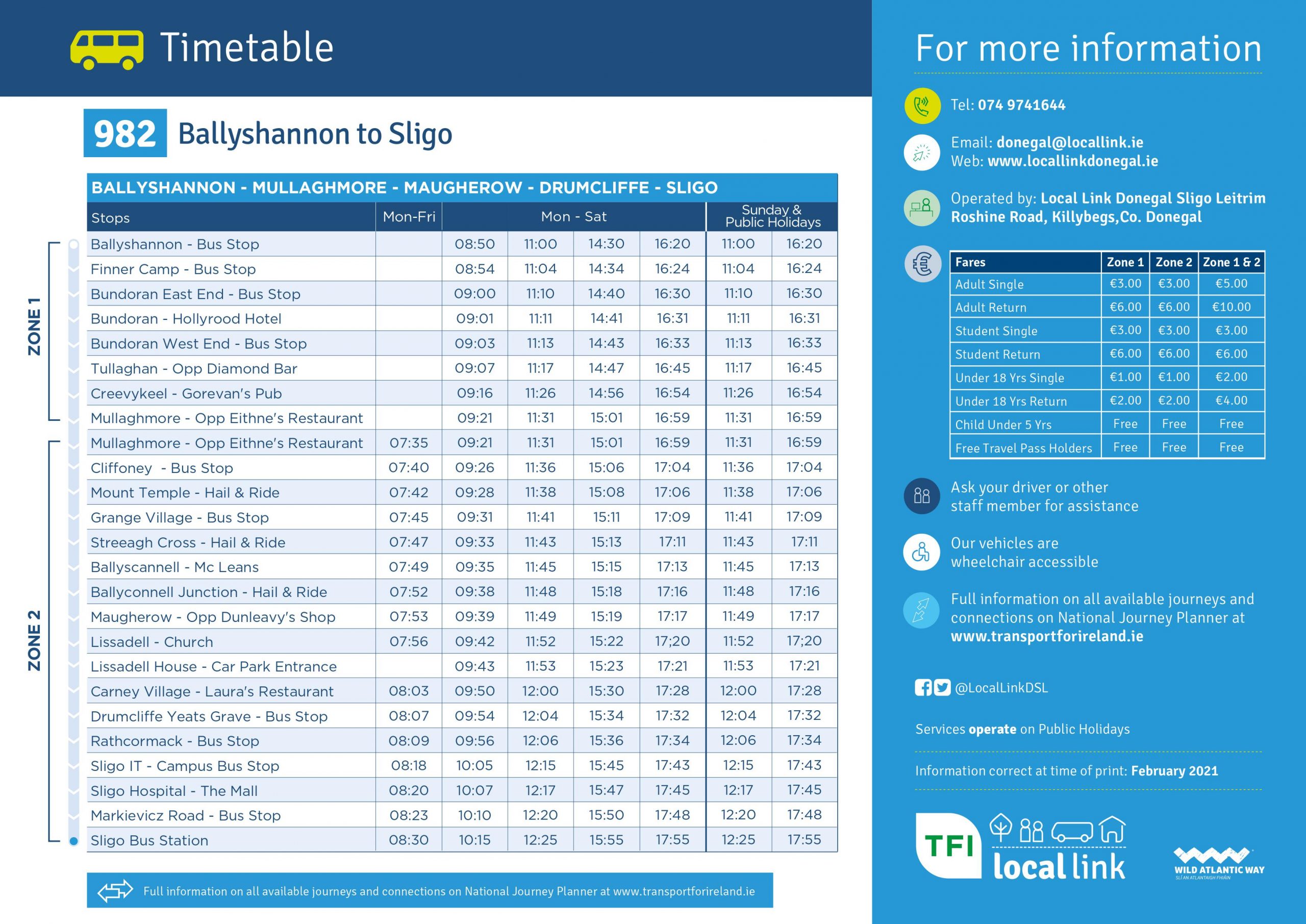 Donegal Town to Ballyshannon via Rossnowlagh & Return