Douzelage European Town Twinning
Bundoran is proud to be a Douzelage town!
The Douzelage movement was the brainchild of the Granville (France) and Sherborne (UK) Twinning Associations in 1989. Delegates of the twelve founder members, one for each European Community member state, met in 1991 in Granville to sign the charter formally bringing Douzelage into existence.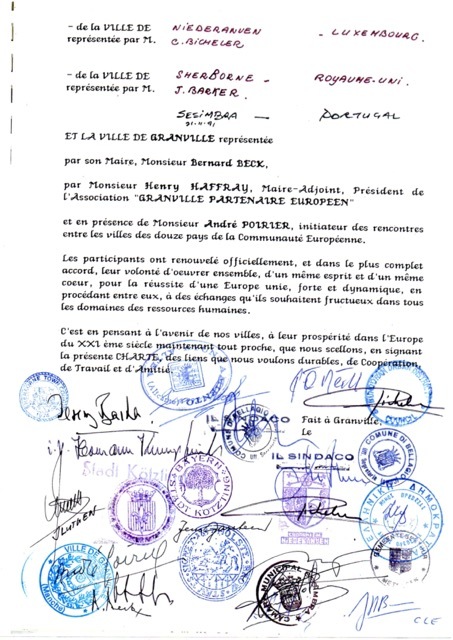 "The name is a combination of douze for twelve and jumelage for twinning, and although the number of member states and the number of our member towns has grown in the meantime, as the EU is sticking to its twelve stars, so they are sticking to their douze."
Now in 2023, in line with EU expansion over the years, Douzelage has a partner town in each of the 27 countries in the European Union and also the UK. (A resolution was passed at a recent General Meeting which changed the wording of the Douzelage constitution to allow membership of towns from EU member states and former EU member states.)
The purpose of Douzelage is simply to foster opportunity and friendship amongst its member towns. Cultural, sporting and educational exchanges between towns lie at the heart of this, and in the longer term commercial and tourism initiatives. Education has always been one of the most important features of the many events and projects organised by the member towns. Indeed the possibilities, which were created for furthering the educational aspirations of the member towns, were one of the most important considerations when forming the Douzelage.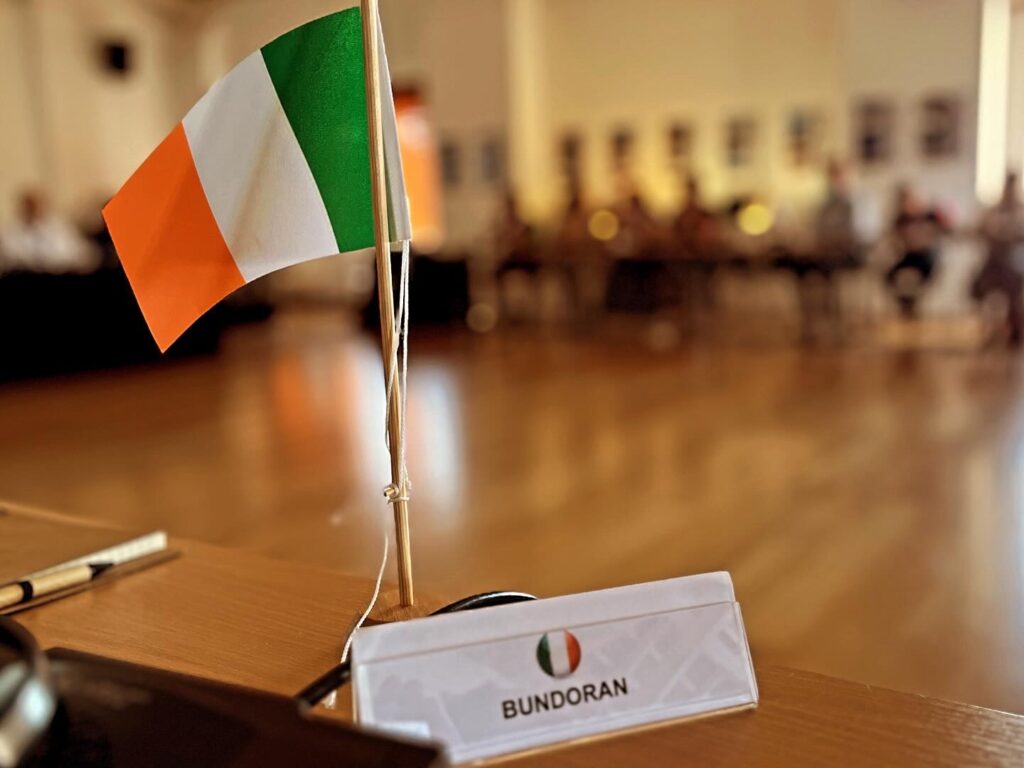 Douzelage is presided over by an international President assisted by three Vice Presidents from different towns all of whom are elected by the delegates for a three-year term. The town Douzelage organisations are organised individually, with some committees being run and funded by the local town council and others being entirely independent in both respects. English is the chosen language for communication within Douzelage internationally, although French is widely used as well.
"Bundoran was one of the first twelve towns to join the Douzelage when it was established, along with Altea – Spain, Bellagio – Italy, Granville – France, Holstebro – Denmark, Houffalize – Belgium, Kötzting – Germany, Meerssen – Netherlands, Niederanven – Grand-Duchy of Luxembourg, Preveza – Greece, Sesimbra – Portugal and Sherborne – United Kingdom"
In 2022, in partnership with member towns across the continent, Bundoran hosted the Douzelage Festival of Europe which saw musicians and groups from all over Europe come to play in Bundoran for the weekend. Read more here.
The full list of 28 member countries is:
Agros, Cyprus
Altea, Spain
Asikkala – Finland
Bad Kötzing, Germany
Bellagio, Italy
Bundoran, Ireland
Chojna, Poland
Granville, France
Holstebro, Denmark
Houffalize, Belgium
Judenburg, Austria
Köszeg, Hungary
Marsaskala, Malta
Meersen, Netherlands
Niederanven, Luxembourg
Oxelösund, Sweden
Preveza, Greece
Rokiskis, Lithuania
Rovinj, Croatia
Sesimbra, Portugal
Sherborne, United Kingdom (member towns can be from current or former EU countries)
Sigulda, Latvia
Siret, Romania
Skofja Loka, Slovenia
Sušice, Czech Republic
Tryavna, Bulgaria
Türi, Estonia
Zvolen, Slovakia