Douzelage Festival of Europe
part of

The inaugural Douzelage Festival of Europe tool place from October 14th – 16th 2022 at various venues across Bundoran. Check out the after movie below!
Participation by local performers in the Festival of Europe is supported by the Local Live Performance Programme Support Scheme, an initiative of the Department of Tourism, Culture, Arts, Gaeltacht, Sport and Media – administered by Donegal County Council.
Read: Festival of Europe announced for Bundoran
Read: Festival of Europe tickets on sale now
Read: Acoustic Euro Cafe Trail announced for Douzelage Festival of Europe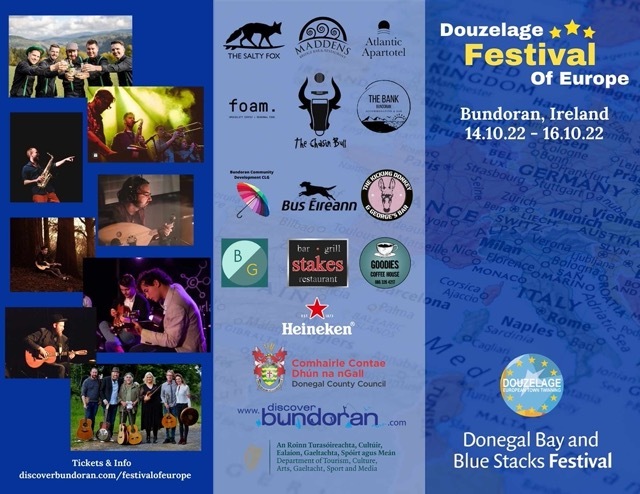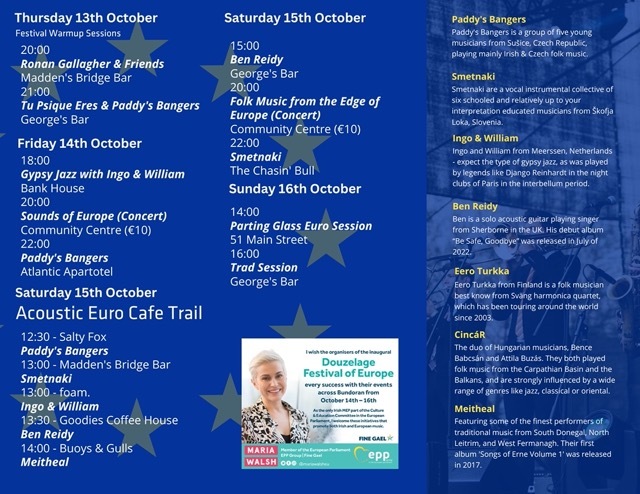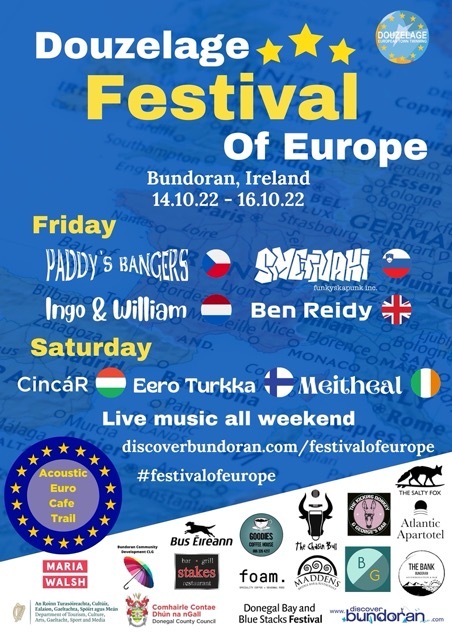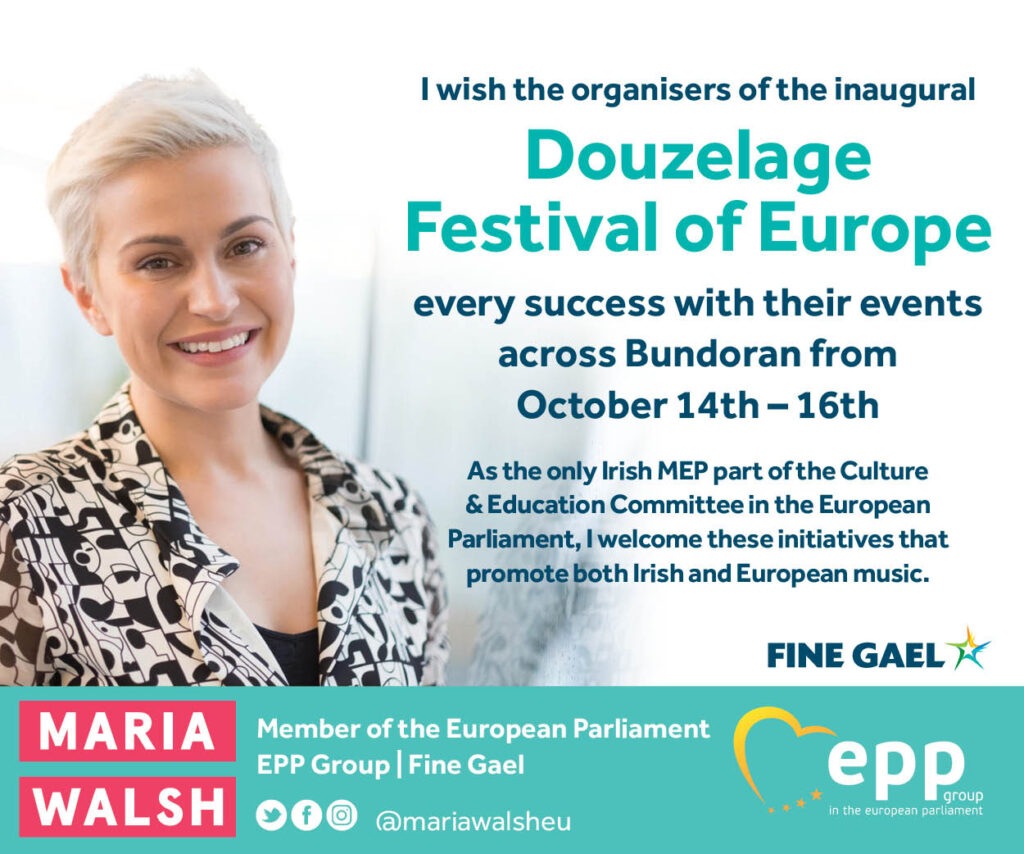 To purchase tickets for the gigs, click the blue boxes below!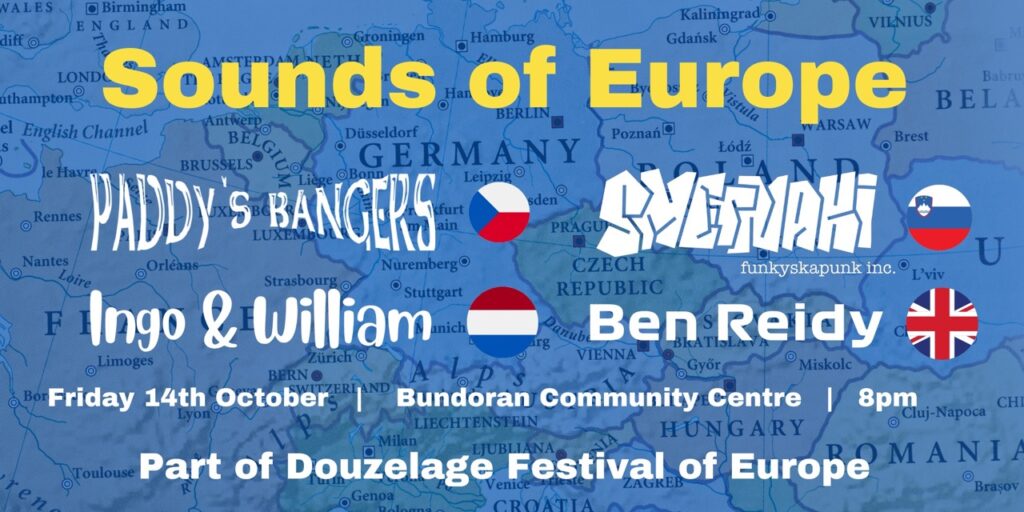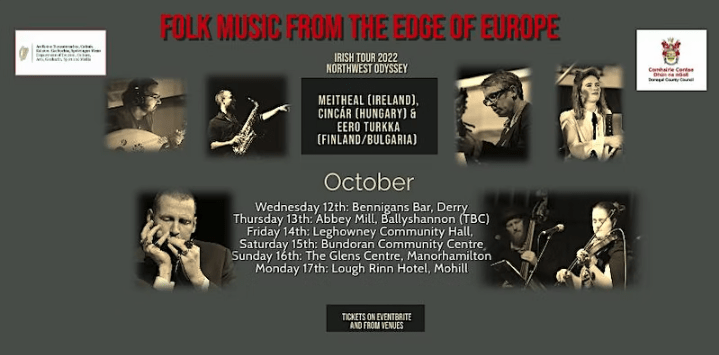 Friday night's "Sounds of Europe" concert will feature music from Smetnaki (Škofja Loka, Slovenia), Ingo & William (Meerssen, Netherlands), Paddy's Bangers (Susice, Czech Republic) and Ben Reidy (Sherborne, UK).
Smetnaki – a vocal instrumental collective of six schooled and relatively up to your interpretation educated musicians from Slovenia. As enthusiastic and most also academically trained jazz cats their musical interests naturally coincided in a (literally) funky mix of danceable ska, punk and reggae.
Ingo & William – a duo performance of acoustic (gypsy) guitar with trumpet playing a mixture of jazz standards and gypsy jazz classics made famous by legends like Django Reinhardt in the nightclubs of Paris.
Paddy's Bangers – a quintet from the Czech Republic playing a mixture of Czech trad but mainly Irish folk music. Founded at the end of 2016 as a group of good friends who grew up together in the Sušice Children's Choir.
Ben Reidy – a solo acoustic guitar/singing act performing a range of covers and originals from his debut album "Be Safe, Goodbye"
Saturday's "Folk Music From the Edge of Europe" concert will feature music from CincáR (Hungary), Eero Turkka (Finland) and Meitheal (Ireland).
CincáR – playing magical old tunes from all over Eastern Europe, Bence and Attila bring their own mix of folk music influenced by a wide range of genres like jazz, classical and oriental. A number of indigenous instruments to Eastern Europe will feature on the night.
Eero Turkka – a folk musician best know from Sväng harmonica quartet, which has been touring around the world since 2003. Besides harmonicas he also plays other instruments and sings folk songs from different traditions. Especially close to his heart are songs of Finnish Roma and music from the Balkans. Since 2010 he has been living in Bulgaria and actively learning local folk music.
Meitheal – features some of the finest performers of Irish traditional music from South Donegal, North Leitrim, and West Fermanagh. Regular members of the group include multi-instrumentalist Seanan Brennan (Kila), Farrah Bogle on fiddle and vocals, singer and bodhran player Fiona Fitzpatrick (Seamas O'Rourke, The Messages) and Marc Geagan (Ronan Gallagher Band) on dobro, guitar and double bass
The Bundoran Weekly Podcast
Check out the latest episode of our weekly podcast below! To find out more click www.bundoranweekly.com