Services Listing Bundoran
Quick links:
Bundoran Parking Charges

Free Parking
West End Car Park
Car Park at Post Office
Car Park at West End Playground above Boat Quay (Stephens' Car Park)
Tullan Strand Parking Bays
Coach Parking
Coach parking is available on Astoria Road (54°28'52.5″N 8°16'26.4″W) and is free of charge for coaches.
Parking charges in operation from Easter Saturday April 8th 2023 until Saturday September 30th 2023. Parking is charged from 09:00-6:00pm 7 days per week during this period.
Charges:
50c per hour in the following areas:
Main Street
Bayview Terrace
The Bridge
Promenade
Brighton Terrace
50c per hour/€2.00 per day in the following areas:
€2.00 per day in the following areas:
Main Beach Car Park
Tullan Strand Car Park
€3.00 per day in the following areas:
Contactless parking now available for Bundoran!
Parking can now be paid for contactless by using the Donegal Parking App (Download the free Donegal eParking app for Android or iOS) or by logging on to this website where you can set up an account or pay for one off parking.
The parking machine on Atlantic Way (at Bundoran Adventure Park) and the parking machine at Main Beach Car Park (Roguey Walk side) will both accept credit card payments.
Tourist Information

Discover Bundoran Tourist Office
The Bridge,
Bundoran, Co Donegal
Tel: 071 98 41350
Email: info@discoverbundoran.com
Monday – Saturday 10.00am – 4.30pm
Sunday – 11.30am – 4.00pm
(For operational reasons these hours may vary – hours will be updated on our Google account)
Free WiFi

Free WiFi
Tourist Office
Main Beach
Free Wifi available at the Tourist Office and also at Main Beach (Lifeguard Tower). This service is provided under the European Commission's Wifi4EU programme.
Beach Wheelchair
A beach wheelchair, adapted to suit soft sandy conditions, is available for people with mobility restrictions to take out for a few hours and experience the beach during this summer season.The beach wheelchair must be requested in advance and can be done so by calling the Salty Shell Café on +353 87 123 7779 who will then confirm the booking and times etc.
Electric Car Charging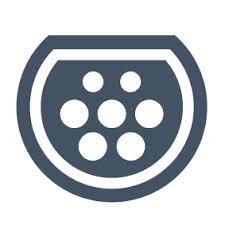 Type 2 AC Sockets
Madden's Bridge Bar, Bundoran
Allingham Arms Hotel, Bundoran
Charging stations for electric cars (for customers only) available at Madden's Bridge Bar and also the Allingham Arms Hotel.
Medical
Medical
Health Centre Bundoran
Station Rd, Bundoran, Co Donegal
Tel: 071 98 41445
Open Monday and Tuesday 9am – 5:30pm
Half day Wednesday 9am – 1pm
Thursday and Friday 9am – 5:30pm
Doctor on Call 8am – 9am and 5pm – 6pm Monday – Friday
Contact Doctor on Call at 086 816 6557
Outside of contact hours please contact Now Doc on 1850 400 911


Public Toilets and Service Unit
Public Toilets
Bundoran Community Library
Station Road Bundoran
Seashells Service Unit – Main Beach – Open 10am – 7pm daily during summer months (June/July/August and weekends in September). Portaloo also available here 24/7.
The Bridge, Bundoran (behind Tourist Office) – Open 9.30am – 5pm daily.
Tullan Strand Car Park, Tullan Strand Road, Bundoran – Portaloo.
Find maps to each of the toilets here.
Bundoran Post Office

An Post Bundoran
Breslin's Post Office
West End, Bundoran, Co Donegal
Tel: 071 98 41224
An Post Bundoran Hours
Monday 09:00 – 17:30 – Closed for lunch 13:00-14:00
Tuesday 09:00 – 17:30 – Closed for lunch 13:00-14:00
Wednesday 09:00 – 17:30 – Closed for lunch 13:00-14:00
Thursday 09:00 – 17:30 – Closed for lunch 13:00-14:00
Friday 09:00 – 17:30 – Closed for lunch 13:00-14:00
Saturday 09:00 – 13:00
Sunday:Closed

Library and Internet

Bundoran Community Library
Civic Offices, Station Rd, Bundoran
Tel: 071 9829665
Email: bundoran@donegallibrary.ie
Opening Hours
Mon – scheduled time
Opening hours as below.
Wheelchair-accessible: Yes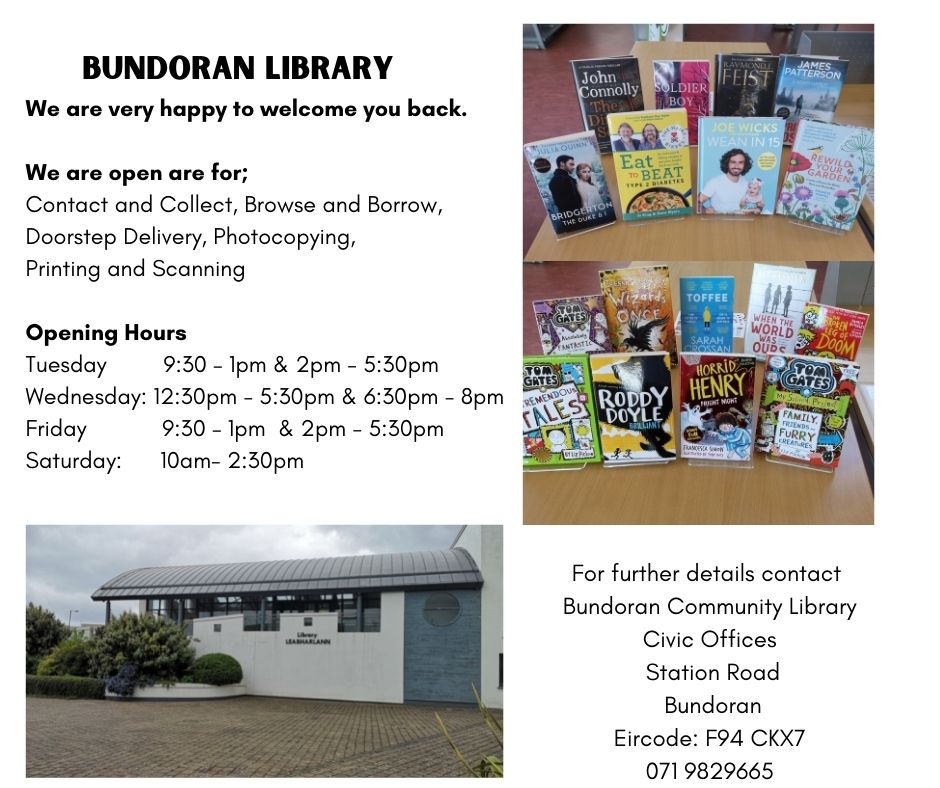 Religious Services Bundoran

Roman Catholic
Church of Our Lady Star of The Sea Bundoran
Church Rd., Bundoran, Co Donegal
Tel: 071 98 41290
Email: ppbundoran@gmail.com
Web: www.magheneparish.ie and Facebook – www.facebook.com/magheneparish
Saturday Evening 7:00pm
Sundays 8:30a.m. / 11:00a.m.
Weekdays Monday to Saturday 10:00a.m. (except funeral days – mass then usually at 11:00a.m.)
Please note, due to the pandemic that numbers attending mass are currently limited. A live broadcast of mass is available at the times indicated above. A podcast of Sunday Mass and special services is also available by searching MassCast where you get your podcasts.

Church of Ireland
Christ Church
West End, Bundoran, Co Donegal
Services every Sunday 11:30am April – October
Defibrillator Locations in Bundoran – more here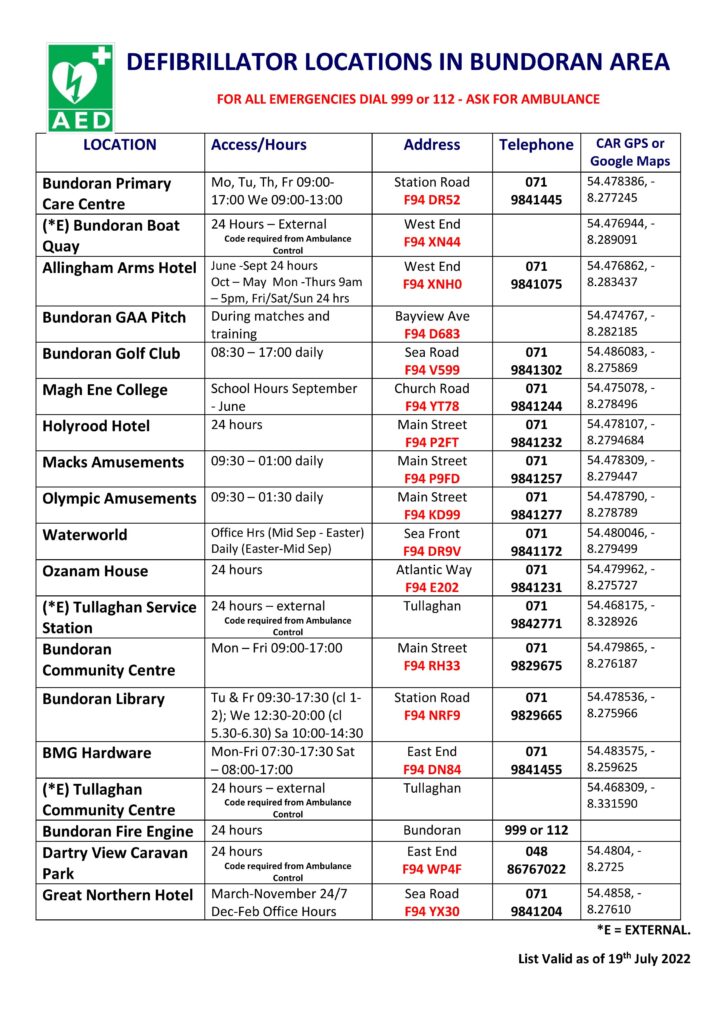 Please remember to always dial 999 or 112 in an emergency – AED units should only be operated by those trained to use them.
Irish Tourist Assistance Service

The Irish Tourist Assistance Service, ITAS, provides immediate support and assistance, 7 days a week, to visitors to the country who become victims of crime or experience other traumatic events. The Service is free and confidential. Please contact us if you or anyone you know requires our help.
More details here
The Bundoran Weekly Podcast
Check out the latest episode of our weekly podcast below! To find out more click www.bundoranweekly.com