Update: January 21st 2022
In what we hope will be our final Coronavirus update, here are the restrictions that have been lifted from 06:00am tomorrow Saturday 22nd January as announced by Taoiseach Micheál Martin just after 6pm this evening:
The Government has approved the lifting of all Covid restrictions, except mask wearing and international travel, from 6am tomorrow.
From 6am (Saturday 22nd January 2022):
Social distancing no longer required
No capacity limit on any events, indoor or outdoor
No early closing for hospitality; rule of 6 gone
No limits on household visits
Phased return to workplace from Monday 24th January
Masks still to be worn, as per now, until end-Feb
Covid pass still needed for international travel
Those with symptoms still asked to isolate for testing
Pod system and other mitigations in schools to remain for now
Update: November 16th 2021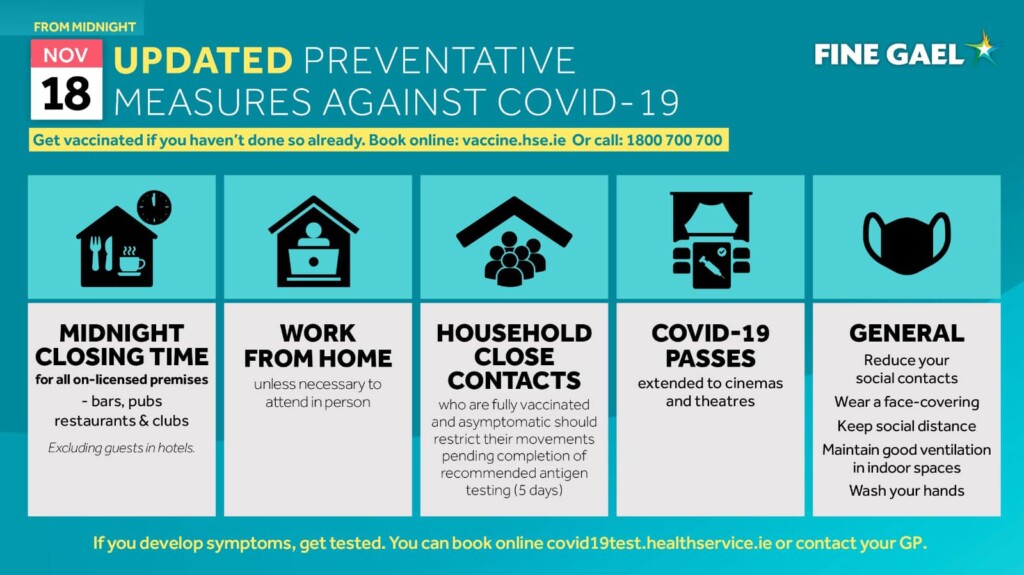 In an announcement made today, Tuesday November 16th 2021, by An Taoiseach Micheál Martin, it has been revealed that from midnight Thursday November 18th that closing time in bars, pubs, restaurants and clubs will be midnight. The use of Covid Vaccine passes will now also be required for all patrons of cinemas and theatres.
The full plan can be read here.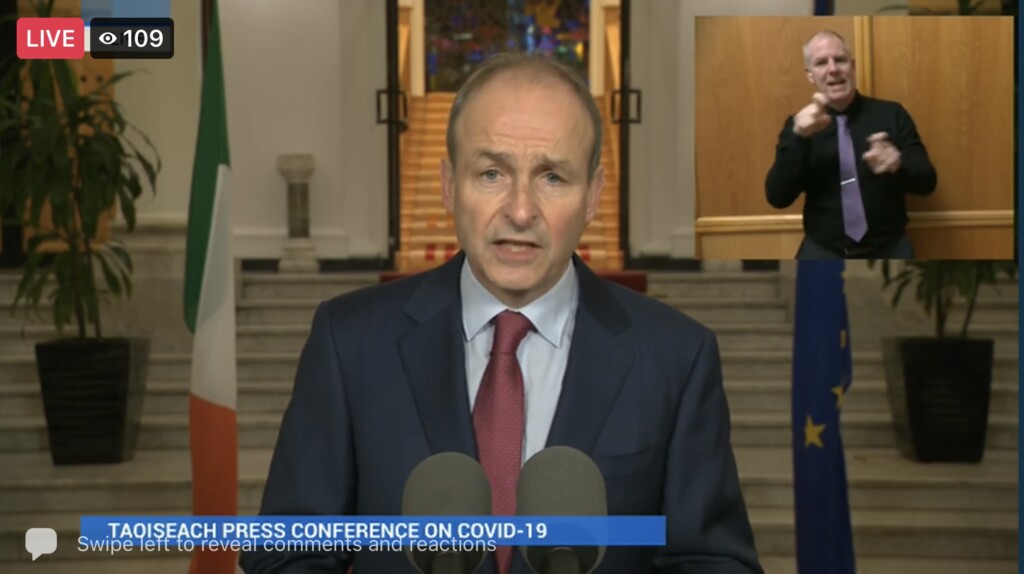 Update: October 19th 2021
Further lifting of restrictions have been announced today that will come into effect this Friday October 22nd 2022. It is envisaged that these measures will be in place until February 2022.
Protective measures include:
requirement for EU Digital COVID Certificate (COVID-19 pass) (vaccine or recovery certificate) for indoor hospitality and events
face masks (can be removed for consumption of food or drinks as appropriate)
table service only in hospitality settings (max of 10 adults per table, and max 15 including children)
collection of contact tracing data
for indoor live music, drama, live entertainment and sporting events audience/spectators should be fully seated (standing permitted at your seat)
specific sectoral guidance will be developed for nightclubs setting out appropriate protective measures. This will involve COVID-19 passes, contact tracing data collection and wearing of face masks except when eating, drinking and dancing
COVID-19 passes and fixed capacity limits will not apply for outdoor events. However, sectors should ensure appropriate protective measures are in place
organisers of indoor and outdoor group activities should ensure that appropriate protective measures are in place, and where indoor groups have a mix of vaccinated and unvaccinated people indoors, pods of 6 should apply. Fixed capacity limits will not apply to these indoor and outdoor group activities
religious services and weddings can proceed without capacity limits but with all other protective measures remaining in place
return to workplaces will continue on a phased and cautious basis for specific business requirements
*Please check social media and website updates of service providers for information on opening hours etc.*
The government's full plan can be viewed here.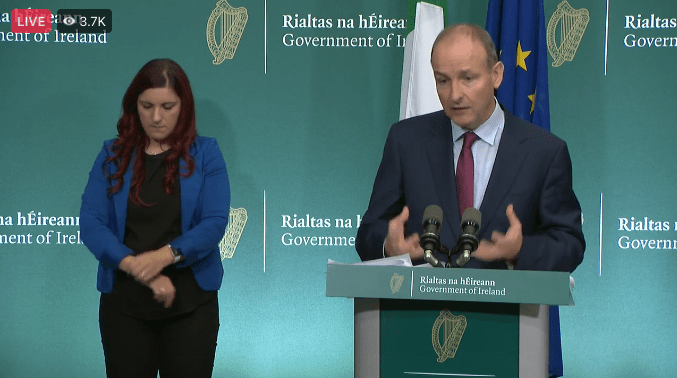 The latest Government advice is available here and the latest information from the HSE is available here. Social distancing should be observed as well as cough & sneeze etiquette and regular hand washing. As always if you are sick or have developed any of the symptoms of Coronavirus, you are asked to stay away from businesses and other people, isolate and contact your GP.

What you can do to stop the spread of COVID-19 (Coronavirus)
If you do not have symptoms
Everyone in Ireland has been asked to stay at home.
But you need to restrict your movements further if you:
live with someone who has symptoms of COVID-19 (Coronavirus), but you feel well
are a close contact of a confirmed case of COVID-19 (Coronavirus)
You need to restrict your movements for at least 14 days. But if the person you live with has had a test and it's negative, you don't need to wait 14 days. You should still follow the advice for everyone – stay at home as much as possible.
If you think you have been in contact with a confirmed case of COVID-19 (Coronavirus)
Visit www.hse.ie if you think you have been:
in contact with someone confirmed as having COVID-19 (Coronavirus)
to a healthcare facility in another country where COVID-19 (Coronavirus) patients are being treated
You will be put in contact with your local Department of Public Health staff who will give you information and advice.
If you develop symptoms avoid contact with people by self-isolating and phone your GP or emergency department.
The Bundoran Weekly Podcast
Check out the latest episode of our weekly podcast below! To find out more click www.bundoranweekly.com
Follow Discover Bundoran on Social Media
Getting to Bundoran has never been easier – click here to find out how!