Bundoran and the rest of Ireland is in Level 5 restrictions until at least April5th, 2021. A number of businesses are forced to or have chosen to stay closed during this time. Please click here for what's open for takeaway foods. More info on Level 5 restrictions is available here. General government information is available here.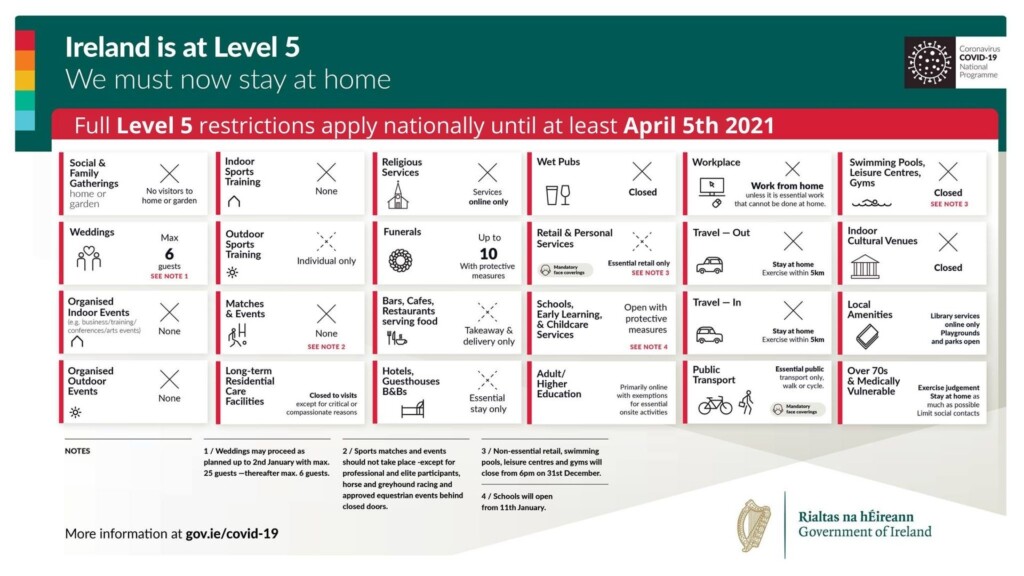 Only essential shops and services are available in Bundoran. We are asking everyone at this time to stay at home.
A reminder to everyone that Government restrictions are still in place and will be for some time to come. The latest Government advice is available here and the latest information from the HSE is available here. Social distancing should be observed as well as cough & sneeze etiquette and regular hand washing. As always if you are sick or have developed any of the symptoms of Coronavirus, you are asked to stay away from businesses and other people, isolate and contact your GP.

What you can do to stop the spread of COVID-19 (Coronavirus)
If you do not have symptoms
Everyone in Ireland has been asked to stay at home.
But you need to restrict your movements further if you:
live with someone who has symptoms of COVID-19 (Coronavirus), but you feel well
are a close contact of a confirmed case of COVID-19 (Coronavirus)
You need to restrict your movements for at least 14 days. But if the person you live with has had a test and it's negative, you don't need to wait 14 days. You should still follow the advice for everyone – stay at home as much as possible.
If you think you have been in contact with a confirmed case of COVID-19 (Coronavirus)
Visit www.hse.ie if you think you have been:
in contact with someone confirmed as having COVID-19 (Coronavirus)
to a healthcare facility in another country where COVID-19 (Coronavirus) patients are being treated
You will be put in contact with your local Department of Public Health staff who will give you information and advice.
If you develop symptoms avoid contact with people by self-isolating and phone your GP or emergency department.
The Bundoran Weekly Podcast
Check out the latest episode of our weekly podcast below! To find out more click www.bundoranweekly.com

Getting to Bundoran has never been easier – click here to find out how!