To post a hospitality job here, please email the details to jobs@discoverbundoran.com
Please come back to find all the latest jobs available in Bundoran.
Camp Leaders – DELS
Donegal English Language School is now recruiting camp leaders for the Summer season July and August 2022.
Can you share your passions and skills by planning and delivering activities to groups of people? Are you over 20 and looking for work that is dynamic, interactive and lots of fun? Do you enjoy working with teenagers and meeting people from all over Europe? Do you want to be part of a team and make new friends in Bundoran, Ireland's surf capital? Do what you love this summer…. With us!
We have various Camp Leader positions; full-time and part-time, residential (€425/week) and non-residential (hourly rate).
Main duties of the coordinators/leaders:
Live and work closely with the students, organizing and coordinating their arrivals and transfers, ensuring a successful transition to their new home and the smooth running of their daily schedules
Plan, prepare and implement personally unique, creative, and fun activities for teenage students
Identify the needs of the collective group and individuals and tailor the activities to suit them
Support other members of staff in their roles and contribute towards a happy and healthy work ethic at all times
The successful applicant will be:
Committed, flexible and caring with a sense of humour and a positive outlook on life and work
An approachable, fun figure for the students to interact with who is also responsible, capable and mature in all situations
Highly motivated and have excellent communication skills to deliver your activity programmes to a range of people
An excellent team player able to liaise with other staff as well as the students, supporting them when in need
Caring and committed to the students within their care and thoroughly enjoy being immersed within the camp life at DELS
Skills needed:
A person with drive, tenacity and flexibility will also be considered
Have different creative, sporting, media or other unique skills to organize and plan diverse, enjoyable activities
Be motivated and enthusiastic with a strong caring nature
If interested in the above position, please forward your cover letter and CV to Bronagh.
Website: http://www.donegallanguageschool.com
Waterworld – Complex Supervisors and Senior Lifeguard
Get full job description here
https://www.waterworldbundoran.com/recruitment/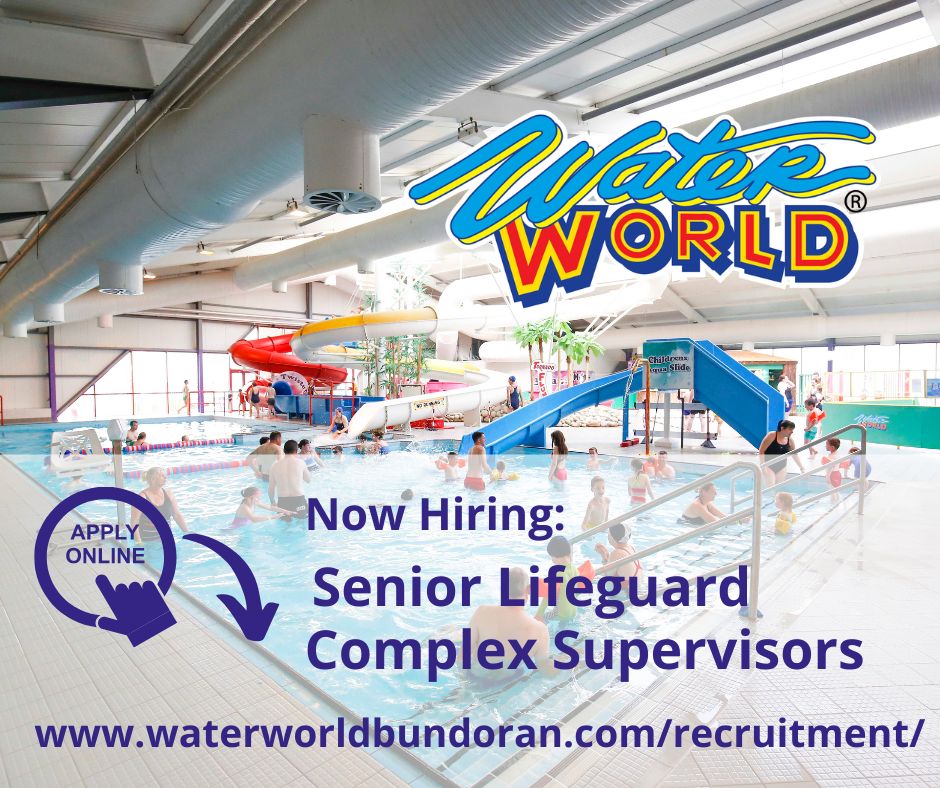 Bank House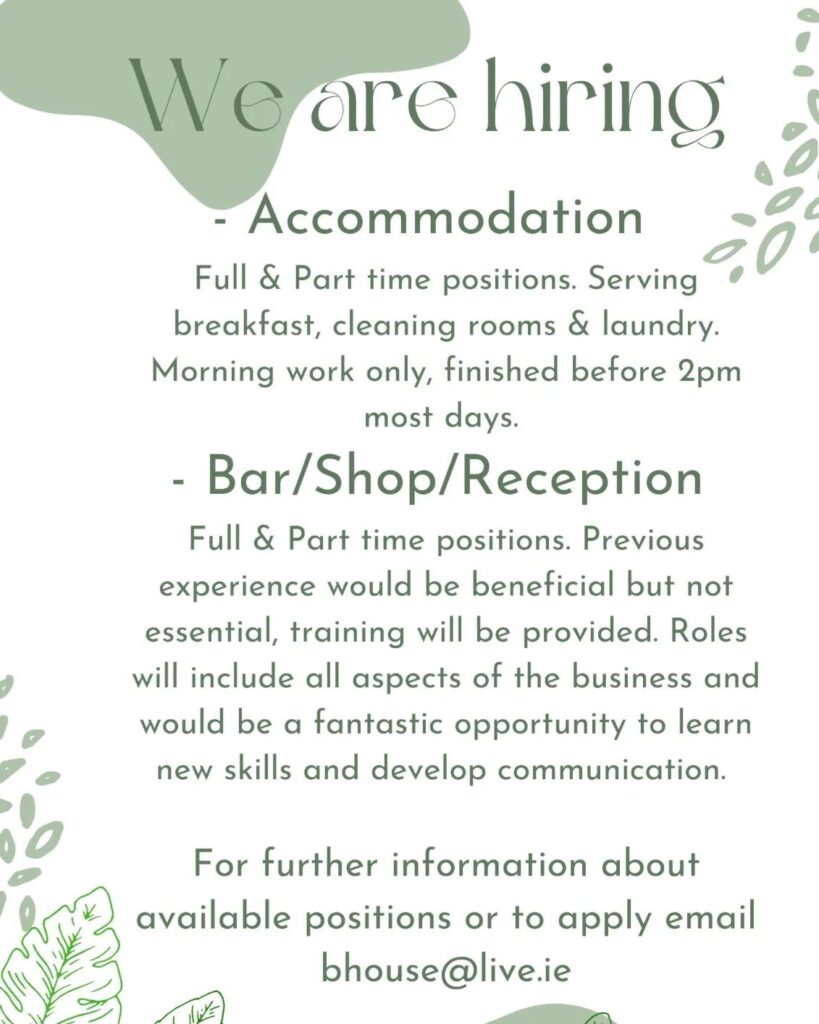 Patricia's restaurant
Waiting staff required in Patricia's restaurant. Call Patricia 0872455908
(added 23rd of April 2022)
Mr Ts Traditional Fish and Chips
Now Hiring
Please email them a CV to mr.tsbundoran@gmail.com
(added 22nd April 2022)
---
Stakes
Waiting Staff Wanted for Stakes
Full-time/part-time
Contact +35383-0275040
(Added 14th April 2022)
---
Waterworld
We're hiring!
Lifeguards
Complex Assistants
Complex Supervisors
Duty Manager
Swim Teacher
Seaweed Bath Operator/TherapistTo apply visit: www.waterworldbundoran.com/recruitment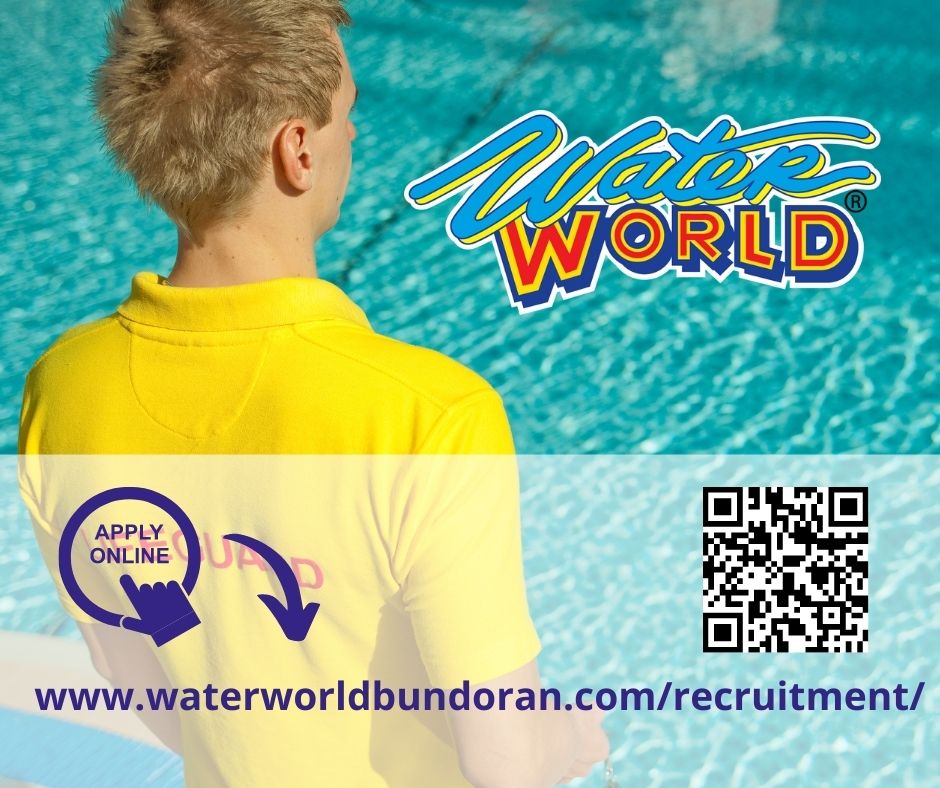 (Added April 14th 2022)
New Restaurant
Chefs and kitchen staff wanted ( all grade ) For upcoming restaurant in Bundoran.Starting end of this month.Contact: darragh37151@gmail.com
(Added 14th April 2022)
---
Allingham Arms Hotel
Job posted on the 19th of February 2022
---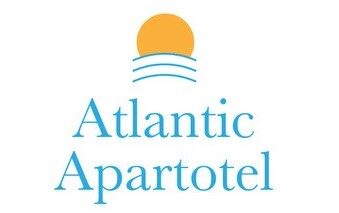 Atlantic Apartotel Holiday Apartments and Leisure Centre
+353 7198 41205
We are seeking new members for our 2022 team.
Vacancies are available for the following positions;
Bar Persons, Bar Floor Service Assistants, Cocktail mixers (full and part time positions).
Housekeeping Assistants (full and part time and summer)
Leisure Centre Assistants.
Reservations Executive
Please email info@atlanticapartotel.ie for application form.
Job Posted on the 13th of February 2022
---
Bar One Racing
Full-time cashier required for immediate start at Bar One Racing, Main Street, Bundoran.
To apply please email CVs to baronebundoran@gmail.com
Job Posted on the 12th of February 2022
---
The Chasin Bull
Job Posted on the 1st of February 2022
---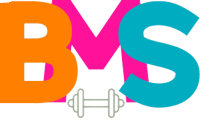 BMS Warehouse Gym are looking for a Personal trainer / Fitness instructor to join our team.
Role will begin as a part-time position with potential for full-time employment for the right candidate. Trial period required.
The successful candidate should be friendly, outgoing, enthusiastic and be passionate about the following:
Coaching Group Sessions
Coaching in 1-1 Personal Training
Working with a wide variety of clients, people of all fitness levels
Continuing self-development
Being part of a strong team
Minimum of two year experience in a similar role.
The right personality, together with an eagerness to grow and develop is what we want in a future team member in order to deliver a top class experience to our members.
Part-time hours: 15-25 per week
Lorraine Smyth, Director & Personal Trainer
BMS Warehouse Gym Ltd, Bundoran Retail Park, Bundoran ,Co. Donegal.
Phone:087 399 9934 Email:info@bmswarehousegym.ie Email:bmswarehousegym@outlook.ie
Job Posted on the 1st of February 2022
---
The Holyrood Hotel
The Holyrood Hotel is currently recruiting for the following positions:
Hotel Receptionist
Bar Person
Food & Beverage Assistants
Accommodation Assistants
Spa Therapist
Phone: 071 98 41 232
Job Posted on the 31st of January 2022
---
WaterWorld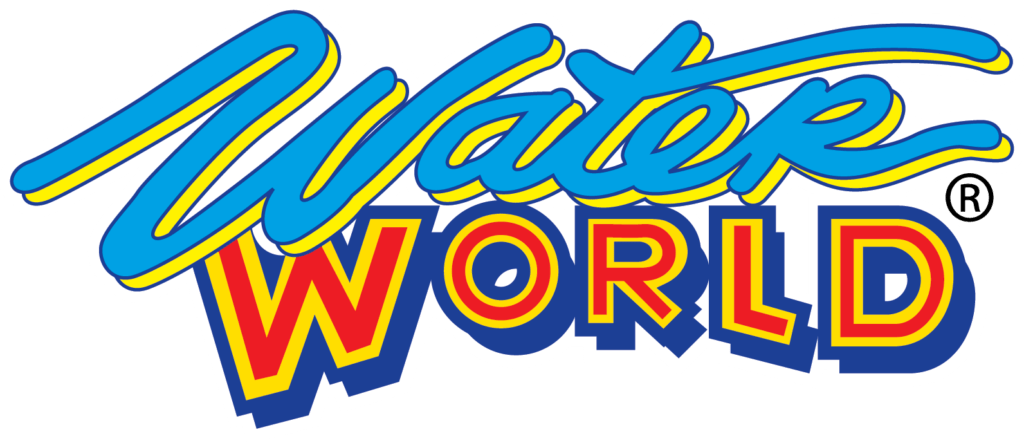 Waterworld Bundoran – Ireland's Premier Indoor Aqua Adventure Playground is currently recruiting for the following positions:
Lifeguards
Complex Assistants
Complex Supervisors
Duty Manager
Swim Teacher
Seaweed Bath Operator/Therapist
For further information on these positions and to apply for any of them please see www.waterworldbundoran.com/recruitment
Applicants must be aged 16 or over.
Lifeguard positions require a current valid lifeguard qualification from RLSS or IWS.
Job posted on the 31st of January 2022
---
Portbeg Holiday Homes
Job Posted on the 31st of January 2022
---
The Salty Fox
Job Posted on the 31st of January 2022
---
The Great Northern Hotel
Job posted on the 28th of January 2022
---
Mc Garrigles Restaurant
We're hiring & looking for fun and friendly staff to join our team at Mc Garrigles busy bar and restaurant Bundoran, we will require people in all areas full-time and part-time positions available.
Restaurant waiting staff,
Bartenders,
Chefs,
Prep. chefs,
Cashier,
Bar manager
temporary accommodation provided.
Job Posted on the 21st of January 2022
---
The Bundoran Weekly Podcast
Check out the latest episode of our weekly podcast below! To find out more click www.bundoranweekly.com
Follow Discover Bundoran on Social Media – click here