To post a hospitality job here, please email the details to jobs@discoverbundoran.com
Please come back to find all the latest jobs available in Bundoran.
---
Join the Team at Goodies Coffee House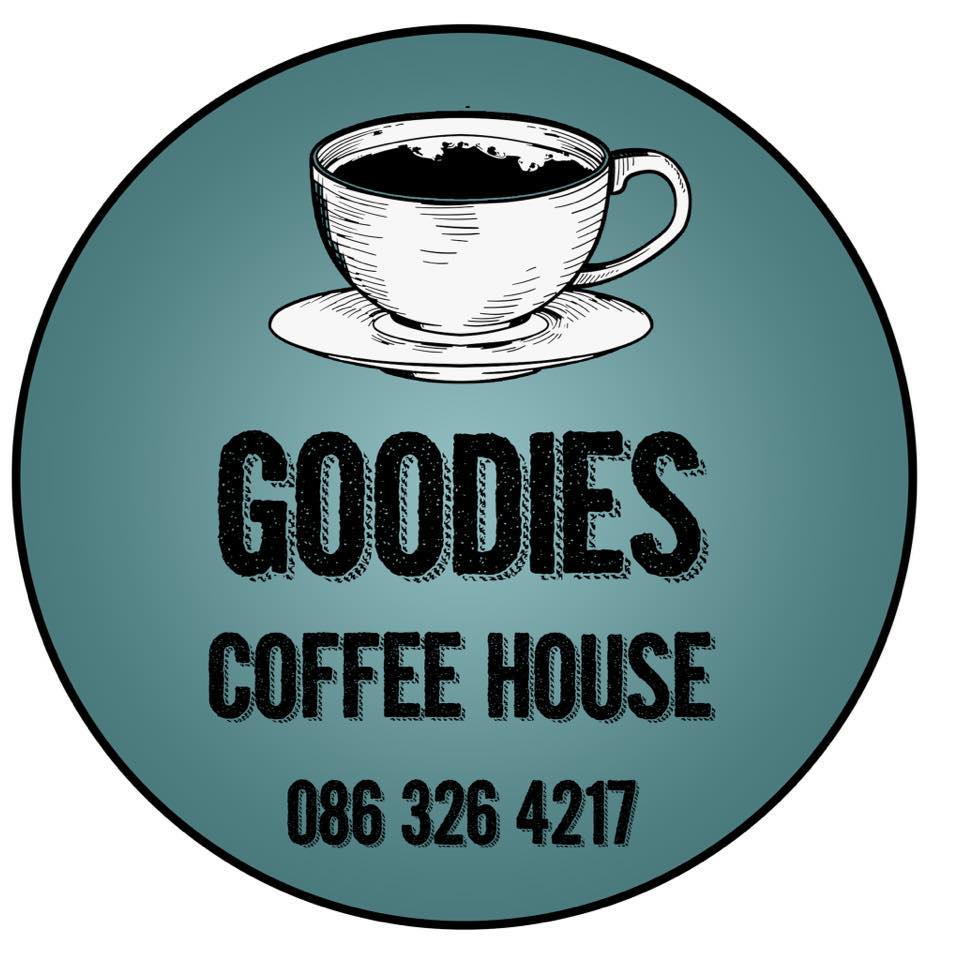 • POSITION AVAILABLE •
Join the Team
Previous Experience Essential
Cooking, Preparing food & barista.
Must be available to work weekdays and weekends.
Call in or message if interested
For more info check out their Facebook page: https://www.facebook.com/goodiesbundoran
Job posted on the 19th of January 2023
---
Beach Lifeguards wanted with Donegal County Council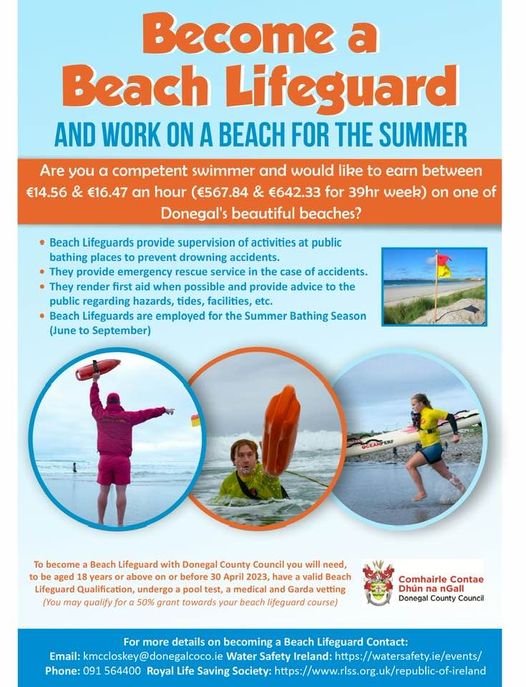 Job Posted the 19th of January 2023
---
Chef/Cook wanted at the Chasin' Bull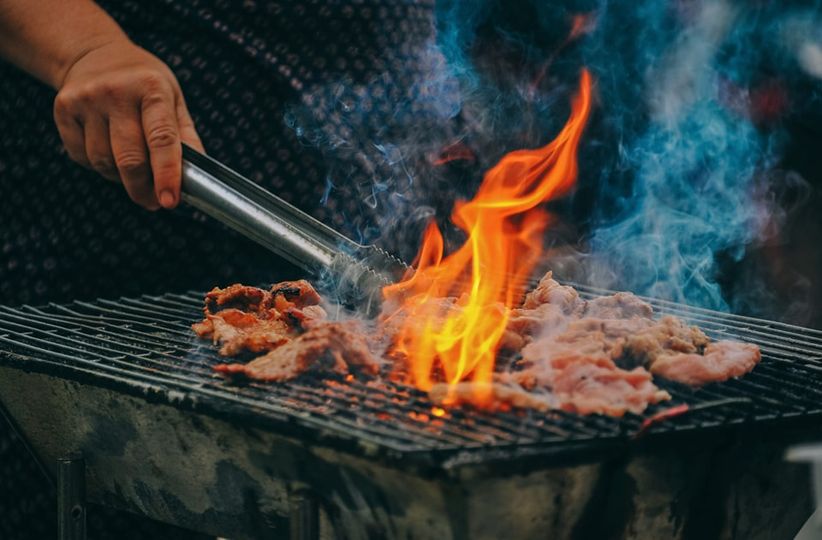 The Chasin' Bull has a position available for a chef/cook.
Experience is awesome but if you're eager and willing to learn, training will be provided. Drop in a CV or email it to chasinbulljobs@gmail.com
Job Posted the 19th of January 2023
---
Hair Stylist wanted at Blown Away Boutique Hair Salon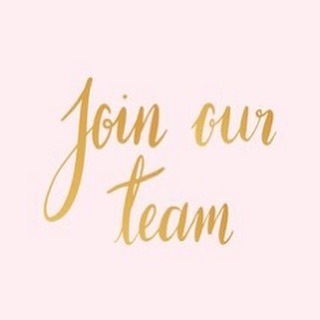 We are looking for someone to join our team @blown_away_boutique_hair_salon. They are looking for a qualified hair stylist with a minimum of 2 years experience in all aspects of hairdressing.
For further information about this position please email us
Andreablownaway@gmail.com
Closing date for C.V. Is February 2nd.
Job Posted on the 19th of January 2023
---
Bar Staff wanted at the Phoenix Tavern
Job Posted on the 13/01/2023
---
Campus Manager at the Donegal English Language School wanted
Donegal English Language School
Donegal, County Donegal
€580–€680 a week – Full-time, Fixed term
Qualifications
Management: 1 year (Required)
Ireland (Required)
Benefits Pulled from the full job description
Food allowance
On-site parking
Sick pay
Full Job Description
At DELS, we aim to give a positive, life enhancing experience to both our students and staff. We welcome around 1000 students each year. Our goal is to deliver highly communicative English language tuition for learners of all ages in which all the strands of the programme interconnect to create a dynamic overall experience. The Centre Managers role is pivotal to all of this.
The Centre Manager is responsible for the smooth running of the activity programmes, student welfare and accommodation, establishing procedures and solving problems quickly and efficiently.
Main duties:
Overall management of the accommodation, student welfare and activities to ensure that a high-quality is delivered, following our guidelines closely
Overall management of all accommodation including bookings, room allocations, staff allocation, liaising with hosts, allocating students to hosts, Transport arrangements
Oversee the Camp Supervisor and Head Coordinator to ensure effective management of all staff
Maintain a professional relationship with all stakeholders
Ensure the safety and welfare of all students
Organise all activities and excursions for students
Report to the Director/Office Manager on a daily basis
Work closely with the students and coordinators acting as a point of contact between them and the Director.Office Manager
Ensure students make a successful transition into their new environment
Supervise the planning, preparation and implementation of unique, creative and fun experiences for teenage and adult students
Welcome the groups to the centre on arrival and give them an induction.
Administration
To lead and facilitate staff induction and training
Ensure that the centre, courses and welfare of staff and students, complies with accreditation and governing bodies guidelines
Establish and maintain clear lines of management and effective procedure, and work closely with your team to achieve this
Control expenditure of the budget and maintain accurate accounts
Help coordinate arrivals and transfers of students on a weekly basis
Organising Timesheets/wages
Liaise with Office Manager & Academic Manager
Personnel
Recruit staff and lead training for the staff
Create a positive team atmosphere and motivate the staff effectively
Carry out staff appraisals, and ensure high levels of performance are maintained
Ensure that accurate data on staff is maintained according to the manual
Resolve any problems with staff or complaints from group leaders
At the end of each season include a personnel evaluation on each DELS team member
Welfare & Safeguarding
Ensure that sufficient members of staff are allocated in each house/residential accommodation to maintain a rota of student supervision
Monitor all host family students and check that their transport is operating effectively
Be up-to-date on all welfare information given to hosts
Must be fully aware of all emergency procedures in major incidents
Ensure that students and staff all follow the rules according to DELS Induction, safeguarding policy and staff/student handbooks
Undertake the role of Designated Liaison Person (DLP). This requires the completion of safeguarding training. As DLP you will be responsible for handling any safeguarding concerns throughout the centre. You will have training in how to deal with this
If not already completed, complete a first aid certificate
Ensure that all DELS Health & Safety policies are implemented and monitored
Customer Service
Ensuring that DELS customers – group leaders and students – receive good customer service from when they arrive until they leave
Hold regular meetings to gain feedback and take pro-active, positive action to address any issues that group leaders or students may have
Manage the provision of good customer service according to customer needs of the client
Represent DELS positively in all conversations with clients and staff
Report any customer complaints and escalate any unresolved issues to the director
Essential
Educated to degree level or equivalent management experience
Previous experience of running a Summer Centre
Ability to motivate, inspire and enjoy working with others
Excellent knowledge of rules and organisation of sports/games
Relevant management and leadership experience
Proven competence in administration and computer literate
Be flexible and adaptive to change
Ability to work in a high-pressure environment
Experience dealing with HR issues
Driving license
The successful applicant:
Will need to be capable of leadership and be able to give direction and lead a strong team with confidence
Will need to be organised and have good listening and communication skills
Will need to be a committed, flexible and caring person with a sense of humour and a positive outlook on life and work
Will need the ability to be an approachable, fun figure for the students and coordinators to interact with but who can be responsible, capable and mature in all situations
Will need to be highly motivated and have excellent communication skills to deliver the programmes to a diverse range of people
Will need to be an excellent team player and liaise with other staff as well as the students, supporting them when in need
Will need to be caring and committed to the students within their care and thoroughly enjoy being immersed within the camp life at DELS
Desirable
Current and Fully Qualified Occupational First Aid Certificate
Child safety training
Marketing & social media experience
Has worked with people who are not native speakers
Mini-bus license
The above list is an indication of the main tasks involved in the job but is by no means exhaustive.
Job Type: Full-time, Fixed Term – February to September with potential of longer
Schedule:
8 hours per day
5 days per week, some weeks there may be 6, if so that day can be taken in lieu, sometimes there will be weekend work
Benefits:
One months free accommodation offered if needed
Food allowance when residential groups
Sick Pay
On-site parking
Salary:
€580 per week €680 per week June/July/August
Interviews:
Interviews will be held the week of January 09th/16th. Job to start February 06th
WEBSITE: http://www.donegallanguageschool.com
If interested in the above position please forward your cover letter and CV to Gina at gina@ donegallanguageschool.com
Job Types: Full-time, Fixed term
Contract length: 8 months
Salary: €580.00-€680.00 per week
Schedule:
Experience:
Management: 1 year (required)
Work authorisation:
For more info and to apply click here
Job posted the 13/01/23
---
Personal Trainer/ Fitness Instructor wanted at BMS Warehouse Gym
Job posted 13/01/23
---
Careers wanted for Ballyshannon and Bundoran at IWA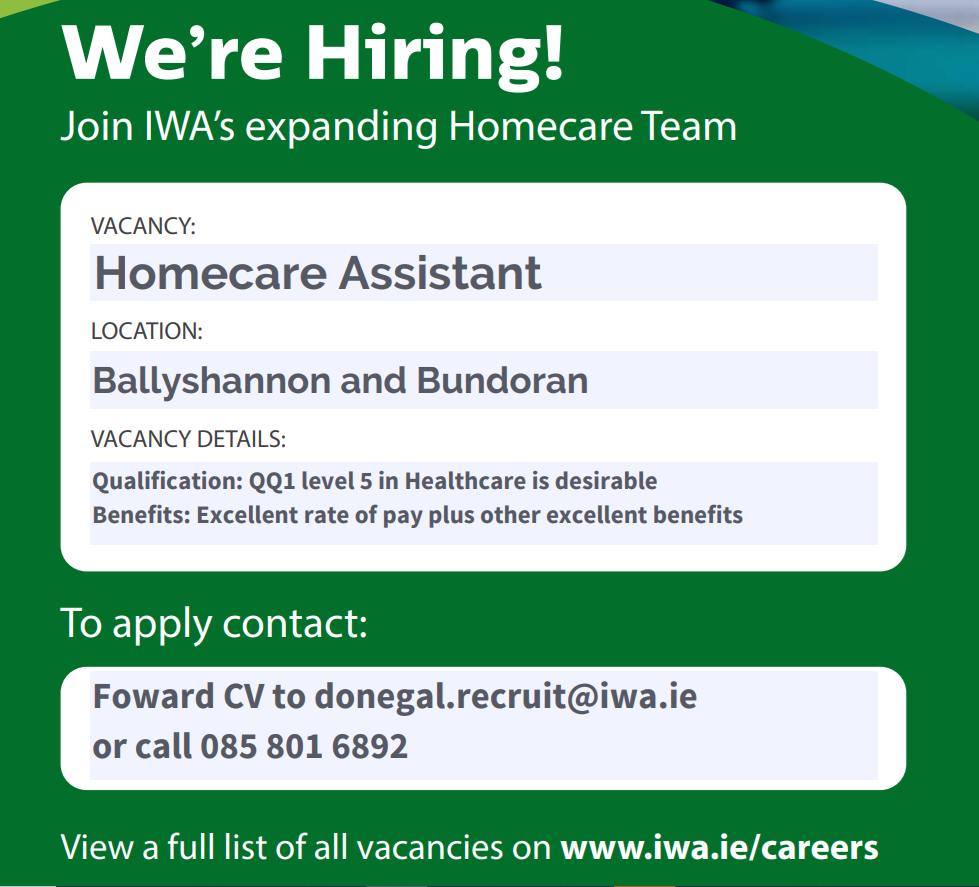 Job posted the 13/01/2023
---
Experienced Accommodation Assistant wanted at the Allingham Arms Hotel
Bundoran, County Donegal
From €11.30 an hour – Full-time, Part-time, Permanent
Job details
Salary
From €11.30 an hour
Job type
Full-time
Part-time
Permanent
Full Job Description
Main Purpose of Job:
To ensure the smooth and professional cleaning and servicing of the Hotel – bedrooms, bathrooms, corridors, public areas, toilets while presenting a clean, fresh and friendly environment for our guests.
Some of the duties include:
1) To work as part of the accommodation team and greet guests in a friendly manner.
2) Responsible for the cleaning of areas in the hotel including, but not restricted to guests' rooms, bathrooms, corridors, reception, stairways, public and staff areas.
3) Responsible for cleaning other areas as directed by manager on duty and also as per accommodation checklist.
4) To ensure that all materials and equipment are not left in a hazardous state.
5) To ensure toilets are being kept clean and tidy at all times.
6) Ensure all bedroom's toiletries and towels are replenished.
7) Responsible for collecting food trays from the corridors to the Kitchen area.
8) Report and highlight any maintenance issues to Management.
Work Remotely
Job Types: Full-time, Part-time, Permanent
Part-time hours: 30 per week
Salary: From €11.30 per hour
Benefits:
Schedule:
8 hour shift
Day shift
Monday to Friday
Weekend availability
Supplemental pay types:
Work Location: One location
Expected start date: 03/02/2023
Click here for more info or to apply
Job posted 13/01/23
---
Experienced Waiter/Waitress- Wanted at the Allingham Arms Hotel
Bundoran, County Donegal
From €11.75 an hour – Full-time, Part-time, Permanent
Job details
Salary
From €11.75 an hour
Job type
Full-time
Part-time
Permanent
Qualifications
Restaurant experience: 1 year (Required)
English (Required)
Day shift (Preferred)
Night shift (Preferred)
Full Job Description
The ideal candidate will have the following:
A warm and friendly personality
Commitment to delivering high levels of customer service
Good team work skills – we want work to be fun for all of our employees
Have a genuine interest in providing hospitality to our customers
To be able to work well under pressure
The job:
To greet all guests on arrival to the restaurant
To serve food and drinks to guests, ensuring requests and queries are responded to in a timely and friendly manner
To communicate and work effectively within a team to ensure every guest leaves with the desire to return
To maintain the cleanliness of the restaurant
Must be available to work both midweek and weekends
Work remotely
Job Types: Full-time, Part-time, Permanent
Part-time hours: 40 per week
Salary: From €11.75 per hour
Benefits:
Food allowance
On-site parking
Schedule:
8 hour shift
Day shift
Monday to Friday
Night shift
Weekend availability
Supplemental pay types:
Experience:
Restaurant experience: 1 year (required)
Language:
Shift availability:
Day shift (preferred)
Night shift (preferred)
Work Location: One location
Expected start date: 10/02/2023
Click Here for more info or to apply
Job posted on the 13/01/2023
---
Kitchen Porter- Wanted at the Allingham Arms Hotel
Bundoran, County Donegal
€11.30–€13.00 an hour – Full-time
Job details
Salary
€11.30–€13.00 an hour
Job type
Full-time
Qualifications
Kitchen: 1 year (Required)
Day shift (Required)
Night shift (Required)
Full Job Description
Cleaning and sanitising all areas used for meal preparation, along with ovens, grills, sinks, and stoves.
Unloading food and equipment deliveries & ensuring they are stored in the right areas.
Continually making sure that work surfaces, floors, and walls are clean and sanitised.
Taking out all rubbish.
Washing cutlery, utensils, and cookware so the kitchen staff has constant access.
Helping the chef with food preparation such as peeling, washing, and cutting meal ingredients when required.
Keeping freezers, fridges, and storage areas clean and organised.
Must be available both midweek and weekends
Work remotely
Job Type: Full-time
Salary: €11.30-€13.00 per hour
Benefits:
Food allowance
On-site parking
Schedule:
8 hour shift
Day shift
Monday to Friday
Night shift
Weekend availability
Experience:
Kitchen: 1 year (required)
Shift availability:
Day shift (required)
Night shift (required)
Expected start date: 03/02/2023
Click here for more info or to apply
Job posted on the 13/01/2023
---
Check out the latest episode of our weekly podcast below! To find out more click www.bundoranweekly.com
Follow Discover Bundoran on Social Media – click here