One of the many things you can do for free is follow the Bundoran Sculpture Trail! Here's where you can check them out!
Title: Aolchloch Punta, limestone punt.
Artist Name: Brendan McGloin Year of Installation: 2002
Size: 8.5m long x 2m wide x 1.3m high
Medium: Limestone, Sandstone and Granite
Location: West End Bundoran
Description: The seating when viewed as a whole represents a boat based on the kind used by local fishermen during the mid 1900's. The project is site specific.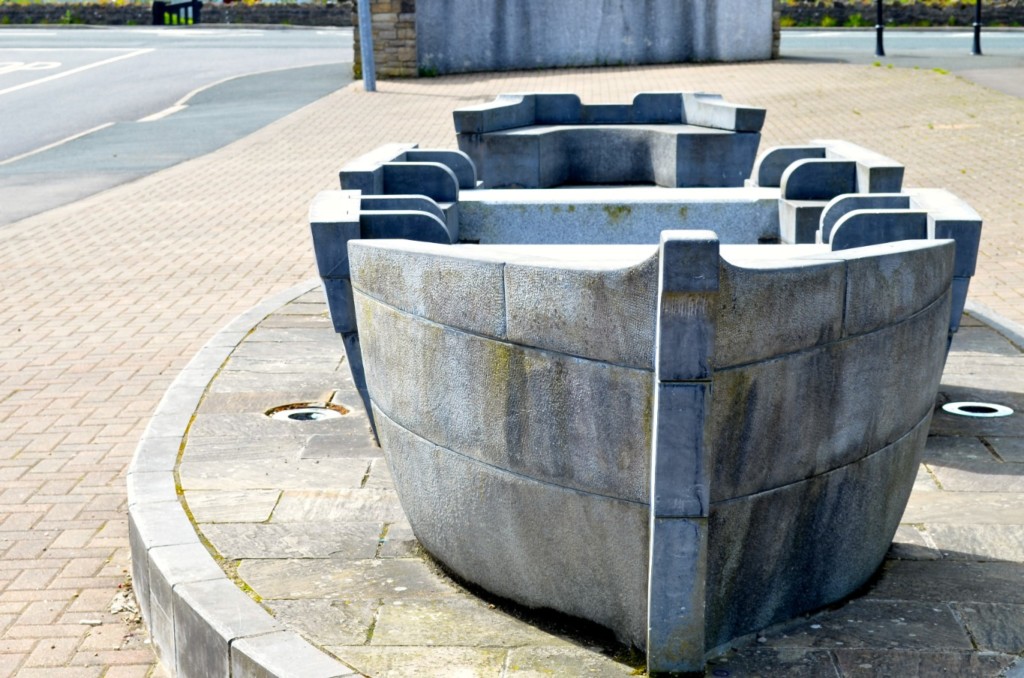 Title: An Triur Ceann, The Triskle Heads
Artist Name: Brendan McGloin, Year of Installation: 2002
Size: 2m x 5m
Medium: Limestone and Sandstone
Location: Outside Bundoran Civic Offices & Library
Description: Three heads carved in one block of Limestone set upon a sandstone column with a capping stone between, reading the names of the three masters in Gaelic. It features Fearfasa O'Mulconry, Peregrine O'Duignean & Cucogry O'Cleirigh, the sculpture inside the library watching over his scribes is Michael O'Cleirigh (see below)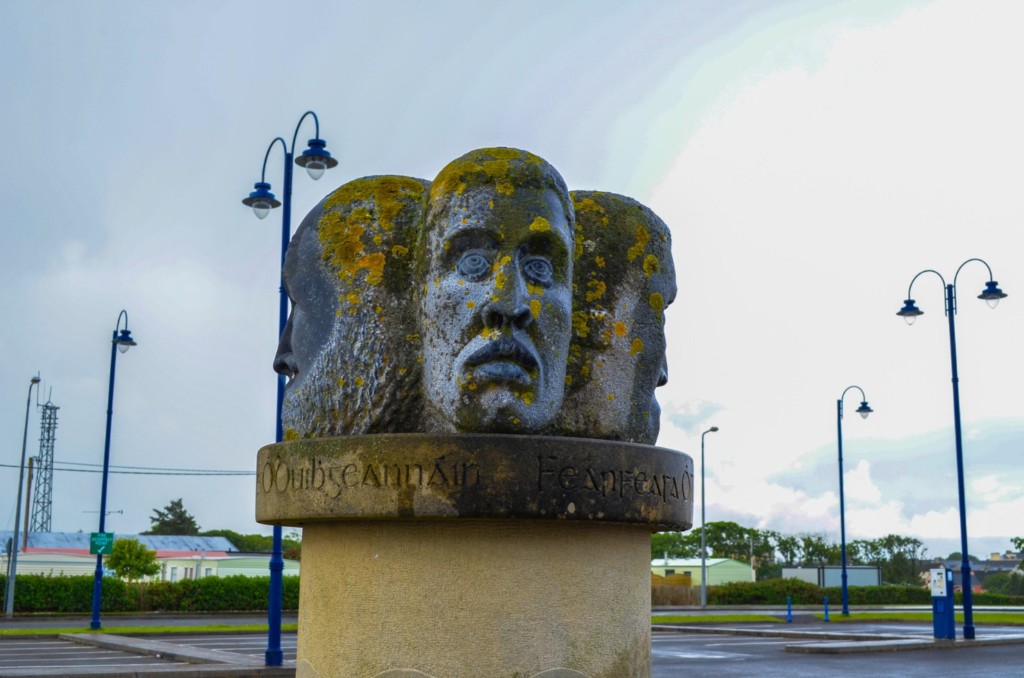 Title: Double Daisy
Artist Name: Walker & Walker Year of Installation: 2000
Size: 60 x 60 x 150 cm approx.
Medium: Painted cast bronze
Location: Seafront playground beside Waterworld Bundoran
Description: Two over sized daisies cast in bronze and painted, interlocking in the manner of a daisy chain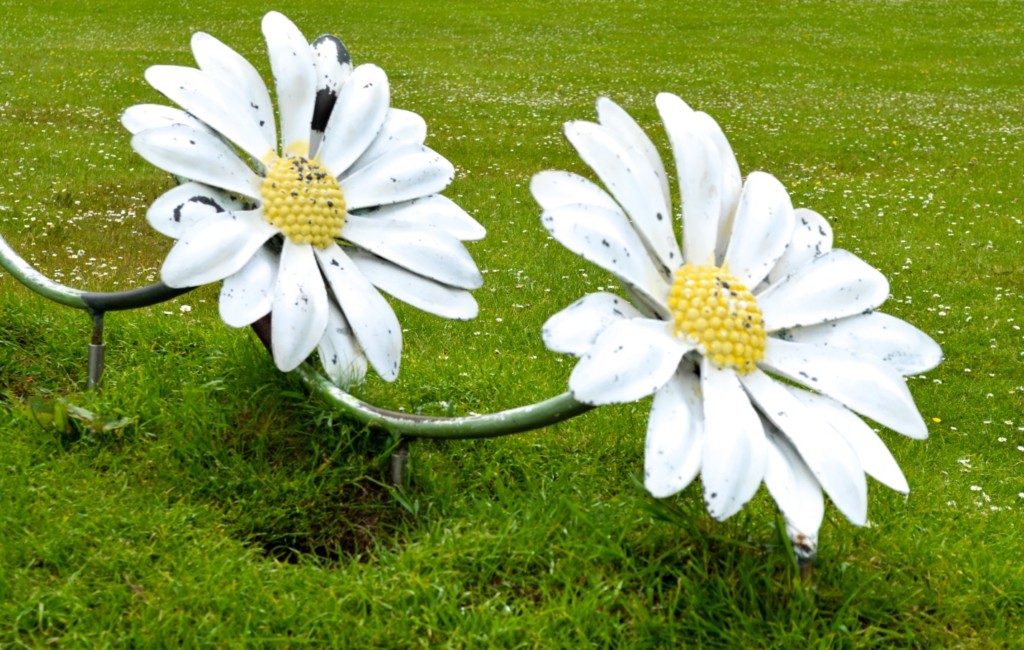 Title: 1000 Silver Limpets
Artist Name: Grace Weir Year of Installation: 2000
Size: approx 50m
Medium: Chrome plated stainless steel
Location: Car Park below the bridge opposite Edwardian Terrace Description: 1000 limpets cast in stainless steel and chrome-plated, forming a straight line along a wall. Count them and see…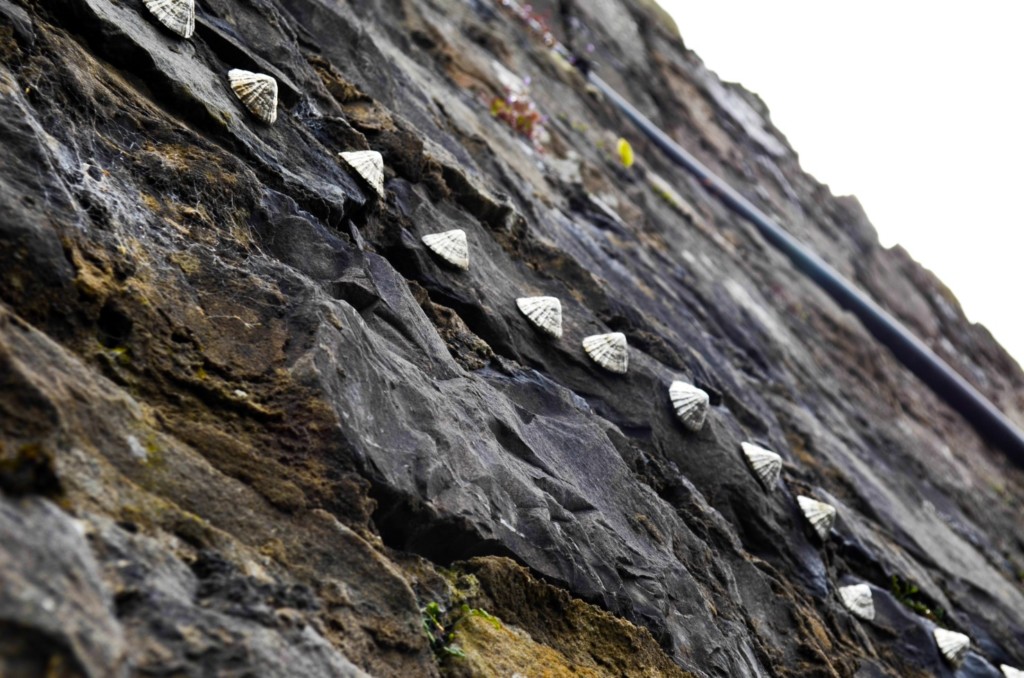 Artist Name: Brendan McGloin
Year of Installation: 2000
Size: 3m arch, 2m monolithe
Medium: Limestone, Sandstone, Lead, Granite
Location: Promenade Bundoran Description: Monolithe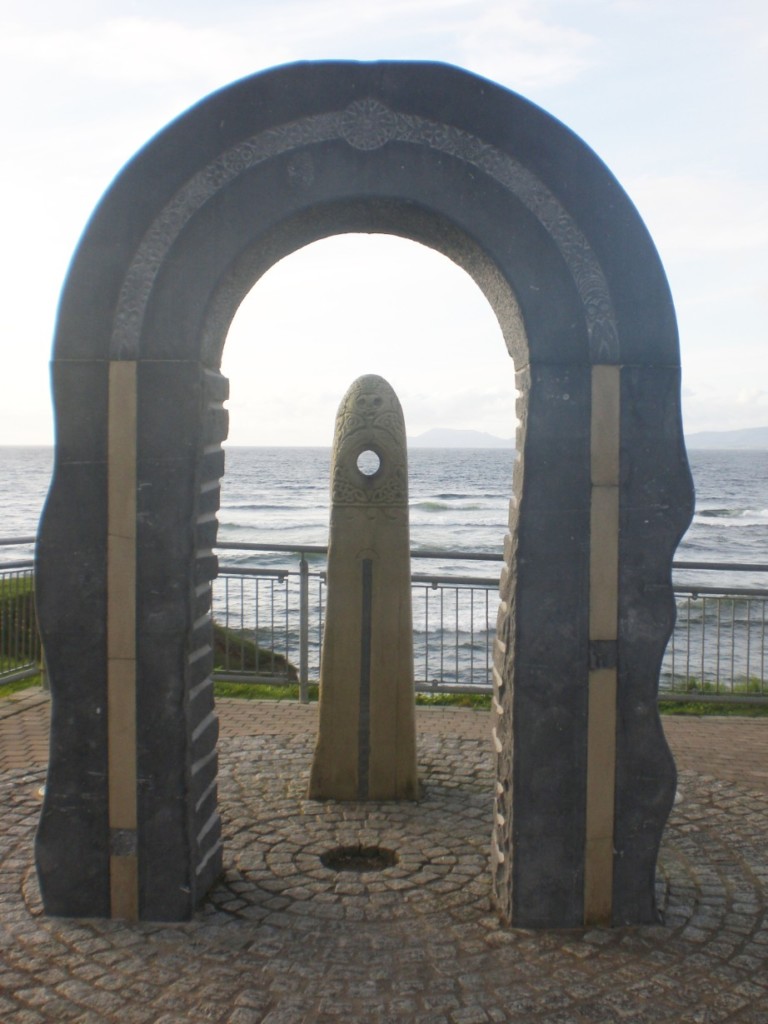 Title: Dry
Artist Name: Locky Morris
Year of Installation: 2000
Medium: Bronze
Location: Various around Promenade Bundoran.
Description: DRY is a series of 6 bronze towels placed permanently at locations along the shorefront – the image featured is that of a towel discarded by a careless bather. Can you find his runners?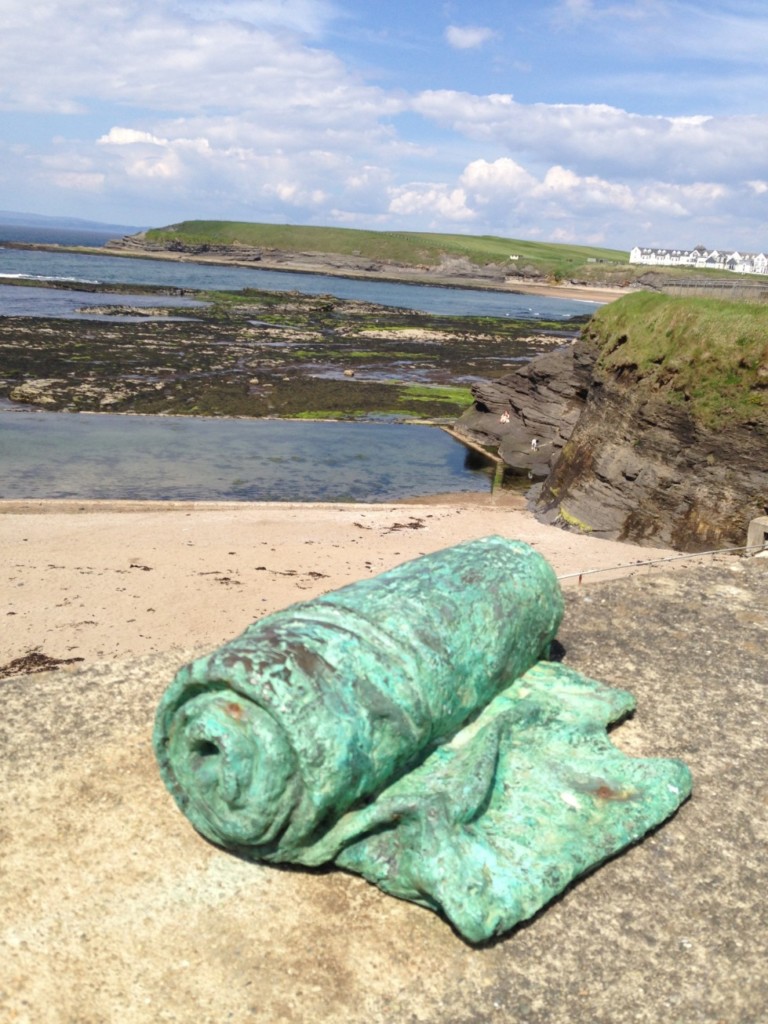 Download the flyer to take with you here
Michael O'Cleirigh Statue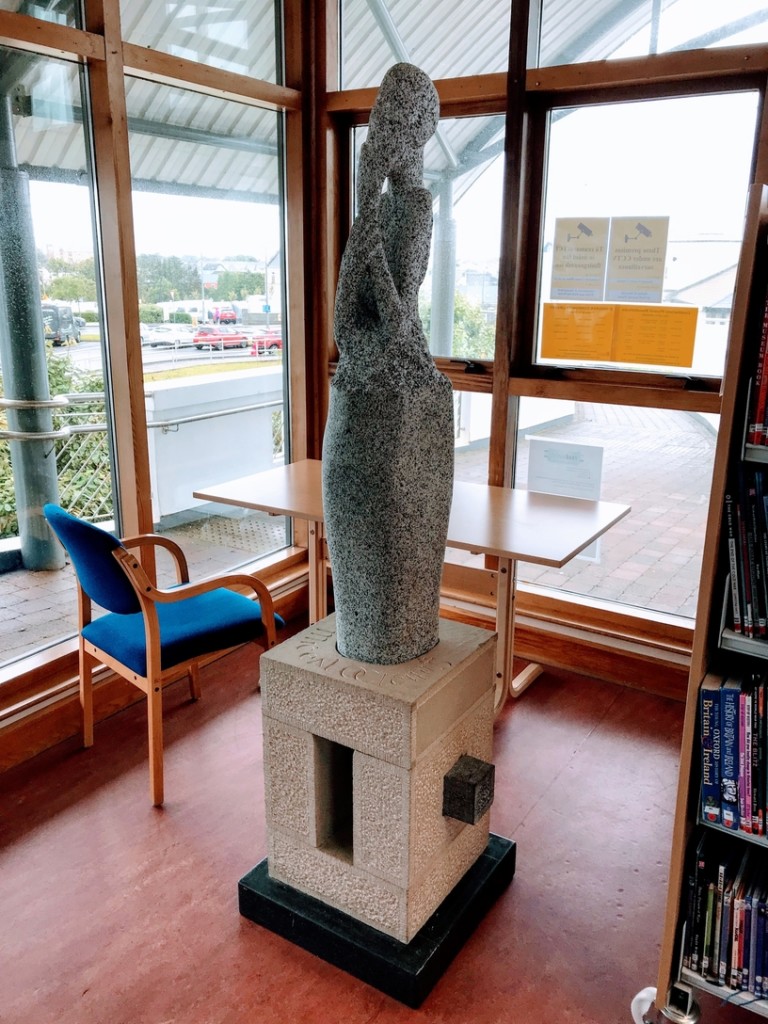 The sculpture of Michael O'Cleirigh is carved from three different types of stone.
The head and body are carved from Donegal Granite, he sits on four slabs of Yorkshire Sandstone these slabs represent the Donegal Annals. Kilkenny Limestone is used for the pegs which run through the book and the base.
The Sculptures of the Four Masters were chosen for Bundoran Library to represent literature and learning. The Bundrowes River criss-crosses Bundoran and Tullaghan (Leitrim), and as you can see from the passage in Bernadette Cunningham's book, Michael O'Cleirigh stayed with the Donegal Franciscan community, based at Bundrowes.
"The Donegal Franciscan community, based at Bundrowes in the extreme south of the county, provided O'Cleirigh's base for most of the eleven years he spent in Ireland as a Franciscan friar between 1626 and 1637. His own brother Fr Bernardinus, was serving in as guardian of the Donegal convent during the period when the annals were completed in 1636"
(Taken from Bernadette Cunningham's book, page 283. The Annals of the Four Masters ISBN 9781846822032)
Mural Tiles
These 14 mural tiles can be found behind the Tourist Office at the Bridge in Bundoran. They were produced by the students of Magh Ene College as a transition year project in 1999/2000.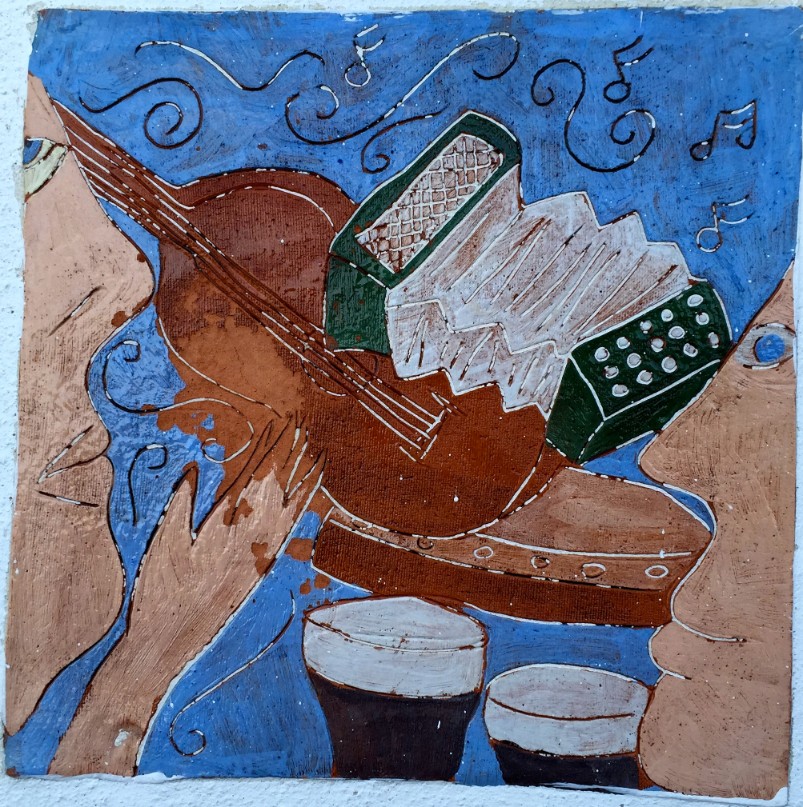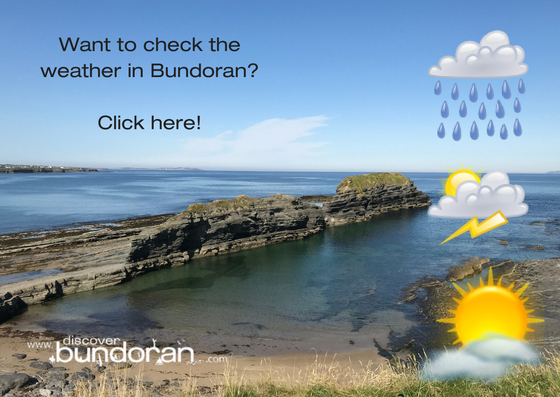 Read more about the artists here