Bundoran's Tourism Officer Shane Smyth came to the job in 2013 following an 11 year career with Dublin radio station Q102. Shane, originally from the town, is also brand ambassador for Discover Bundoran.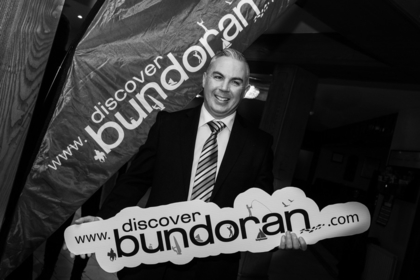 Shane's main job is to promote Bundoran via the Tourist Office, online, in the media (social and traditional). He also represents the town at holiday trade fairs, conferences and town twinning delegations.
Shane has been responsible for the increase in brand awareness of Bundoran throughout the country. He capitalises on PR opportunities in order to keep the town at "top of mind" when it comes to holiday destinations for families, couples and singles.
Facebook
Shane has also been responsible for the establishment of the Inform Bundoran Facebook group, a steadily growing community group with more than 2000 members. Local residents rely on for up to date and accurate information about issues that affect them in the Bundoran and surrounding area. He was recently invited by Facebook to participate in an international summit in London which you can read about here
Shane is also a familiar voice from the radio. He spent 11 years with Dublin's Q102. He also hosted the popular Ocean Drive on Ocean FM for 4 years. You can hear his voice on promotional videos for County Donegal. The most recent of these aired nationally during St Patrick's week 2017.
Bundoran RNLI also utilise Shane's PR expertise where he volunteers as Lifeboat Press Officer providing vital, accurate and trustworthy information to the media and the public about the station's search and rescue efforts as well as fundraising activities.
Social Media
Social media is a huge part of Shane's job. Growing the Discover Bundoran social channels has been a priority. He has also introduced some new initiatives recently including Instagram stories for large events in the town. He has also broadcast Facebook live events. These include from the start lines of the recent Cara 10 Mile and 10 K runs and also the St Patrick's Day Parade.
Podcast
Shane also hosts the Bundoran Weekly podcast – more details here
Talking about and promoting Bundoran is what Shane loves to do – he may be contacted at shane@discoverbundoran.com