Waterworld Awarded White Flag
Ireland's premier indoor aqua adventure playground, Waterworld Bundoran, has once again been awarded the prestigious and sought after White Flag Excellence Award – GOLD Standard from Ireland Active (previously ILAM Ireland).

The awards ceremony, heralded as the main social and networking event in the calendar year for those working in the leisure industry, was held recently in Cork and attended by 300 delegates from all over Ireland. The White Flag award is based on the 3 essential areas when operating any leisure centre or spa; safety, hygiene & maintenance and customer care. The awards are designed to encourage continuous improvement and are categorised into three levels, gold, silver and bronze.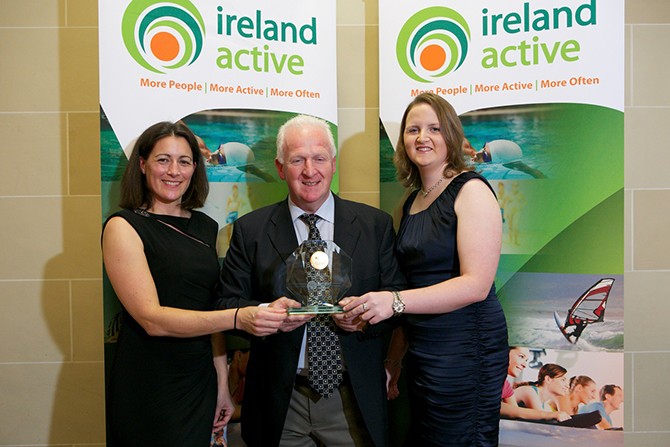 Waterworld Bundoran, which has recently undergone a €1.8 million refurbishment and added five new features, has been a recipient of the White Flag award since the year 2000 and has striven to achieve the accolade each year since. Waterworld General Manager Anderson Keys said 'it is a testament to the hard work and commitment of our staff that these high standards are reviewed and maintained on an annual basis. Waterworld is a top class facility that this year introduced 5 additional family friendly features which saw visitor numbers increase across the summer.'

Speaking about the achievement Cllr Michael McMahon, Chairperson of Waterworld commended all involved 'it's no mean feat to retain the white flag status for over 20 years now and I'd like to pay tribute to Anderson and his team on their very hard work on this. The people and rate payers of Bundoran have a facility they can be very proud of in Waterworld.'

Christine Moloney, Chairperson of Ireland Active said "The White Flag Awards are a fantastic way for our Ireland Active members to show just what an excellent job they are doing. It not only recognises the great standards that our members achieve but also the improvement that they make year on year. The awards are a fantastic opportunity for our members to get together and celebrate the great work that is being done in our industry as a whole'

Waterworld Bundoran will reopen for the 2014 season at Easter.