Second 'Connecting the Wild Atlantic Way' Tourism Conference in Donegal
Donegal County Council in association with Donegal Tourism Ltd are pleased to announce that 'Connecting the Wild Atlantic Way' conference is coming to Donegal. This marketing conference will be held on Friday, 9th October 2015 in the Clanree Hotel, Letterkenny. 'Connecting the Wild Atlantic Way' is the second innovative conference which blends marketing activities with promotion of the Wild Atlantic Way touring route in Donegal.
During the conference businesses will learn how to use simple and cost effective  marketing Techniques and Tips on topics such as bundling and internationalisation from a panel of guest speakers ranging from tour operators to travel bloggers to leading travel experts.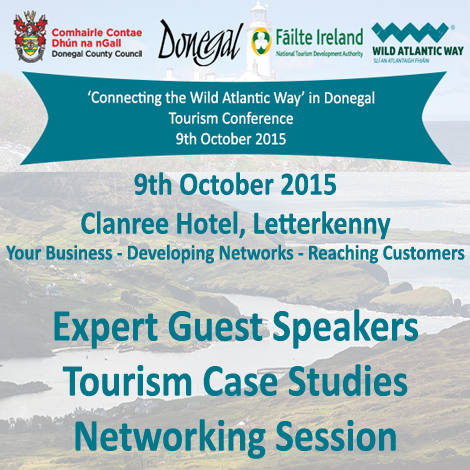 The conference will also feature practical case studies from a range of local tourism businesses that are already experiencing a positive increase in visitor numbers as a direct result of Wild Atlantic Way marketing initiatives that they have deployed in order to reach a wider consumer audience.
The Conference incorporates a Speed Networking Session providing attendees with a forum to network with other tourism businesses in Donegal in order to discuss potential collaborations and the maximisation of tourism opportunities on the Wild Atlantic Way.
 This is a conference not to be missed by those who want to maximise their business potential with a 'Wild Atlantic Way' marketing focus. Places will be limited, so registration as soon as possible is essential. This Event is Free of Charge. Registration is compulsory and closes on Monday, 5th October 2015.