Cliff Walk
The Cliff Walk as you would suspect from its very name is a walk along the cliff top and seashore of Bundoran's West End.
Starting out from the Tourist Information Office (See map) the route takes you westwards over the River Bradog and into the West End.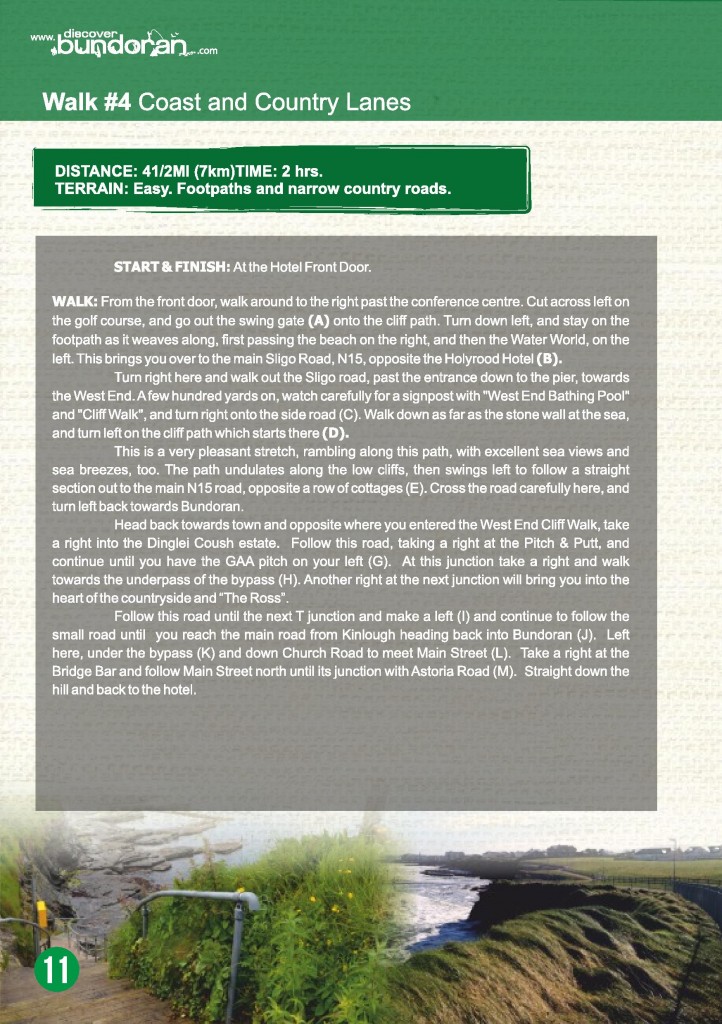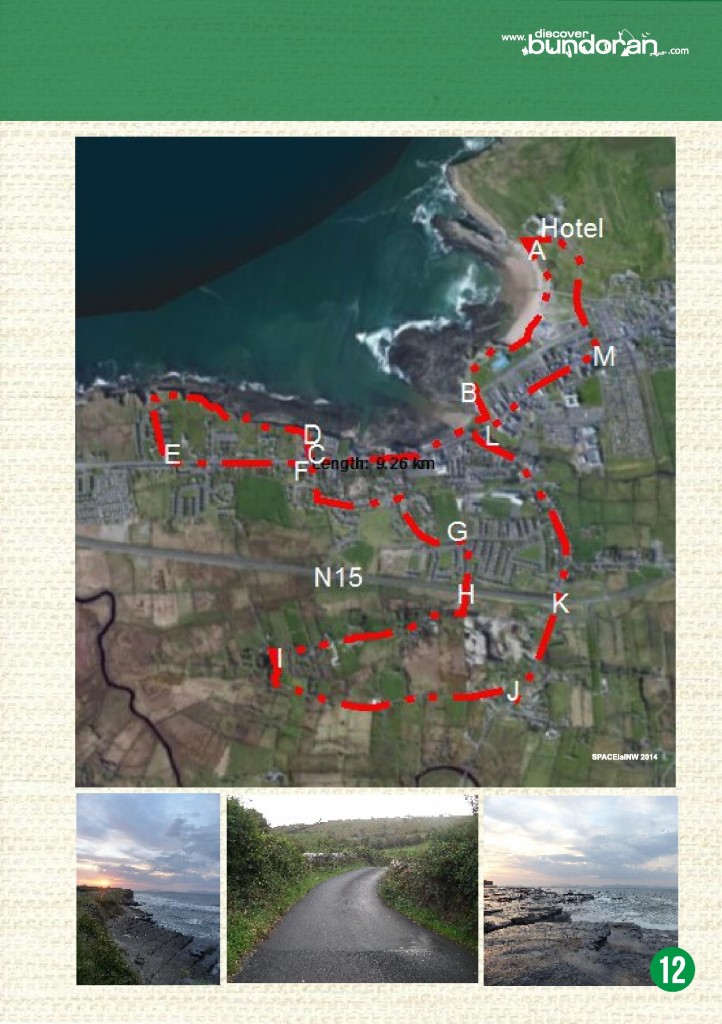 At Bayview Avenue you can enjoy fine views of the Peak, Bundoran's favourite haunt for surfers and across Donegal Bay. Continue on into the heart of the West End and you will pass the Boat Quay. This is the location of the Bundoran Lifeboat which provides a very valuable rescue service to locals and visitors alike in and around Donegal Bay.
The Cliff Walk is signposted off the main road down to your right. The walk then follows a pathway along the cliff top. The bathing pool which is still used by some hardy swimmers is a unique shoreline feature.
All along this section of the walk you can enjoy fine views of both Bundoran and across the expanse of Donegal Bay. On a clear day you can clearly see the imposing sea cliffs of Sliabh League which are located across the bay and close to the small village of Carrick. At a height of 600 metres these cliffs are reputed to be the highest sea cliffs in Europe.
At the end of this cliff top section the walk turns back towards the town and the main road. Join the pathway and head eastwards passing through the West End back towards the Tourist Information Office and the conclusion of the walk.
Rougey Walk
Starting at Bundoran Tourist Office (see map), this is a circular walk taking in views of the Atlantic Ocean from Rougey and Bundoran's bustling main street.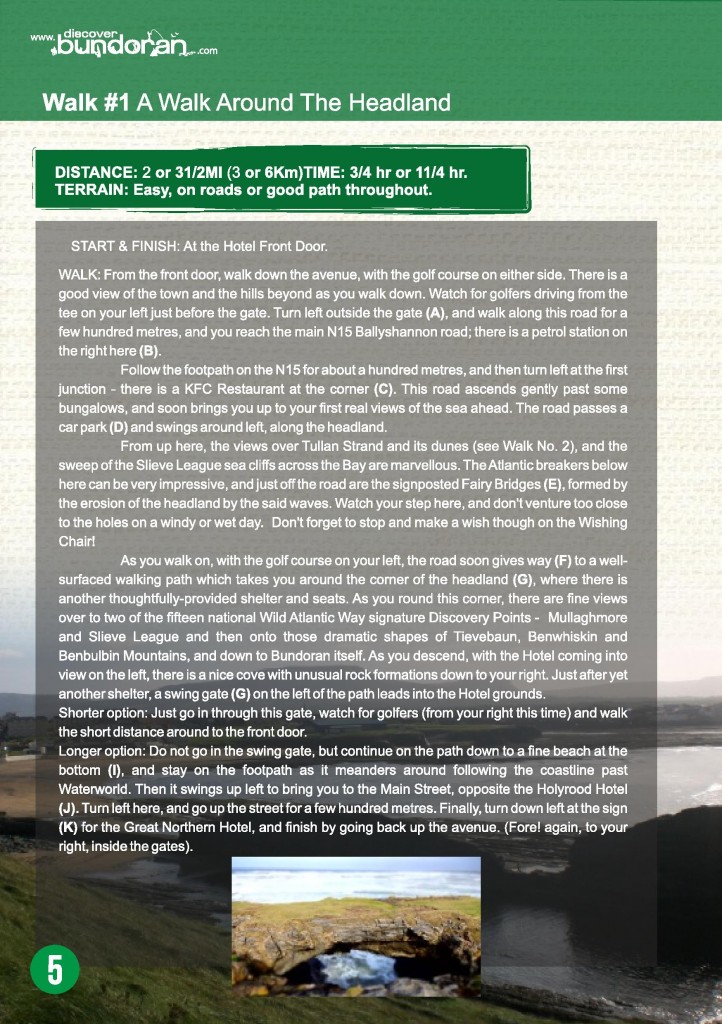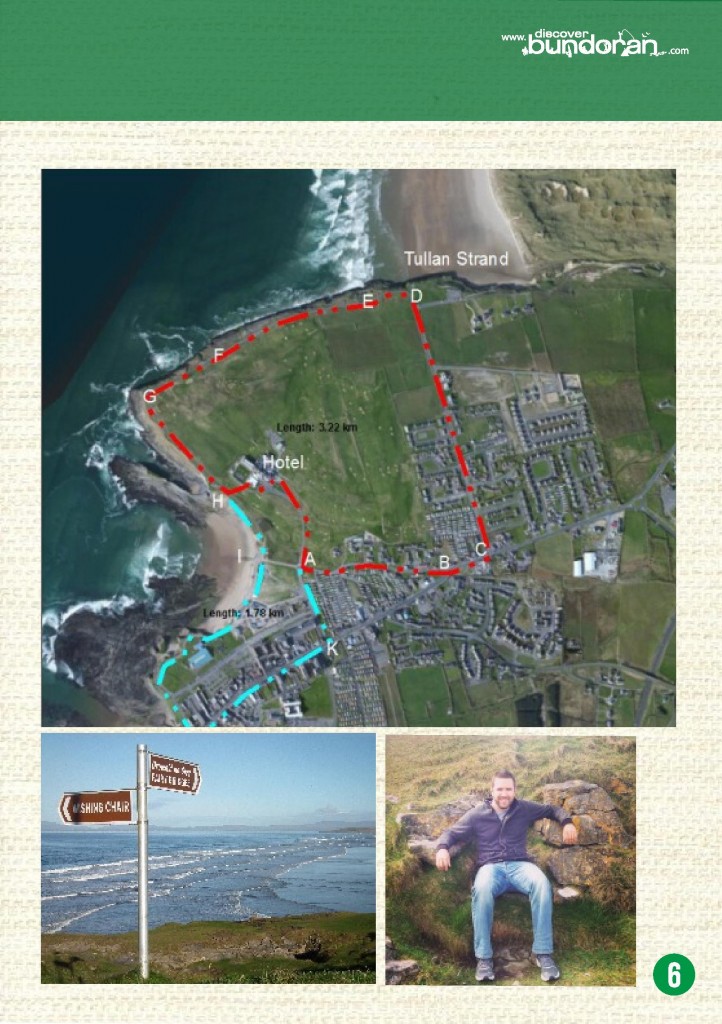 Follow the path along the promenade passing the "thrupenny pool", The Waterworld Complex and the funfair. The promenade comes to an end at Bundoran's Blue Flag Beach, which is popular with families and surfers.
Leaving the beach follow the path which veers left taking you around the headland with the Atlantic Ocean on one side and Bundoran's Championship Golf Course on the other. From the shelter at the top of Aughrus Point, the highest point on this walk, you can enjoy spectacular views across the town and out to sea.
Continue on along the path and you will come to the Fairy Bridges, cliff arches which have been carved by the Atlantic Ocean. Also close by is the Wishing Chair which is Bundoran's answer to the Blarney Stone. Make a wish as you sit on the edge of the Atlantic Ocean!
On reaching the far end of the walk the panorama including magnificent Tullan Strand stretches out below the cliffs. From this point follow Tullan Strand Road back into town until you reach the junction with the main road. At this point take a right and follow the path back along Bundoran's Main Street towards the Tourist Office.
To download a copy of our Wild Atlantic Walks brochure click here