Considering Bundoran for your Easter break? Check out below for what's happening across the two weeks!
Things to do during Easter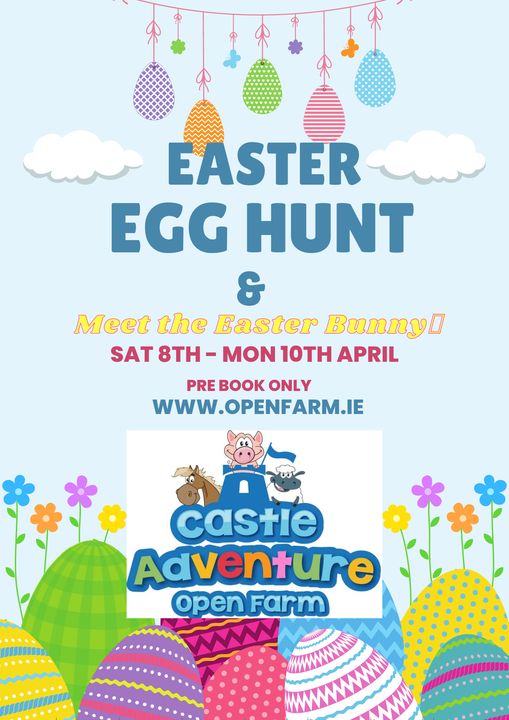 Easter Camps
Easter break is fast approaching
Keep your young golfers busy with our Jr Golf Camp.
Taking place 3rd-5th April, from 10 am – 12 pm. Only €50 per child and limited to 20 places.
To sign up, please call the PRO shop on +353 71 984 1302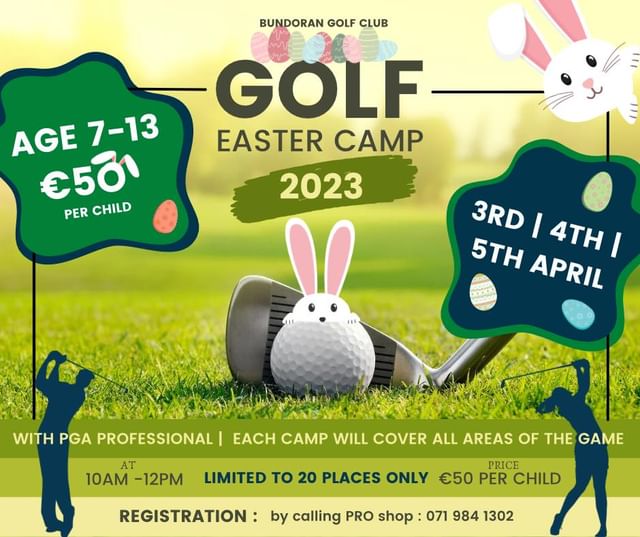 Gigs and Events in Bundoran over Easter
Date
Event
Description
Mon 3 Apr 2023 - Wed 5 Apr 2023
Golf Easter Camp
Bundoran Golf Club, Bundoran
Fri 7 Apr 2023
John Molloy
Allingham Arms Hotel, Bundoran
Fri 7th - John Molloy - Doors 8pm, [...]
Fri 7 Apr 2023
Cian O' Donnell 
The Kicking Donkey & George's Bar, Bundoran
Cian O' Donnell live at the The Kicking [...]
Fri 7 Apr 2023
Sinead Black
The Birds Nest, Bundoran
Sinead Black live at The Birds Nest on [...]
Fri 7 Apr 2023
Elaine Boyle
Allingham Arms Hotel, Bundoran
Fri 7th - Elaine Boyle 10pm-12am at the [...]
Fri 7 Apr 2023
Busy Fools
Chasin' Bull, Bundoran
Busy Fools live at the Chasin Bull on [...]
Sat 8 Apr 2023 - Mon 10 Apr 2023
Easter Egg Hunt
Castle Adventure Open Farm, Ballyshannon
Sat 8 Apr 2023
Kenny Crawford
The Railway Bar, Bundoran
Saturday the 8th of April Kenny Crawford live [...]
Sat 8 Apr 2023
Sinead Mc Laughlin
Allingham Arms Hotel, Bundoran
Sat 8th - Sinead Mc Laughlin 9-11pm at [...]
Sat 8 Apr 2023
Friends
The Birds Nest, Bundoran
Friends live at The Birds Nest on Saturday [...]
Sat 8 Apr 2023
Derek Ryan
Allingham Arms Hotel, Bundoran
Sat 8th - Derek Ryan - Doors 10pm, [...]
Sat 8 Apr 2023
Jobseekers
The Kicking Donkey & George's Bar, Bundoran
Jobseekers live at the The Kicking Donkey & [...]
Sat 8 Apr 2023
Mark Black
Chasin' Bull, Bundoran
Mark Black live at the Chasin Bull on [...]
Sun 9 Apr 2023
Trad Session
The Kicking Donkey & George's Bar, Bundoran
Weekly Sunday Trad Session at Georges Bar from [...]
Sun 9 Apr 2023
Gavin Gribben
The Birds Nest, Bundoran
Gavin Gribben live at The Birds Nest on [...]
Sun 9 Apr 2023
Brian Patton ( acoustic cover) 
The Kicking Donkey & George's Bar, Bundoran
Brian Patton ( acoustic cover) live at the [...]
Sun 9 Apr 2023
Kieran Mc Aree
Allingham Arms Hotel, Bundoran
Sun 9th - Kieran Mc Aree (Double Show) [...]
Sun 9 Apr 2023
Paul Simpson
The Railway Bar, Bundoran
Sunday the 9th of April Paul Simpson live [...]
Sun 9 Apr 2023
The TruTones
Chasin' Bull, Bundoran
The TruTones live at the Chasin Bull on [...]
Sun 9 Apr 2023
DEREK WARFIELD & THE YOUNG WOLFETONES
The Dome, Bundoran
DEREK WARFIELD & THE YOUNG WOLFETONES Live in [...]
Sun 9 Apr 2023
Jimmy Buckley
Allingham Arms Hotel, Bundoran
Sun 9th - Jimmy Buckley - Doors 10pm, [...]
Mon 10 Apr 2023
Cara Mc Gillion
Allingham Arms Hotel, Bundoran
Mon 10th - Cara Mc Gillion 9-11pm at [...]
Mon 10 Apr 2023
John Dolan
The Birds Nest, Bundoran
John Dolan live at The Birds Nest on [...]
Mon 10 Apr 2023
Robert Mizzell
Allingham Arms Hotel, Bundoran
Mon 10th - Robert Mizzell - Doors 10pm, Dancing [...]
Fri 14 Apr 2023
Megaslam Wrestling: 2023 Live Tour
Abbey Arts Centre Ballyshannon, Ballyshannon
Megaslam Wrestling: 2023 Live Tour Date: 14 Apr [...]
Fri 14 Apr 2023
Eamonn Jackson
Allingham Arms Hotel, Bundoran
Fri 14th - Eamonn Jackson - Doors 8pm, Dancing [...]
Fri 14 Apr 2023
Cian O' Donnell
The Kicking Donkey & George's Bar, Bundoran
Cian O' Donnell live at the The Kicking [...]
Fri 14 Apr 2023
Tom Moran
Allingham Arms Hotel, Bundoran
Fri 14th - Tom Moran 10pm-12am at the [...]
Fri 14 Apr 2023
Unsigned Sessions
Chasin' Bull, Bundoran
Unsigned Sessions live at the Chasin Bull on [...]
Sat 15 Apr 2023
Elaine Boyle
Allingham Arms Hotel, Bundoran
Sat 15th - Elaine Boyle 9-11pm at the [...]
Sat 15 Apr 2023
John Meehan
The Railway Bar, Bundoran
Saturday the 15th of April John Meehan live [...]
Sat 15 Apr 2023
Retro Disco
The Kicking Donkey & George's Bar, Bundoran
Retro Disco at the The Kicking Donkey & [...]
Sat 15 Apr 2023
Brian Kerrigan
The Birds Nest, Bundoran
Brian Kerrigan live at The Birds Nest on [...]
Sat 15 Apr 2023
Abbaesque
Allingham Arms Hotel, Bundoran
Sat 15th - Abbaesque - Doors 10pm, Dancing 11.30-1.30am [...]
Sat 15 Apr 2023
The TruTones
Chasin' Bull, Bundoran
The TruTones live at the Chasin Bull on [...]
Sun 16 Apr 2023
Trad Session
The Kicking Donkey & George's Bar, Bundoran
Weekly Sunday Trad Session at Georges Bar from [...]
Sun 16 Apr 2023
Gary Fitzpatrick
The Birds Nest, Bundoran
Gary Fitzpatrick live at The Birds Nest on [...]
Sun 16 Apr 2023
Nigel Livingstone
Allingham Arms Hotel, Bundoran
Sun 16th - Nigel Livingstone 8-10pm at the [...]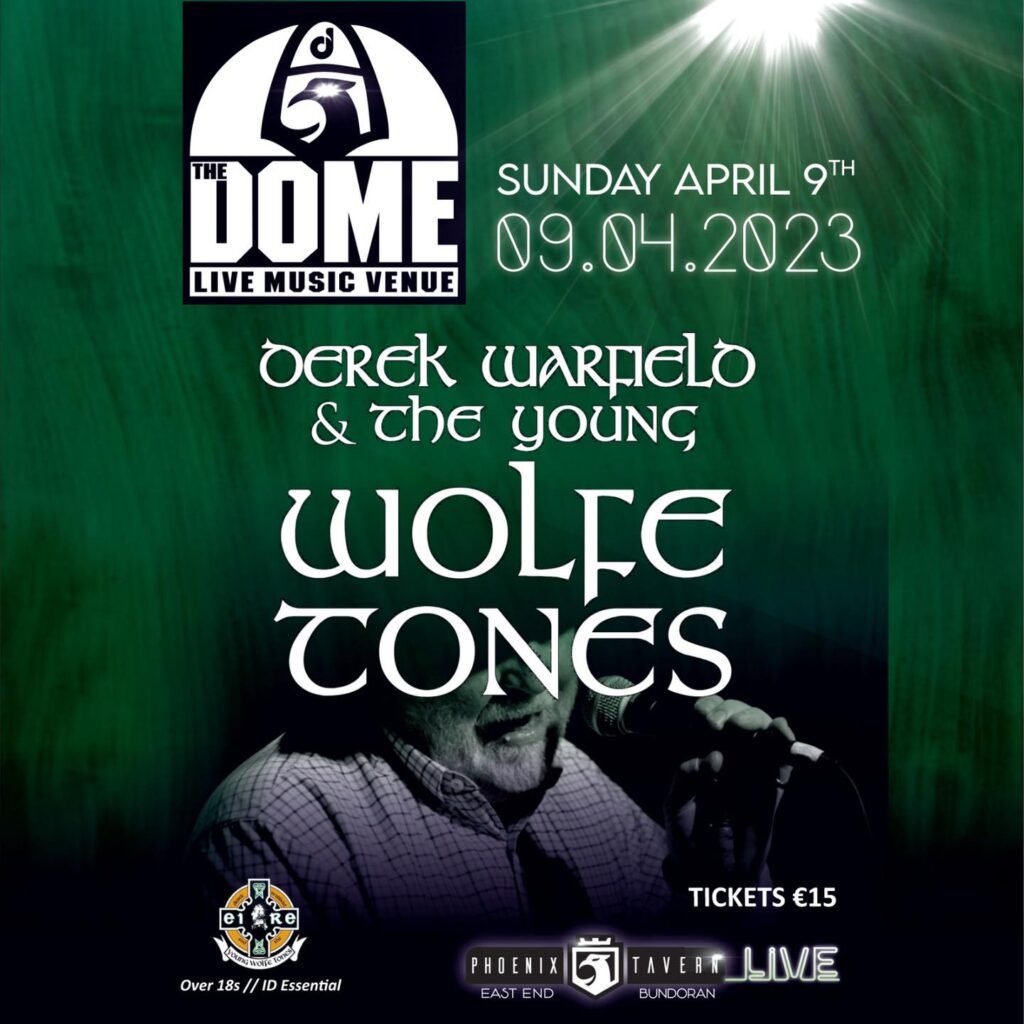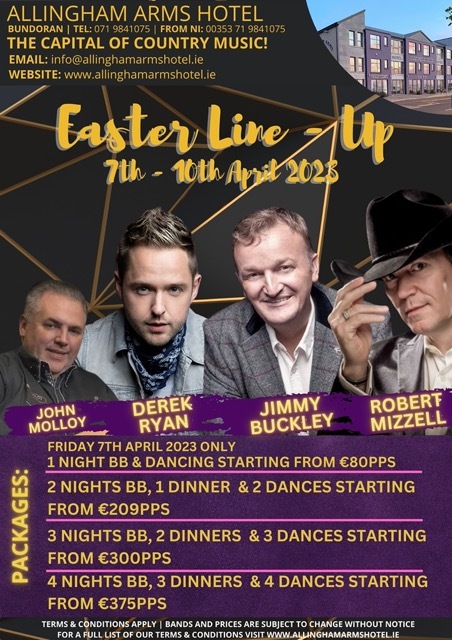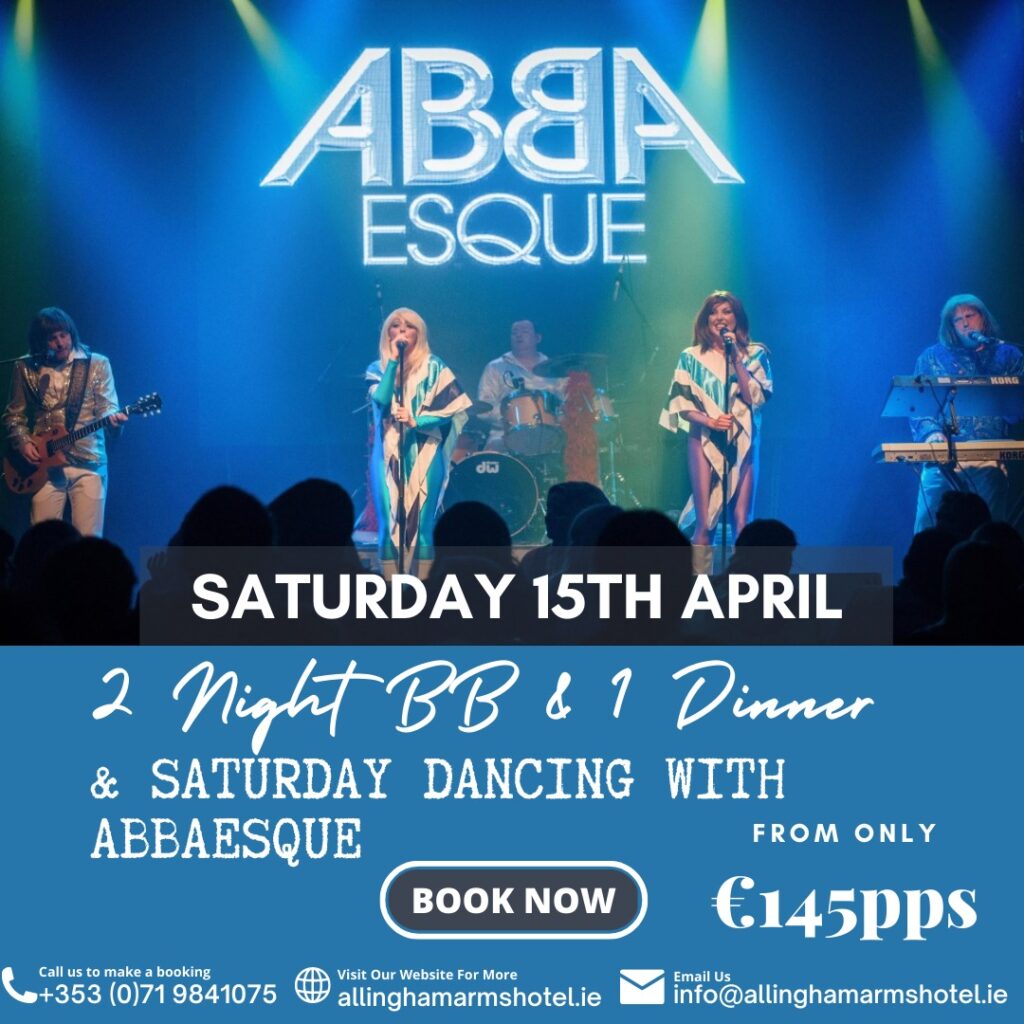 Easter Offers in Bundoran
The Bundoran Weekly Podcast
Check out the latest episode of our weekly podcast below! To find out more click www.bundoranweekly.com