New Discover Bundoran website launched
The portal for tourist information about Ireland's Premier Seaside resort, Bundoran has been given a major overhaul and a fresh clean look packed full of information, photographs and videos.
Work on the new site, designed by Sean Clancy and Damien McGinley of Ocean Creative has been underway for some months now and it is hoped that the site will become a one stop shop for information on Bundoran for both the visitor and local alike.
Bundoran Tourism Officer Shane Smyth said 'we are delighted with our new website – it's clean, uncluttered, uncomplicated and easy to use as well as providing all the information a visitor to the town would need like where to stay, what to do, where to eat and an all important event and gig guide". We will be constantly updating the website and adding to it with more information on Bundoran, its history and also information on the local area. We are conscious that while many visitors come to Bundoran and stay in the town for the duration, many will also use it as a base to travel in the area and check out some of the great attractions that the wider county has to offer – as time goes on all of this information will be added.'
Daniel Browne of Ocean Creative added "We are delighted how the new website has turned out. It is one that will give local businesses one integrated platform, where all special offers and forthcoming events can be highlighted on their own page and on the home page of the website. This will allow visitors thinking of coming to the town see at one easy glance everything that is coming up in Bundoran and also give a crucial web presence to each and every tourism outlet in the town".
The website will also feature a downloads section from where maps, brochures and suggested travel itineraries and be downloaded. Photos of events are also encouraged and users of the popular Instagram social media app can tag their Bundoran photos with the hashtag #discoverbundoran for them to appear on the website too. It can be viewed online at www.discoverbundoran.com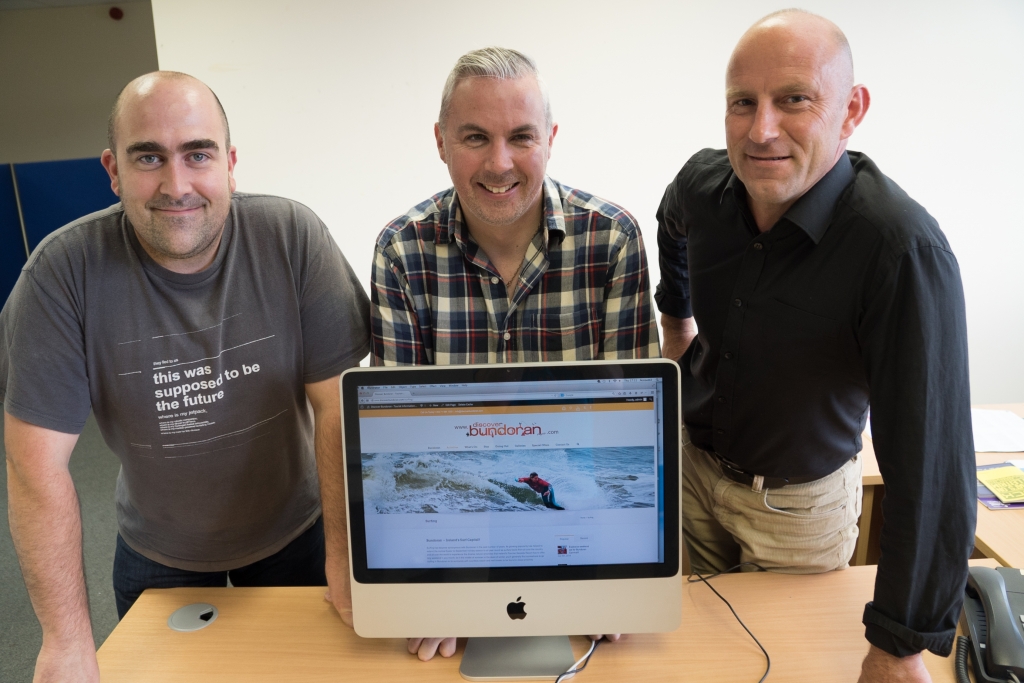 Web designer Sean Clancy, Bundoran Tourism Officer Shane Smyth and Ocean FM Creative's Daniel Browne.
Ends