Donegal Awarded 'Media's Favourite Place in Ireland'
Donegal has just been named 'Media's Favourite Place in Ireland' at the recent prestigious Travel Media Awards ceremony in Dublin. This is an excellent achievement for Donegal and a wonderful addition to our other recent accolades including being named 'Coolest Place on the Planet 2017' by National Geographic Traveller and 'Ireland's Hidden Gem' by Independent Travel readers.
The Travel Media Awards ceremony took place on 9th June 2017 in the Shelbourne Hotel, Dublin. Donegal County Council, Head of Tourism, Barney McLaughlin said "We have been building positive relationships with the travel media in recent years through our work with Donegal Tourism and the Donegal County Council Communications Office in promoting the Govisitdonegal.com platform and our Donegal brand. This award is a welcome sign that our communications and PR activities are reaching the right audience and our recognition as 'Media's Favourite Place in Ireland' is very much appreciated".
Donegal Tourism CLG and Donegal County Council have been working with businesses and representatives in the tourism trade to deliver a very effective collaborative approach to promoting County Donegal; this strategy is proving to be very successful. Donegal County Council has recently developed a 3 year Donegal Tourism Strategy 2017 – 2020, which includes more media engagement including PR and communications action plan to target the travel writer/travel blogger opportunities that exist.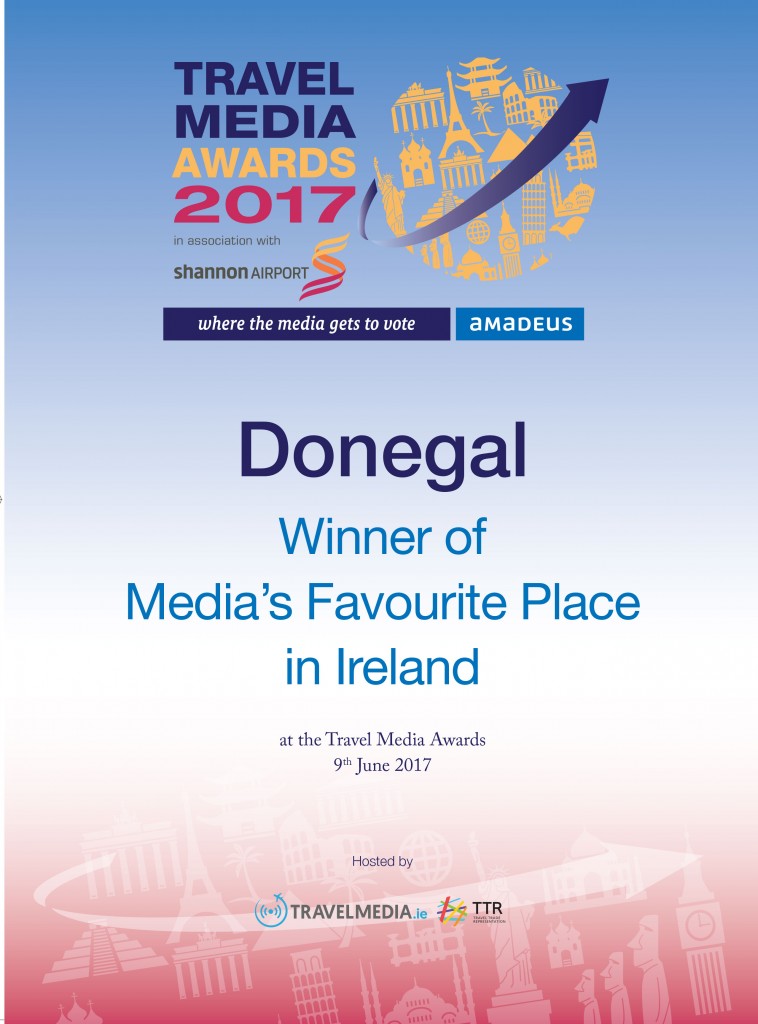 The Travel Media Awards, in association with Shannon Airport, were first launched in 2011 and have since grown to become one of the highlights of the annual travel industry calendar. TravelMedia.ie the company behind these awards is a Dublin based specialist travel public relations, marketing, representation, events, communications and social media company. Michael Collins MD of TravelMedia.ie said "This was the first time we introduced this category. Instead of always asking the media about their favourite international places we thought, let's bring it back home and ask them about Ireland. It was really interesting to see Donegal win, with the capital Dublin coming second."
The event calls on the media to vote and give their say on who they think stands out from the travel industry crowd – past winners include Aer Lingus, MSC Cruises and Crystal Ski Holidays. The Travel Media Awards are the only awards that call on members of the media to vote for their favourite companies in the travel trade. To be voted as the 'Media's Favourite Place in Ireland' is testament to the increasing popularity of Donegal as the perfect holiday destination on the Wild Atlantic Way.
Hosted by travel writers Fionn Davenport and Deirdre Mullins, there were 26 award categories in 2017 including for example best tour operator, best online booking agent, best city break destination and media's favourite place in Ireland, which Donegal won. The event host Fionn Davenport was a keynote speaker at the 'Connecting the Wild Atlantic Way' conference hosted by Donegal Tourism CLG and Donegal County Council, which took place in Letterkenny in 2015.  Pól Ó Conghaile was awarded 'Ireland's Best Travel Writer'.  Pól also recently visited Donegal as a keynote speaker at the Donegal Tourism Seminar in March 2017. Ellen Redmond from Fáilte Ireland attended the event and accepted the award on behalf of Donegal. The recent successes of County Donegal and the growing visitor numbers to the county all indicate that we are moving in the right direction towards a very successful tourism product in County Donegal.
ENDS