Songs of Erne: Volume 1 to be released during Allingham Festival
A unique book and CD will be launched at this year's Allingham Arts Festival in Ballyshannon celebrating the songs of the Erne river geographical area.
The book and concept was the brainchild of local author, historian and musician Marc Geagan whose passion for the medium is evident from the quality which oozes out of the pages and the speakers.
Having grown up in Bundoran and studied the music of the area for many years, Marc thought it was time to document it for future generations and set about the project "Songs of Erne" which includes the music of South Donegal and West Fermanagh.  The book includes local songs from Paddy Tunney ("Father of Song") and tunes from Ruaidhrí Dall Ó Catháin (composer of Tabhair dom do Lámh and The Hawk of Ballyshannon) and Poet/Music Collector William Allingham.  Accompanying the book is a 10 track CD which features contemporary versions of the collected material performed by Ulster Fleadh winner Farrah Bogle, Kila's Seanan Brennan and others.
With books come covers and when local artist Barry Britton was asked to create the artwork, he duly obliged.  Barry's unique style is much sought after and can be seen in the annual posters for the Rory Gallagher Festival and Ballyshannon Folk and Traditional Music Festival.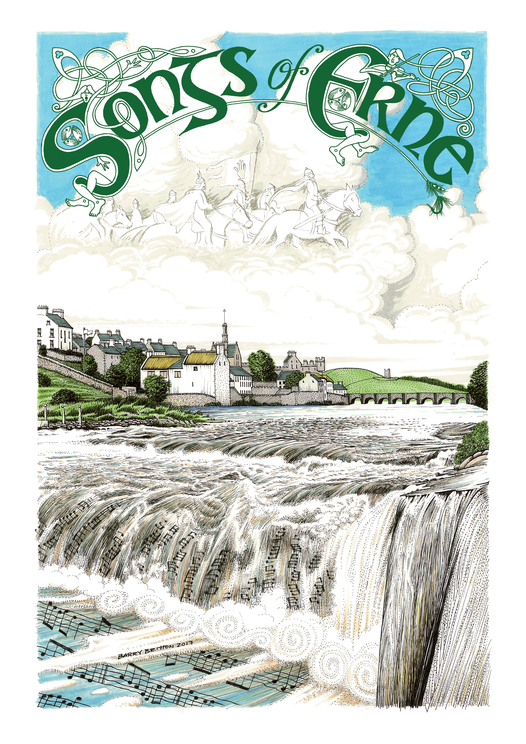 Author Marc Geagan says that the project has been a labour of love "I've been planning this and subsequently working on the book and CD for quite a while now. Being a historian I know the importance of preserving traditions and I wanted to make sure that this wonderful local music was documented for the future generations and also for fellow musicians and music students.' When pushed about the "Volume 1" in the book's title Marc added 'there's a wealth of music in this area that needs to be recorded and documented – I'm already working on Volume 2 and Volume 3!'
The book launch will take place in Dorrians Hotel in Ballyshannon from 6-7pm on Friday 10th November and will be followed by a special musical event at nearby St Anne's Church at 8pm, led by Marc and featuring eight musicians and the Bel Canto Choir.  "Songs of the Erne" will feature music, spoken word, poetry, dramatic re-enactments and multimedia. Maura Logue will act as MC for the evening.
The book and CD will be available at Novel Idea Bookshop, Ballyshannon and McGovern's American House, Bundoran and also at www.songsoferne.com
Ends
Listen to two of the tracks here:
Want to know what's happening in Bundoran? Check out www.discoverbundoran.com/events to keep right up to date!