Team Ireland win out over Scots in Celtic Cup
There was victory for the Irish surf team on home ground in Bundoran over the weekend as they took home the Celtic Cup following a competitive battle at the town's two surf main surf spots – The Peak and Tullan Strand.
Surfers from both nations, both junior and senior, took part in the 1st annual event hosted by Bundoran Board Riders following its revival from an existing competition which lapsed in 1992. Following a conversation at the World Surfing Championships earlier this year in France between members of the Scottish Surfing Federation and Irish Surfing, it was decided to start the competition once again and host it alternately between the two nations every second year.
The event kicked off with an opening ceremony in Bundoran Community Centre on Friday night with the main surf event happening right through the day on Saturday and Sunday morning. Events included Bodyboard (Men, Women & Under 18), Longboard and Surfing (U14 Boys, U16 Girls, U18 Boys, U18 Girls, Men and Women).  Irish surfers topped 9 of the 10 categories with the point accumulation resulting in Ireland taking the overall title from the weekend.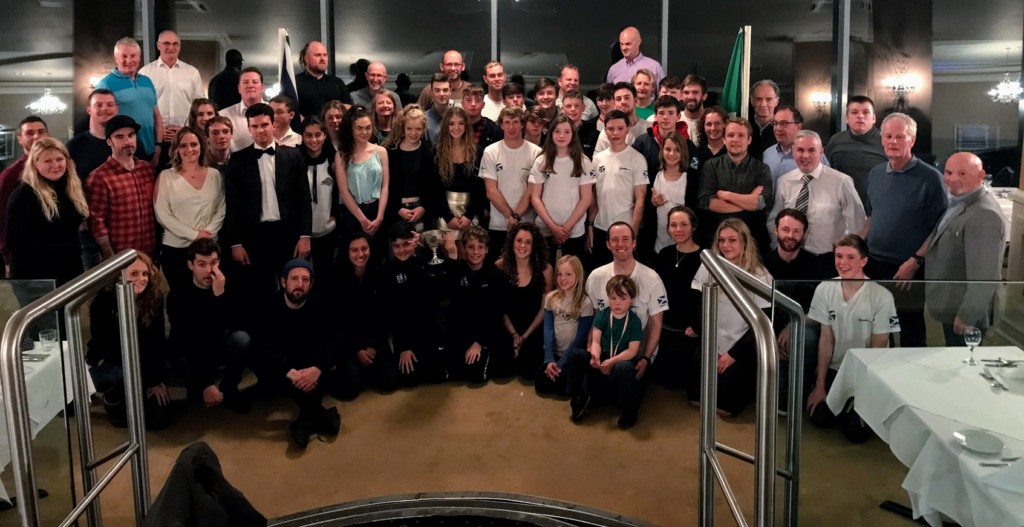 Chair of Irish Surfing, Kevin McCloskey spoke at the prize presentation praised the effort that everyone had put into organising the weekend 'I'd like to thank Bundoran Board Riders for hosting the event this weekend and I'm glad to see it back up and running once again after such a long gap. Everyone has had a great weekend of surf and the Scottish/Irish bond is as strong as ever. We look forward to seeing all of our Scottish friends back in Ireland in 2019.'
Mark Boyd of the Scottish Surfing Federation thanked everyone for their great hospitality over the weekend and looked forward to next year's event on their home turf in Thurso, Scotland.
The results of the weekend were:
Longboard
1.Emmet O'Doherty, Ireland
2.Sam Christopherson, Scotland
3.Joe Stapleton, Ireland
4.Tom Breen, Ireland
U18 Bodyboard
1. Joe Breen Ireland
2.Neil McCarthy, Ireland
3. Michael Wimbledon-Hall, Scotland
4. Jamie Gibson, Scotland
Bodybaord Women
1. Ashleigh Smith, Ireland
2. Maia Monaghan, Ireland
3. Ione Byrne, Ireland
4. Clover Christopherson, Scotland
Bodyboard Open
1.Shane Meehan, Ireland
2. Neil McCarthy, Ireland
3. Sam Christopherson, Scotland
4.Jamie Gibson, Scotland
U14 Boys
1. Finn Richardson, Ireland
2.Tom Breen, Ireland
3. Michael Wimbledon-Hall, Scotland
4. Ben Lang, Scotland
U16 Girls
1.Clover Christopherson, Scotland
2. Sasha Moore, Ireland
3.Sarah Moore, Ireland
4.Helena Paran, Ireland
U18 Girls
1.Una Britton, Ireland
2.Maia Monaghan, Ireland
3.Clover Christopherson, Scotland
4.Iona Turner, Scotland
U18 Boys
1.Jack Scott, Ireland
2. Louis Devenney, Ireland
3.Tiernan McCrea, Ireland
4.Michael Wimbledon- Hall, Scotland
Open Women
1.Grace Doyle, Ireland
2.Holly Widger, Ireland
3.Diane Christopherson, Scotland
4.Clover Christopherson, Scotland
Open Men
1. Gearoid McDaid, Ireland
2.Rory Tuohy, Ireland
3. Conor Maguire, Ireland
4. Ronan Oertzen, Ireland
Team
1. Ireland
2. Scotland