Bundoran in Level 3 restrictions
From Tuesday 1st December, Bundoran is in Level 3 restrictions. A number of businesses are forced to or have chosen to stay closed during this time. Please see below for what's opening. More info on Level 3 restrictions is available here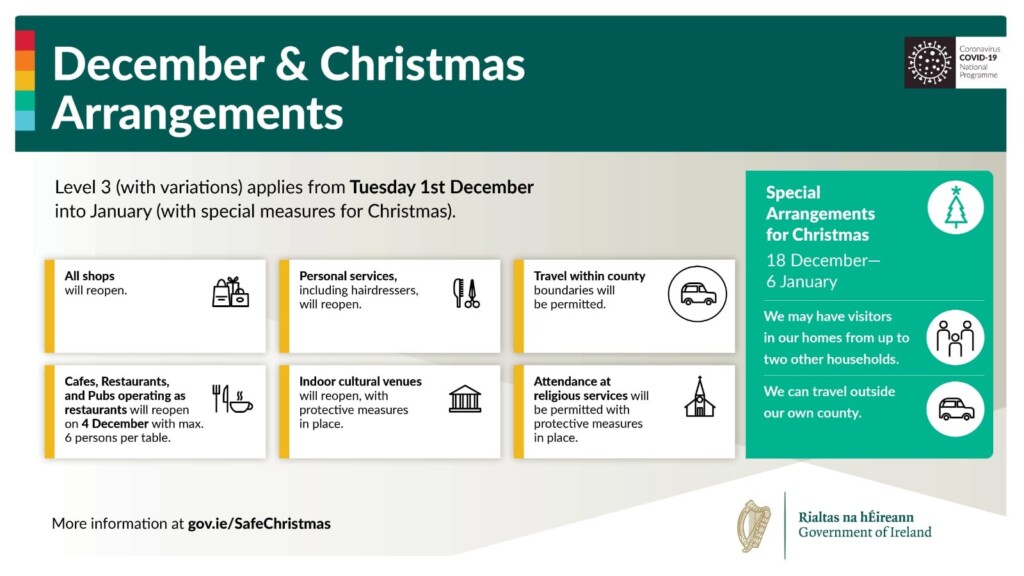 Here's who's opening (we will add to this as we get more info)
***UPDATED 18TH DECEMBER 2020***
Bundoran Surf Co opening from Friday 4th December.
BMG Hardware – open Monday – Friday 7:30am – 5:30pm, Saturday 8am – 5pm.
Goodbuys – open daily 9am – 6pm (Sundays 11-5pm)
Bar One Racing – reopens Tuesday 1st December
Portbeg Holiday Homes – open for Donegal Visitors until 18th December and then open fully.
Check them out online also – https://buoysandgulls.ie/
Courthouse Restaurant, Kinlough – reopens Friday 4th December
R&R Nail and Lash Bar, Bundoran Retail Park – opens Tuesday 1st December – limited spaces available for December.
View this post on Instagram
KFC – Open for dine in from Friday 4th December – Drive Thru and Takeaway open all the time.
---
Bundoran Level 3 – Businesses staying closed
A reminder to everyone that Government restrictions are still in place and will be for some time to come. The latest Government advice is available here and the latest information from the HSE is available here. Social distancing should be observed as well as cough & sneeze etiquette and regular hand washing. As always if you are sick or have developed any of the symptoms of Coronavirus, you are asked to stay away from businesses and other people, isolate and contact your GP.
Check out the latest episode of our weekly podcast below! To find out more click www.bundoranweekly.com 
Discover Bundoran on Social Media – Click here