Christmas Art Exhibition to be held in Bundoran
This Friday 9th of December sees the opening of Bundoran's Christmas Art Exhibition. Showcasing a diverse selection of the North-West's emerging and established artists, the exhibit will feature Jonathan Ball, Darragh Gorman, Kevin Lowery, Gavin McCrea, and Mirjam Schiller.
Award winning glass and metal artist Jonathan Ball brings his unique style and multi-disciplinary skills to the exhibition, with both functional and decorative objects and sculptural pieces in hand blown glass and forged metal.
Darragh Gorman of Lighthouse Industries' work consists mainly of breathtaking and atmospheric landscape based photography, while also finding time to create fun and unique objects and furniture constructed from found and up-cycled materials.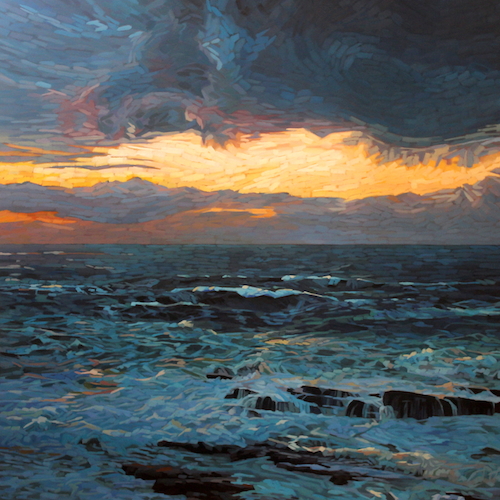 A seascape devoted painter, Kevin Lowery is well known in Bundoran's artistic community, having held a very successful solo exhibition in the town in April. While much of his work focuses on rapidly altering climatic conditions and changing light on water, the influence of living and working in Ireland's surf capital is also clearly evident in many of the new works.
Gavin McCrea is well known locally as an established surf artist. Having completed a BA in Fine Art from IT Sligo, however, his new work has become more abstracted, exploiting processes and materials used within the surfing industry and is suggestive of human impact as well as interaction in/on our oceans.
Sligo's Mirjam Schiller runs an independent goldsmithing and silversmithing Studio under the name Wildheart, producing unique, quirky, and beautiful jewelry and sculptural pieces in various precious metals.
The exhibition will be launched by Bundoran's Tourism Officer, Shane Smyth, at an opening reception from 7.00pm on Friday the 9th of December, which all are welcome to attend.
The show is open from 11 – 6 Thursday to Saturday and 10 – 6 Sunday from the 10th to the 18th of December at Unit 4, Bundoran Retail Park.
For more information see www.facebook.com/bundoranchristmasexhibition