Talented Ireland National Team Named For An Post Rás As Country Riders
TALENTED IRELAND NATIONAL TEAM NAMED FOR AN POST RÁS AS COUNTY RIDERS
PREPARE FOR BATTLE
With just days left before Sunday's start of the An Post Rás, a strong Irish national team has been unveiled for the race, forming a major component of the home challenge.  Eoin Morton, Angus Fyffe, Mark Downey, Darragh O'Mahony and Jake Gray are the selection, with all riders under 23 bar 28 year-old Eoin Morton.
Morton was a memorable winner of stage two in last year's An Post Rás and finished a fine third on stage five. This year, he won stage two and the overall classification of the Tour of the Ulster, as well as taking second on stage two of the Kerry Group Rás Mumhan. As well as chasing his own results, he will have an important role as captaining the younger riders.
Alongside Morton will be a host of capable riders including former An Post Chain Reaction rider, Fyffe (22) who was second in the Shay Elliott Memorial race and second on stage four of the Tour of the North en route to fifth overall.
Downey (20) has excelled on the track, netting gold in the points race in the Apeldoorn World Cup last November and then winning the same event in the Colombia World Cup in February. These successes secured him overall victory in the World Cup for that discipline. Together with Felix English, he also took silver in the Madison event in Colombia and gold in Los Angeles.
O'Mahony (19) won several events this year including the Des Hanlon Memorial race, and also took stage one of the Tour of Ulster. He went on to finish third overall in the race.
Gray (19) is racing with the French VC Toucy team this year and has been aggressive in races such as the Under 23 Gent Wevelgem in March, gaining important experience. Last year his results included victory in the national junior road race championship.
The team will be managed by the experienced former international Neil Martin, the father of Irish World Tour professional Dan Martin.
Cycling Ireland's technical director Brian Nugent states "It is really about development for these young lads, learning as much as they can from the manager Neil and the road captain Eoin.
"For some of them it will be the first proper eight-day stage race they have done, and that is the sort of experience we are looking to build. We have known for years that the Rás has been a great source of knowledge for the Irish riders and we really want these guys to benefit from that. We will try to get as much out of every day as we can but we are looking for stage wins too."
These five riders will take on a strong overseas contingent, with twelve international teams already confirmed for the race. These include squads from Australia, Belgium, Denmark, France, the Netherlands, Slovenia, the USA and Great Britain. The Irish UCI-registered An Post Chain Reaction Sean Kelly team will also take part.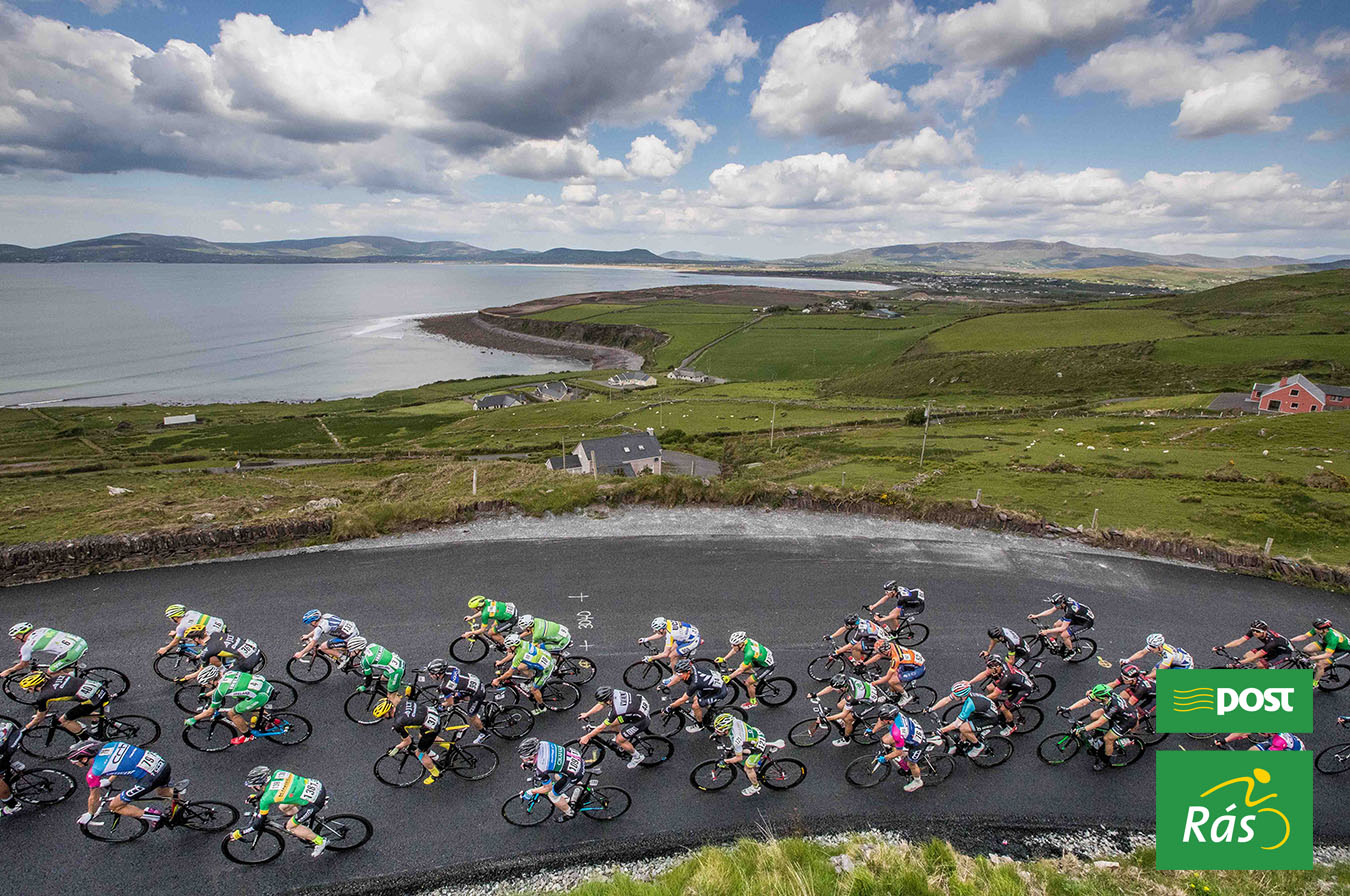 However these international squads won't be the only ones in the running. A total of 25 Irish county teams will line out, five more than last year, and there are many riders who could surprise.
Morton's stage win last year is proof that the domestic riders based in Ireland are strong and savvy enough to chase victories in the race. Morton and fellow domestic rider Bryan McCrystal were first and second going into Charleville on day two, leaving all the other riders in their wake.
Race Director Tony Campbell commented.
"The county riders are a huge part of the An Post Rás," he says. "Many of them are full time workers, fitting in their training around that, but still turn up determined to ride strongly. They are a big part of why the race is as aggressive and unpredictable as it is, and also why the atmosphere is so unique. We have something for everyone this year. The first three stages are flat and then a good mixture afterwards of undulating roads and tough categorised climbs."
A county team rider to watch out for is Felix English, who took gold and silver in the track World Cup events with Downey. He will be guesting with the Westmeath Team Planet X Carnac squad in this year's edition of the Rás.
Also in form is Darnell Moore (Down Bikehouse), last Sunday's Shay Elliott Memorial winner, plus the third-placed finisher in that event, Mark Dowling (Cork Strata3/VeloRevolution). Philip Lavery (Tipperary Panduit) won last Saturday's Noel O'Neill trophy and has achieved strong results in the past, while Ian Richardson (Dublin UCD Fitz Cycles) was best county rider in 2015 and 2016. He has been injured this year but showed signs of improving form last weekend.
Matteo Cigala is currently best in Cycling Ireland's rider rankings, thanks to his win on the final stage of the Kerry Group Rás Mumhan and second on two stages of the Tour of Ulster. Cork Aqua Blue Sport teammate Ronan McLaughlin competed for many years with the An Post Chain Reaction team and went agonisingly close to a stage win in the 2012 An Post Rás. He was caught just 200 metres from the line after a massive solo breakaway and is psyched to try to take a stage this time around.
The country riders will all try to leave their mark on the race, as well as aiming for the best county rider and best county team classifications.
The 2017 An Post Rás will begin in Dublin on Sunday May 21st and features stage finishes in Longford, Newport, Bundoran, Buncrana, Dungloe, Donegal, Ardee and Skerries.
It is eight gruelling days in duration, totalling 1200 kilometres in distance and includes 21 categorised climbs. It is part of the prestigious UCI calendar and earns world-ranking points.
Ireland National team: 
Eoin Morton (28)
Angus Fyffe (22)
Mark Downey (20)
Darragh O'Mahony (19)
Jake Gray (19)
County Teams:
Cycling Ulster
Donegal Voodoo Performance
Down Newry Wheelers
Dublin Friends First St. Tiernans
Galway Team iTap
Kerry Killarney CT
Limerick Newcastle West/Rockwell Engineering
Mayo Castlebar Unit 7
Meath Navan
Tyrone Omagh Wheelers
Antrim Phoenix
Cork MSL Mercedes-Benz Giant
Derry EJB Car Sales
Dublin Orwell Scott
Galway Team Gerry McVeigh Cars
Leitrim Velo Café Magasin
Louth Cuchulainn
Mayo Westport Towers Bar Covey Wheelers
Waterford Racing Club
Kind Regards
An Post Ras 2017