Kilfeather crowned national surf champ
Stephen Kilfeather crowned national surf champ
The Irish Surfing Championships took place at the weekend in Bundoran, Co Donegal. The Open Surf was hotly contested. The quarterfinals saw one of last year's finalists, Dave Blount, West Coast Surf Club and local favourites Aaron Reid and Cian Logue exiting the event. Ollie O'Flaherty, West Coast Surf Club and Ciaran Haresnape, Bundoran Board Riders were overhauled in the semi-finals leaving two local surfers, Owen Murphy and Conor Maguire and two Sligo surfers, 2017 Champion Gearoid McDaid and Stephen Kilfeather chasing the title.
With the tide pushing in and light fading fast, the Open final was the last of a long day of competition. Stephen Kilfeather opened with an excellent score and backed that wave up with a similar score towards the end of the final pushing him well into first place. Gearoid McDaid edged ahead of Conor Maguire to take 2nd leaving Conor in 3rd and Owen Murphy in 4th.
Womens
The Women's Surf final saw the same four finalists as 2017, Tbay's Rachel Moore, Holly Widger and Grace Doyle and the 2017 Champion, Una Britton, Rossnowlagh Surf Club. A tight final ensued, but the highest score of the final went to Holly Widger, earning her 1st place ahead of Rachel Moore in 2nd, Grace Doyle in 3rd and Una Britton 4th.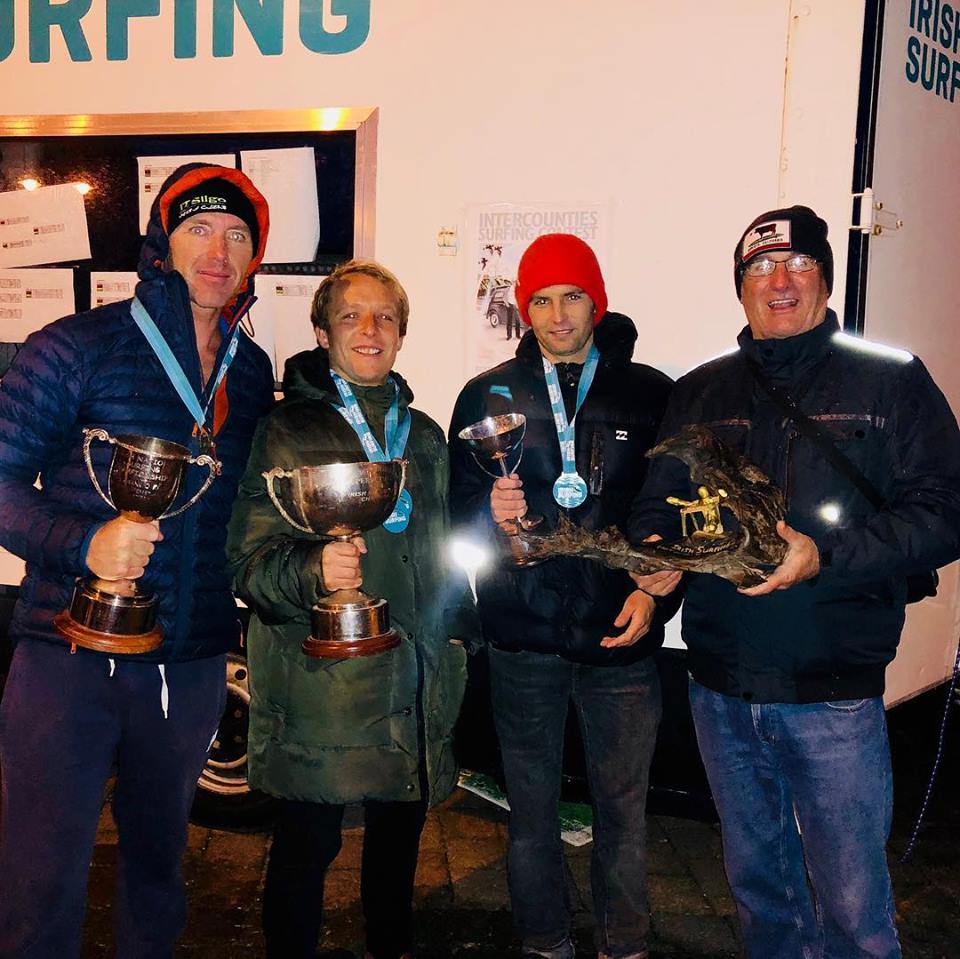 Open Bodyboard
In the Open Bodyboard event, young guns Jack Clohessy, Co Sligo Surf Club and Joe Breen, Tbay Surf Club put in strong performances but were beaten in the semi -finals. This set up a final and age old rivilry between Shane Meehan, Co Sligo Surf Club and defeating Champion, Andrew Kilfeather , Co Sligo Surf Club and Martin Kelly, Causeway Coast and Ashleigh Smith. With the narrowest of margins Shane Meehan retain his title pushed all the way by Martin Kelly in 2nd, Andrew Kilfeather 3rd and Ashleigh Smith 4th. Ashleigh also retained the Women's Bodyboard title.
Longboard
Andrew Kilfeather took control of the Longboard final, establishing an early lead to finish a strong 1st ahead of Emmet O'Doherty 2nd, Eoin O'Malley Daly 3rd and Henry Moore 4th. In the SUP Surf, Finn Mullen, Bundoran Board Riders retained the title with his main challenge coming from Emmet O'Doherty, Bundoran Board Riders. Gabe MacSharry finshed 3rd and Ross McGarry 4th.
Masters
Co Sligo's Kerry Larkin took the Masters (Over 35 title), beating last year's Champion, David Blount, West Coast Surf Club into 2nd, Patrick Cassidy, Bundoran Board Riders  3rd and Andy Burke, West Coast Surf Club 4th.  Henry Moore, Tbay Surf Club retained his Masters (Over 50) title, his main challenger was Eamon Murphy, Bundoran Board Riders who had to settle for 2nd on this occasion.  Brigita Moore won another Womens Master title and Kneeboard Ray Mc Daid retiened the Kneeboard title with Peter Garret, 2ND, Brian Gordon 3rd and Joe Breen 4th.
Congratulations to all our competitors and thank you to everybody who helped run the event. A special word of thanks to all of our judges and young Tiarnan Carron, Bundoran Board Riders who kept us rolling on timer and disc all day.
Surf Open
Stephen Kilfeather, Co Sligo Surf Club
Gearoid McDaid, Co Sligo Surf Club
Conor Maguire, Bundoran Board Riders
Owen Murphy, Bundoran Board Riders
Surf Women
Holly Widger, Tbay Surf Club
Rachel Moore, Tbay Surf Club
Grace Doyle, Tbay Surf Club
Una Britton, Rossnowlagh Surf CLub
Longboard
Andrew Kilfeather, Co Sligo Surf Club
Emmet O'Doherty, Bundoran Board Riders
Eoin O'Malley Daly, Rossnowlagh Surf Club
Henry Moore, Tbay Surf Club
Bodyboard
Shane Meehan, Co Sligo Surf Club
Martin Kelly, Causeway Coast
Andrew Kilfeather, Co Sligo Surf Club
Ashleigh Smith, Easkey Surf Club
SUP Surf
Finn Mullen, Bundoran Board Riders
Emmet O'Doherty, Bundoran Board Riders
Gabe McSharry, Co Sligo Surf Club
Ross McGarry, Dublin Bay SUP
Kneeboard
Ray McDaid, Co Sligo Surf Club
Peter Garrett, Easkey Surf Club
Brian Gordon, Tbay Surf Club
Joe Breen, Tbay Surf Club
Masters (Over 35)
Kerry Larkin, Co Sligo Surf Club
David Blount, West Coast Surf Club
Patrick Cassidy, Bundoran Board Riders
Andy Burke, West Coast Surf Club
Master (Over 50)
Henry Moore, Tbay Surf Club
Eamon Murphy, Bundoran Board Riders
Master Women's
Brigita Moore, Tbay Surf Club
Bodyboard Women's
Ashleigh Smith, Easkey Surf Club
For more on surfing in Bundoran check www.discoverbundoran.com/surfing
For more on Irish Surfing see www.irishsurfing.ie