There are lots of tours from Bundoran and the surrounding areas available during the summer months. We've put them all together for you here!
Bundoran Historic Walking Tours
Tir Hugh Tours & Discover Bundoran 
Weekly Tours – 5 Euro (Kids go Free accompanied by adult.)
Every Thursday at 11am (During Spring/Summer) – Walk takes Approx 1 hour
Meet at Tourist Office –  Follow your Guide as you walk & Visit iconic places in town
seeing old historic building and learning Bundoran's History.
Arrive and pay on day or book your ticket to confirm place. People of all abilities welcome.
Tourist Office – Tel: 00353 (0) 71  9841350
or Call Steven your guide on – 083 890 1764

---
Donegal Scenic Travel
Picking up daily from Bundoran Tourist Office at 10am and taking in Donegal Town, Killybegs, Slieve League, Silver Strand (Malinbeg) and Glencolmcille this tour will give you a whirlwind tour through south Donegal's most scenic spots!
https://www.donegalscenictravel.com/
Booking – Tel:

---
Donegal Tours
Mangan Tours operate an extensive range of day tours around Donegal. Our regular timetable means that a day trip of Donegal is always accessible, both for locals who fancy a day away from home or visitors who would like to see more of our beautiful county. Our wide range of destinations covers the county and provides access to all the wonderful sights Donegal has to offer.
Tours Include: Prices from 39 euro
Donegal Heritage Tour – Donegal Highlander Tour – Insihowen Peninsula Tour – Fanad Lighthouse Tour
---
Donegal Wild Atlantic Way Tour
Slieve League tours – Highest Sea Cliffs in Ireland
Killybegs –  Ireland's largest fishing port
Glencolmcille –  Folk Village
Views of Rugged Wild Atlantic Coastline
Ardara – Irish town famed for its Tweed

Photo and Coffee Stops along the way.
Booking Essential – 35 Euro Per Person
Tel: 00353 (0) 866059220
www.walkingireland.ie
---
Camp View Farm Tour
Guided walk of a farm – following Its history the farmyard
Milking Parlour, Tractor ride, Visit to patoto farm, seeing the animals
Lambs, Cows feeding them, observing milking. Many other farm live
demonstrations. Activities for older children.
Adults 15 Euro
Children 8 Euro
Booking Essential
Tel: 00353 (0) 86 386 1302
Email. campviewoutdooractivities@gmail.com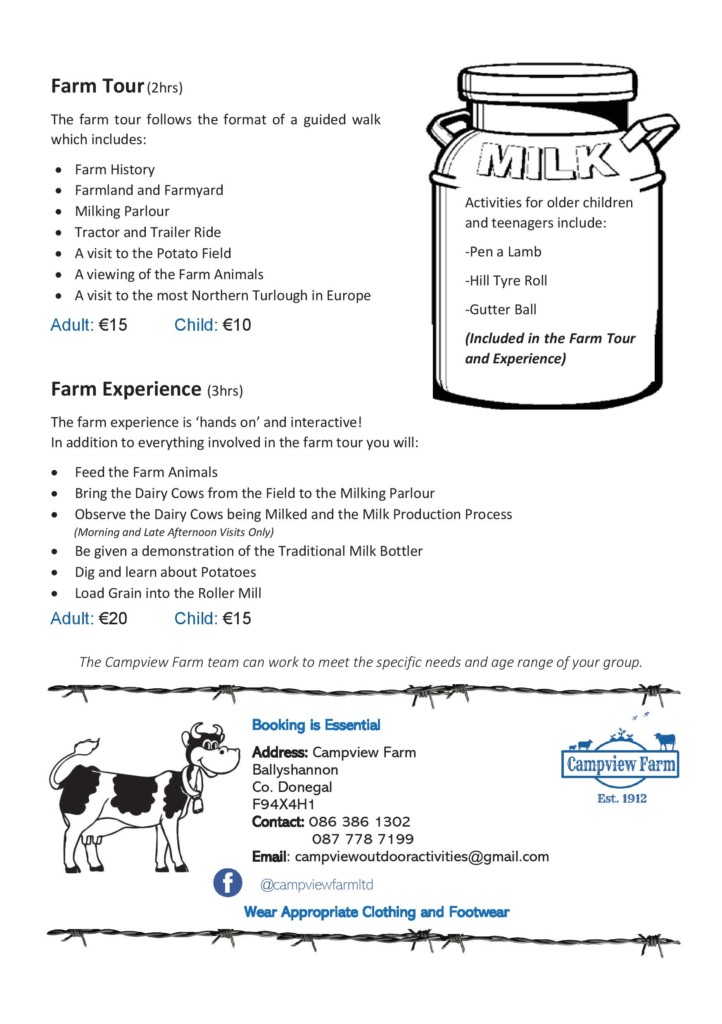 ---
Donegal Bay Waterbus
Sailings Daily Weather Premitting (20 euro per Adult – kids 7 euro)
Enjoy the sights of beautiful Donegal Bay, The islands and seal colony
Comfortable lounge seating Fully Stocked Bar, Wheel chair accessible.
Sing-along on the return leg of trip.
Tours departing daily from The Pier Donegal Town (Duration approx 75 min)
Tel: 00353 (0)74 97 23666
www.donegalbaywaterbus.com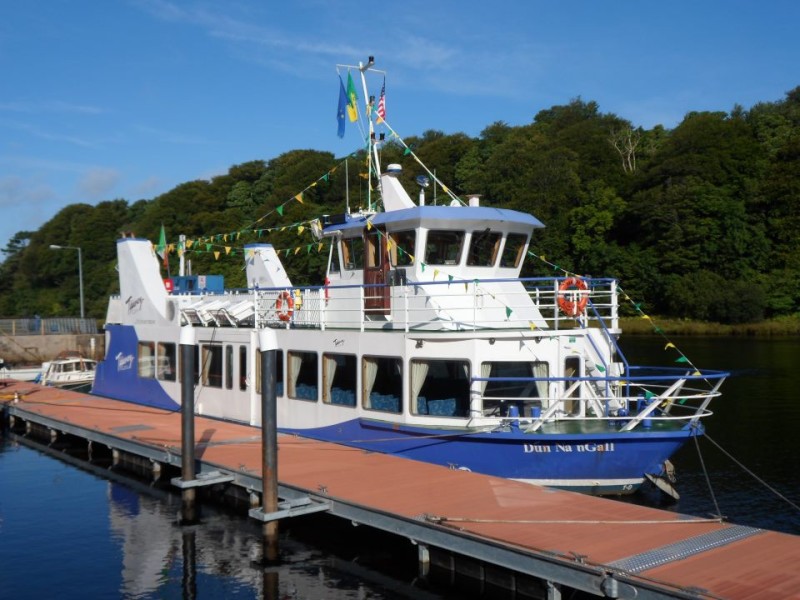 ---
Bundoran Star
Sea Angling Trips, Boat Trips
Skipper Patrick O'Doherty
2 hours Adults 25 Euro – Kids under 16 – 15 euro
Rental Full Day 450 euro – Passengers 10
Tel: 00353 (0) 874198323
---
The Rose of Innisfree Tour Boat
Lough Gill – Co Sligo (Parke's Castle)
& The New Jetty at Doorly Park, Sligo
The Rose of Innisfree tourboat operates in Ireland's Hidden Heartland region on the picturesque Lough Gill, in County Leitrim,  and also straddles the Wild Atlantic Way as it journeys into County Sligo.  It is an all weather, fully enclosed vessel that seats 72 persons.  Boat trips incorporate all the sights, history and poetry of Lough Gill, including the many works of nobel prize winner William Butler Yeats.  Trips include entertaining onboard commentary, and live poetry recitals. It offers daily cruises during the extended summer season, bringing WB Yeats to the everyday tourist and pleasure seeker.
 We now offer daily sailings from Sligo jetty at 1.30pm.  This is a 3 hr sailing cruise, which carries guests up along the Garavogue River and Bonet to Parkes Castle in Leitrim, where guests have the opportunity to visit at Parkes Castle on the shores of Lough Gill. Cruise returns to Sligo for 4.30pm.
Tourboat is also available for private hire for corporate events, parties and functions.  Full bar facilities and tea/coffee available onboard.   The Rose of Innisfree tourboat and surrounding Lough Gill landscape are unrivalled for their unspoilt natural beauty, with a diversity of geology, archeology, history and scenery.
12:30PM & 3:30PM PARKES' CASTLE DAILY
Sailings from Sligo, Doorly Park in High Season 2019 (July & August)
NEW JETTY, NEW TIME!
1:30pm – FROM DOORLY PARK, SLIGO DAILY
FARES
Adult €20 
Child (U16) €10
Children under 4 FREE
Family: €50
Student/OAP: €2 off
Contact: 087 2598869 – 0719164266
info@roseofinnisfree.com
www.roseofinnisfree.com