Bundoran: Home to the biggest and cleanest of waves
Surfers catch the waves and sea swimmers brave the elements in Bundoran's clear waters with confidence since the town's new wastewater treatment plant was opened in 2018.
From his office window, Shane Smyth of Discover Bundoran can see visitors and locals alike enjoying the world-renowned waters.
"Since the wastewater treatment plant opened, we have confidence in promoting Bundoran as having safe, clean waters. The surfers come from all over the world and we have paddle boarders and kayakers – thousands of people use our water every day and we never hear a complaint."
A video telling the story of how Irish Water eliminated raw sewage discharge into Bundoran's waters is now live on Irish Water's website.
Welcoming the improvements the treatment plant has brought, Shane Smyth is joined by Clean Coast's Olivia Jones, swimmer Aisling Clarke, Ryan Allen of Irish Gap Year and Donegal County Council's Jim Bonner who all say Bundoran's waters are among the best in the region.
"Water now is meeting excellent bathing water quality and that definitely has contributed to the Blue Flag been achieved back here again in 2020," said Olivia.
Irish Water's Regional Delivery Lead Patrick Greene is understandably proud of his role in delivering the project.
 "Upon completion of this project in 2018 the unacceptable practice of discharging raw sewerage into the sea ended. The new wastewater treatment plant, which has a population equivalent of 8,000 people, means that wastewater is adequately treated and meets appropriate standards before being safely discharged back into the environment."
Irish Water's consistent progress in upgrading wastewater treatment and eliminating the discharge of raw sewage to Ireland's rivers, lakes and coastal areas is benefiting communities and enhancing the environment throughout Ireland.
Nationally, over 60% of raw sewage discharges have been eliminated since 2015 – and replaced with treatment capacity for the equivalent of 120,000 people.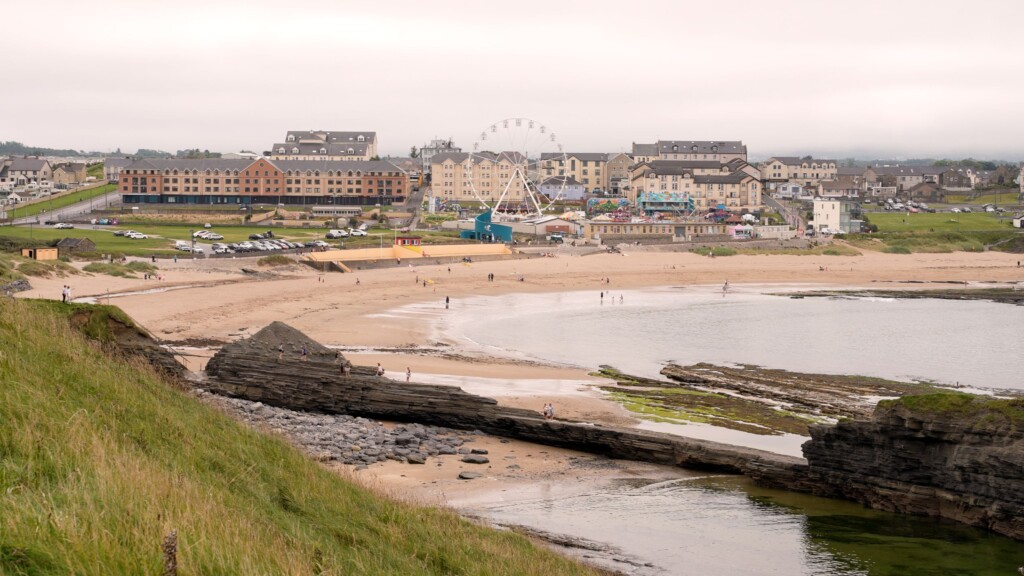 As well as Bundoran, Irish Water has ended the discharge of raw sewage and improved treated wastewater quality being returned to the environment in several other Donegal Locations. These works include the completion of sewerage schemes in Convoy, Dungloe, Glencolmcille, Glenties, Killybegs and Saint Johnston. An upgrade to the Ballybofey-Stranorlar Wastewater Treatment Plant is complete and the Letterkenny Sewerage Scheme is now substantially complete.
As a result of these improvements, communities in Donegal are reaping the rewards of a cleaner environment, safer bathing waters and greater opportunities for the development of new homes, businesses and tourism.
Meanwhile, Irish Water is on track to end the discharge of raw sewage in Kerrykeel and Kilcar by 2023 with works commencing on the construction of two new wastewater treatment plants.
"Bundoran Wastewater Treatment Plant and remaining wastewater infrastructure planned for Donegal will significant improve water quality in our seas and rivers. It will really benefit our local communities and tourism and the people who use the seas, including swimmers and surfers. It will safeguard people's health, protect the environment and marine life. It will also really benefit future economic and social development of the county," added Jim Bonner.
Irish Water is responsible for the delivery of all public water and wastewater services in Ireland. We are committed to continuously upgrading and developing critical infrastructure to support the growth needed in housing and across our economy, while protecting the environment and safeguarding water supplies
For more information and to watch Irish Water's Eliminating Raw Sewage video set in Bundoran visit www.water.ie/eliminatingrawsewage
The Bundoran Weekly Podcast
Check out the latest episode of our weekly podcast below! To find out more click www.bundoranweekly.com 
Follow Discover Bundoran on Social Media