John Lennon Educational Tour Bus To Visit Bundoran!
Music production will became mobile in Donegal in early August when the John Lennon Educational Tour Bus, in partnership with Donegal Music Education Partnership and Music Generation, will roll into Bundoran on Wednesday, 5 August and on to An Chrannóg, Srath na Corcrach, Na Doirí Beaga on Thursday, 6 August.
The Bus, which contains a fully equipped state-of-the-art music studio, is offering an amazing opportunity to young aspiring Donegal musicians, to spend a day on board, work with a world class crew of engineers to record and produce original music, produce and shoot music videos and documentaries and complete a broadcast quality music video.The Donegal visit is part of a 24-day Irish national tour which willtake in 11 counties and reach over 100 young musicians throughout Ireland.
The John Lennon Educational Tour Bus is a non-profit state-of-the-art mobile audio and HD video recording and production facility. The Bus, which was made possible by Yoko Ono Lennon, is dedicated to providing young people with tours of the studios and participation in free song-writing and multimedia production workshops. With the assistance of three on-board engineers, young aspiring musicians learn how to write, perform, record, and produce original songs, produce and shoot music videos and documentaries and complete a broadcast quality music video. Young musicians on board will have the opportunity to experience this extraordinary world class education resource.
Angela Mc Laughlin, Music Development Manager of Donegal Music Education Partnershipsaid "We are delighted to have this fantastic opportunity to work with the John Lennon Bus team and bring a real sense of excitement to music education in Donegal this summer. We are continuously looking at new and exciting ways to encourage young people into music education and this visit, coupled with our other summer programme for young musicians 'Soundwaves', offers hands-on opportunities for young musicians to compose, perform and record their ownmusic with accompanying music video.It will be wonderful to see young people having the opportunity to put their musical skills into practice on the John Lennon Buseach and I am delighted to present this opportunity in partnership with Donegal County Council Cultural Services and An Chrannóg."
Brian Rothschild, Executive Director of The John Lennon Educational Tour Bus stated "It is fantastic for us to have the opportunity to tour Ireland and meet so many talented and vibrant young people. There is such a terrific energy and national momentum for music education here and it is wonderful to be working with Music Generation and the local Music Education Partnerships who, like the Lennon Bus are empowered to opening up access to music for the new generation. Our aim is to build on this great sense of enthusiasm, and inspire musicians of the future through our mission and the wonderful, state of the art production facilities on board the bus."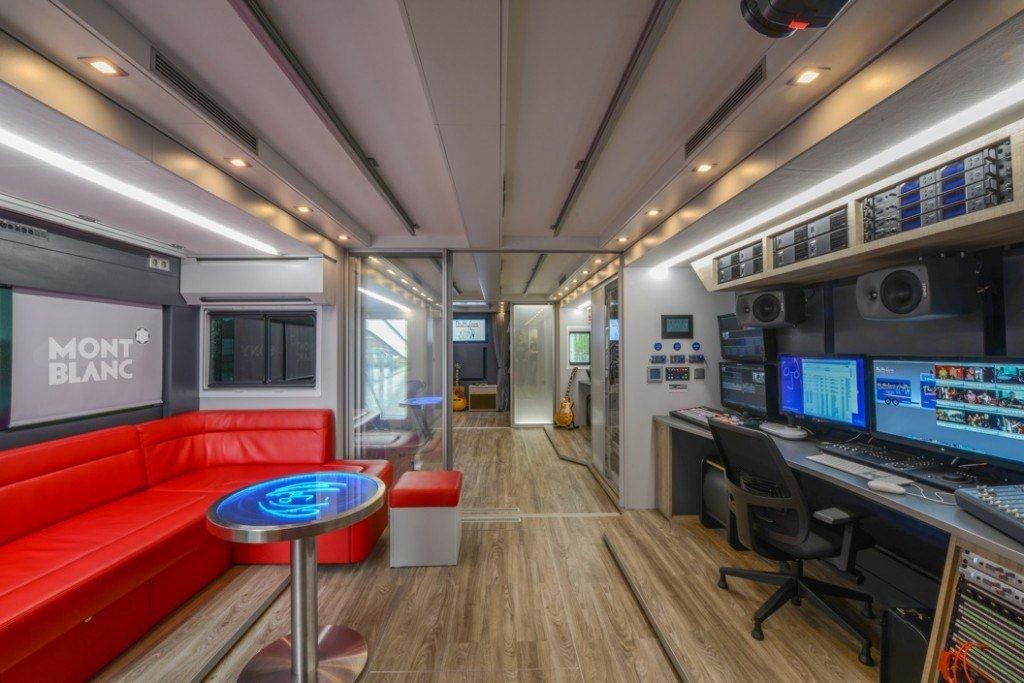 Who can Apply and How to Apply
The John Lennon Educational Bus experience is open to any young musician aged between 14 – 18 years and is suitable for instrumentalists – including drummers – and singers – including singer-songwriters – from ALL musical genres. Rock and pop, traditional, jazz etc. There are 8 places available in each location – Bundoran and Derrybeg – and you must be available for the full day from 10am – 6pm.
To make an application, please log on to the Donegal Music Education Partnership website www.dmep.ie, click on the John Lennon Bus tab on the home page and complete and return the online Application Form, on or before Close of Business (5.00pm) on Monday, July 27.
Successful applicants will be notified by the end of July.
For further information, contact Traolach Ó Fionnain, Donegal County Council Cultural Services on (074) 9121968.
//ENDS//
About the John Lennon Educational Tour Bus
The John Lennon Educational Tour Bus is a non-profit state-of-the-art mobile Pro Audio and HD video recording facility that provides hands-on experiences for students of all ages. After 16 years of touring the U.S (taking in sites including SXSW, Coachella, CMJ and many more) the new Lennon Bus for Europe features the latest audio and video technology, gear and products.The concept began as an offshoot of the John Lennon Songwriting Contest, which is dedicated to providing opportunities for both professional and amateur songwriters around the world. Go to www.jlsc.comfor more information.
The Bus will travel across the U.K. and Europe year-round, providing free tours and workshops at schools, retailers, festivals, on tours with headlining artists, and at major industry conferences. Lennon Bus Europe is supported by the generosity of sponsors including Apple, Mont Blanc, Sony, Avid, True Religion, Neutrik, Thomann, Gibson Guitars, Epiphone, Baker & McKenzie , Genelec, NewTek, TodoCast by Globecomm, Vox Amps, Mobile Roadie, Audio-Technica, Roland, JamHub, SSL, Sonicbids, Genelec, Litepanels, Manfrotto, Clear-Com, AJA, Anton/Bauer, Copperpeace, Applied Acoustics Systems, McDSP, Native Instruments, IK Multimedia, Noise Industries, iZotope, Slingerland Drums, and Mad Mimi. The John Lennon Educational Tour Bus is made possible by an agreement with Yoko Ono Lennon.
About Donegal Music Education Partnership(DMEP)
Donegal Music Education Partnership providesaccess to after-school vocal and instrumental tuition on a wide range of instruments in numerous centres across Donegal. Primarily a service for children and young people, genres taught include classical, traditional, jazz and contemporary/rock music. An instrument hire service is also available.
The local music education service was one of two national partnerships piloted in a joint initiative between Music Network and the Department of Education 10 years ago, in 2005. It is managed by Donegal ETB and carries out its work in partnership with Donegal School of Music, Donegal County Council's Cultural Services, ÚdarasnaGaeltachta and Donegal Education Centre.
Committed to providing a quality music education service with an emphasis on performance, all children and young adults engaging in music education throughout the County are encouraged to join one of the many instrumental and choral performing groups within DMEP's ensemble portfolio.
Visit www.dmep.ie for further information.