You Should Really See A Doctor – in Bundoran!
Episode filmed at Sea Sessions to air Wednesday 30th November at 8.30pm on RTE1.
After a successful first series, the RTÉ Television medical diagnosis show, You Should Really See a Doctor is back and earlier this year Dr Pixie and Dr Phil set up camp at Sea Sessions Surf Music Festival here in Bundoran!
In Bundoran, Pixie meets the reluctant patient whose girlfriend has brought him from Tullamore to the clinic.  The young man who is living with debilitating pain, who has had to stop work and is constantly in pain and misery due to his extreme chronic condition which is understandably affecting his mood.  The doctors also meet the young mother of two young children who is worried that her recurring arm tingling may be a sign of the onset of Multiple Sclerosis.
Tourism Officer for Bundoran Shane Smyth said 'it was a great pleasure to welcome both Dr Pixie and Dr Phil to Bundoran over Sea Sessions weekend.  The presence of the show generated a lot of interest and we look forward to seeing the final product on air this week.'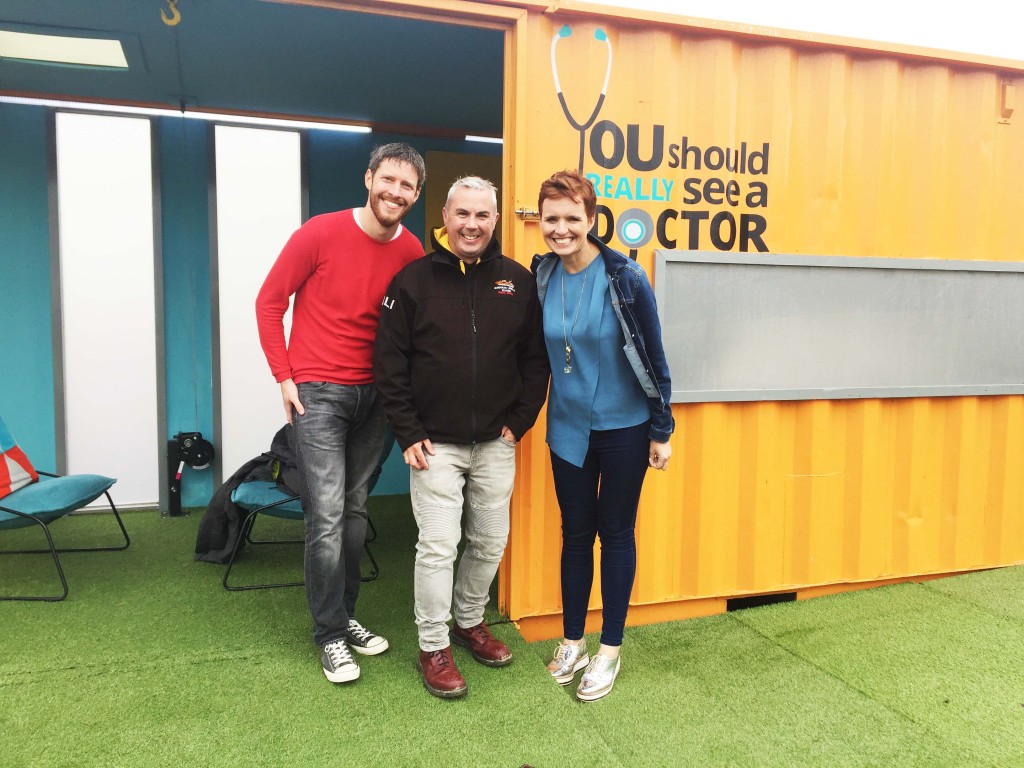 From Donegal to Cork, from Kerry to Dublin, Dr. Pixie McKenna and Dr. Phil Kieran have been on tour around the country this summer, visiting events with their pop-up clinic to offer on the spot free consultations and health checks.
Once again they have been examining the symptoms and ailments that are bothering the country's adults and children – the lumps, bumps, pains, aches, sleep issues, skin problems, tingling and toilet troubles – whatever has been irritating the nation. From hayfever to suspected menopause to children's tonsillitis the doctors prod and probe to help find solutions.
Pixie and Phil also meet those who have been self-diagnosing – those who believe that they may be living with Lyme Disease, Multiple Sclerosis or even cancer.  We've all been there, turning a headache into a suspected tropical disease with a few clicks on the computer! Now it's time to consult the real doctors.
Events visited in 2016: 
Cat Laughs Goes Racing, Gowran Park Kilkenny
Cork Summer Show
Sea Sessions Festival, Bundoran Co. Donegal
Waterford Harvest Festival
Puck Fair, Killorglin, Co Kerry
Battle of Marching Bands – Malahide Castle