Bundoran man is official world record holder!
It was officially confirmed today (Thursday 13th April) that Diarmuid McCaughey from Bundoran, a member of the Realt Na Mara GAA club, has become a world record holder, thanks to his participation in the Marathon Match held in January.
Cancer Focus Northern Ireland and Michaela Foundation have officially been awarded a new Guinness World Record for playing the longest Gaelic football match in history – and raised over £70,000 to fund their good work at the same time.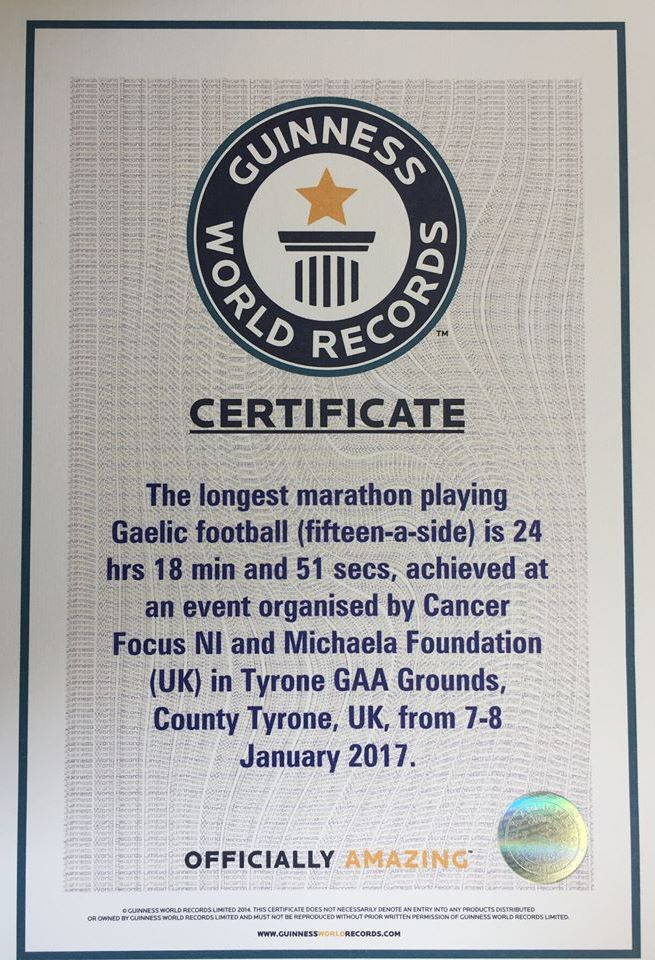 The Marathon Match, in partnership with O'Neill's International Sports, was held on January 7th/8th in the Tyrone GAA Garvaghey Centre. The record match saw Cancer Focus NI and Michaela Foundation teams go head to head for an amazing 24 hours – a world first.
Roisin Foster, CEO of Cancer Focus NI, said: "We are so impressed by this magnificent achievement. We are delighted that we will be able to help even more cancer patients and their families thanks to the generosity of those who made donations or were involved in this amazing event."
Tyrone GAA manager Mickey Harte said: "Congratulations to everyone concerned. This truly was a team effort and I want to commend all those selfless volunteers, donors and the general public for their generosity which ultimately made this project such a huge success.
"A special word of thanks goes to Kieran and O' Neill's Sportswear, Kelly's Inn and the Tyrone County Board for their invaluable support in helping us achieve our goal."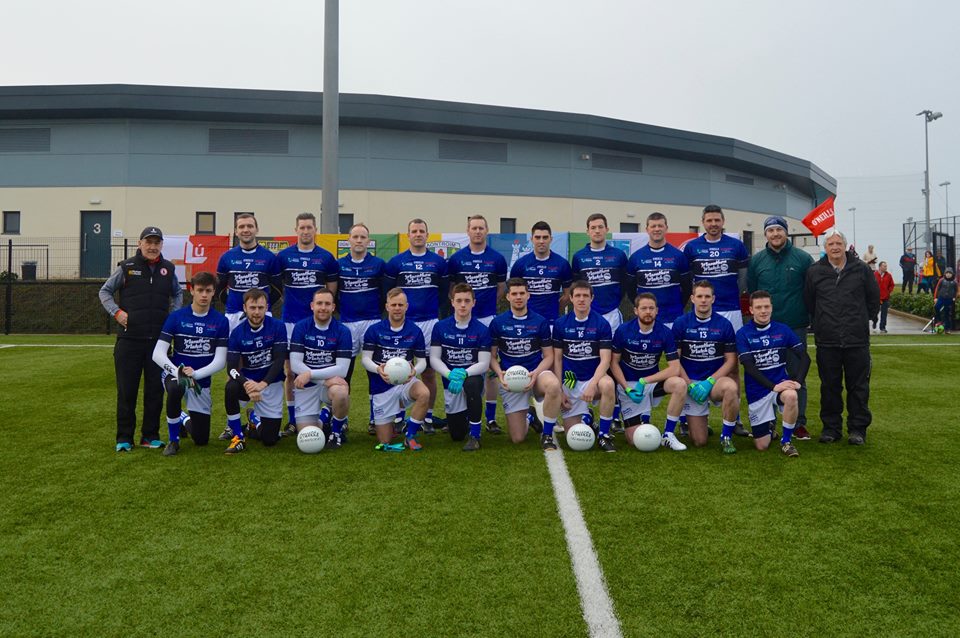 John Mc Areavey, Chairman of Michaela Foundation, said: "I'm absolutely delighted for everyone involved that we have been officially granted with this world record, not least our fantastic players who really had to dig deep, both physically and mentally, to ensure we could achieve this mammoth challenge. Being able to call yourself a world record setter is something very special and I'm very proud that we could do this for two great charities."
Kieran Kennedy, Managing Director of O'Neill's Irish International Sports Company, said:
"We were delighted to sponsor the Marathon Match and congratulate all involved. The effort of the players was testament to their fitness and it was a supreme effort to raise funds for these two charities. We've been a proud partner of Michaela Foundation since it was established and we firmly support their work in helping young people achieve their potential."
A presentation night for the players and their families will take place on 13thMay in the Wellington Park Hotel, Belfast.
Cancer Focus NI provides a wide range of services for Northern Ireland cancer patients and their families. These include counselling, family support, a help and information Nurseline (0800 783 3339), bra and swimwear fitting for women who've had breast surgery, stop smoking clinics, and cancer prevention in schools, communities and workplaces. The charity also funds breast cancer research at Queen's University Belfast.
Michaela Foundation, inspired by the life and values of Michaela McAreavey, aims to support and inspire young people in Ireland to lead happy and fulfilled lives without limits. Michaela Foundation organises summer camps and other initiatives for young people that encourage the practice of all the values that Michaela, her family and friends hold dear, such as the Irish language, faith, fun, well-being and fashion.