Further Three International Squads Announced For An Post Rás
Former World Track Champion Cameron Meyer to Line Out for Eight Day Race
A further three international squads have been announced to take part in this year's An Post Rás; the Australian and Belgian national teams plus the French Armee de Terre squad have confirmed they will travel, strengthening this year's line-up and guaranteeing an aggressive, exciting eight days of racing.
The Australian squad will include former WorldTour pro Cameron Meyer, who has a glittering list of career results. These include World and Commonwealth titles on the track, overall victory in the Tour Down Under, a stage win in the Tour de Suisse and team time trial successes in the Tour de France and Giro d'Italia.
It will also feature Under-23 road race champion Samuel Jenner, Oceania championship runner-up Michael Storer, Rio Olympics silver medallist Samuel Welsford and 2016 world team pursuit champion Alexander Porter.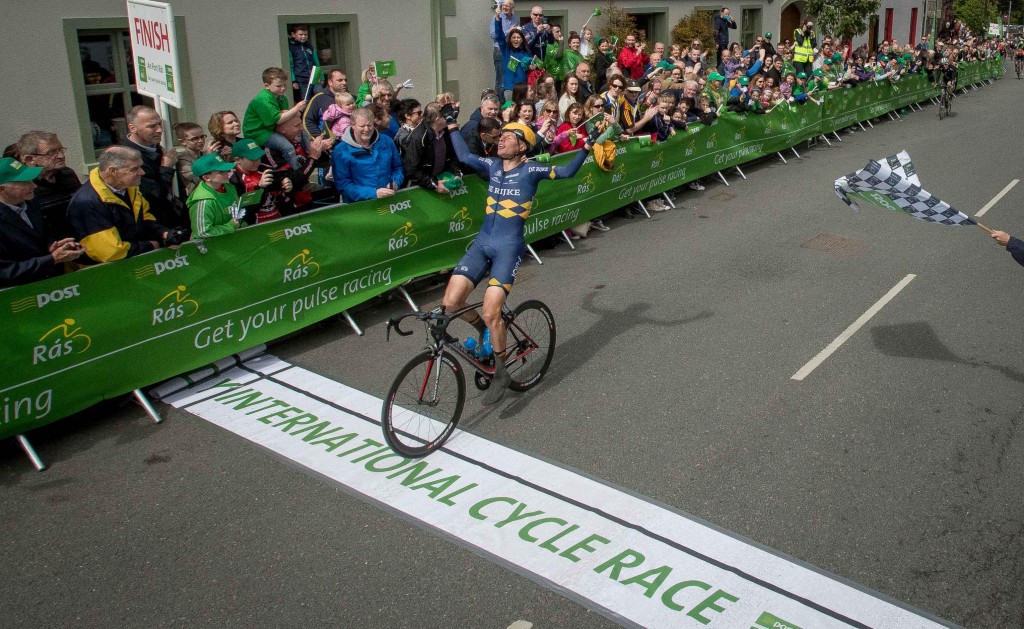 Cycling Australia's Under-23 Men's National Coach, James Victor said that Meyer has a renewed energy about racing after previously losing motivation with WorldTour competition:
"Cameron will play a crucial leadership role with his extensive experience as a successful professional road cyclist. He has the most extensive results of this team. He is very much enjoying his revitalised career and I think we have our best chance to chase the overall classification with him. He is probably our best chance on paper. However, we have options with Michael Storer and Sam Jenner too."
The team had a superb showing in last year's Rás, with two riders – Jai Hindley and Lucas Hamilton – taking second and third overall on general classification. Hindley was also the best young rider and placed second on stage seven.
The Belgian squad will comprise riders from the national track team, namely Bryan Boussaer, Moreno De Pauw, Jules Hesters, Gerben Thijssen and Sasha Weemaes.  Of those, De Pauw won stage five of the 2013 An Post Rás and was a bronze medallist last year in the European track championships. He also took top three finishes in three track World Cup events.
The French Armee de Terre squad is comprised completely of riders from the army. The line-up is Thomas Rostollan, Yannis Yssaad, Morgan Kneisky, Jérôme Mainard and Stéphane Poulhiès.
31-year old Rostollan will act as team captain. He won a stage in the 2012 An Post Rás and finished second overall in the general classification. He also took a stage in the 2016 Tour de Bretagne. Yssaad is, along with Kneisky, the team's sprinter. He recently won Paris Troyes 2017, while the latter was three times World Track champion in the madison and points race events.
Poulhiès has won stages in the Etoile de Besseges and Kreiz Breizh, as well as the overall classification of the 2015 Tour de Gironde. As for Mainard, he claimed a stage victory in the 2015 Tour de Franche Comté 2015 and was runner up in the French amateur championship the same year. Team spokesman, Jean Ventalon says the team is gunning to take home the yellow jersey.
"Our goal is to win the general classification and also to take some stages too. Of course it will be difficult but our goal is to give the best. We won't be in Ireland for tourism!"
An Post Rás race director Tony Campbell is looking forward to seeing the squads in action:
"The teams and their line-ups show the quality of the field for this year's race. There are some very strong riders confirmed, and more will be announced in the coming weeks."
The 2017 An Post Rás will begin in Dublin on Sunday May 21st and features stage finishes in Longford, Newport, Bundoran, Buncrana, Dungloe, Donegal, Ardee and Skerries. It comprises eight gruelling days in duration, totalling 1200 kilometres in distance and includes 21 categorised climbs. The An Post Chain Reaction Sean Kelly Team has already committed to participating.
An Post Rás 2017 (Total: 1199.8 kilometres):
Stage 1, Sunday May 21: Dublin to Longford (146.1 kilometres)
Stage 2, Monday May 22: Longford to Newport (142.9 kilometres)
Stage 3, Tuesday May 23: Newport to Bundoran (149 kilometres)
Stage 4, Wednesday May 24: Bundoran to Buncrana (151.8 kilometres)
Stage 5, Thursday May 25: Buncrana to Dungloe (181.2 kilometres)
Stage 6, Friday May 26: Dungloe to Donegal (132.1 kilometres)
Stage 7, Saturday May 27: Donegal to Ardee (167.3 kilometres)
Stage 8, Sunday May 28: Ardee to Skerries (129.4 kilometres)