Bundoran – A Baywatch for Beginners!
By Rebecca Lee –
Twitter @rebeccaleemedia
Insta @bexlee666
Bundoran- it's a place you either love or hate. Luckily for my sister and I, it proved the former.
I was both excited and anxious to be taking to Donegal's first discovery point on The Wild Atlantic Way. Like most, I had experienced the delights Donegal town had to offer I had just never ventured to the outskirts.
Bundoran, otherwise known as 'Bun Dobhrain' is one of Ireland's most popular seaside resorts. It's a quaint little town just 20 minutes' drive from the centre of Donegal. Named by National Geographic Traveller magazine as 'The Coolest Place on the Planet', Bundoran was voted one of the best surfing destinations in the world by the Flight Network recently.
My sister and I booked a weekend away in The Great Northern Hotel, a four star establishment situated on the crust of the cliffs and within walking distance of all amenities. The 106 bedroom facility which dates back to 1894 features a restaurant, bar and grill and leisure centre. It also boasts a pool and Jacuzzi and is a hotspot for weddings and occasions among the lovely locals.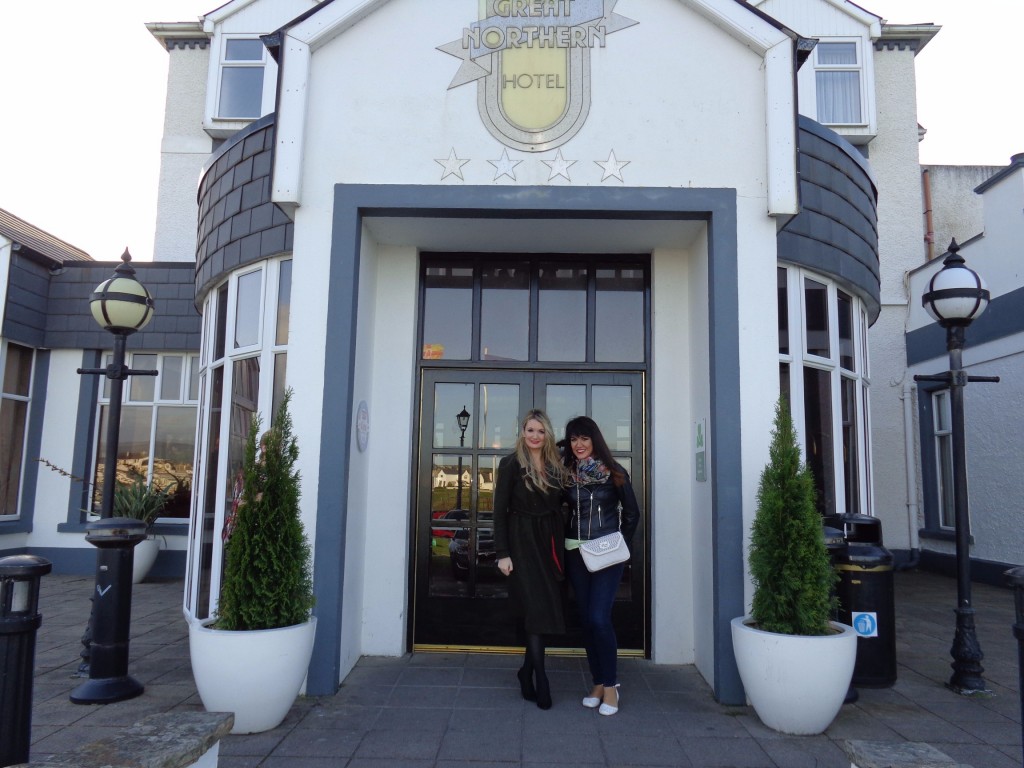 Bedrooms recently renovated, I chose to stay in an Executive Suite which was delightfully spacious and elegantly decorated. With vibrant Victorian wallpaper and chandeliers dotted throughout the hotel it's no wonder it's one of Daniel O' Donnell's favourite places to perform. Admittedly dated in some parts, I found this added to the hotel's vintage vibe and I admired its period features and artistic antiques. We opted for a bed and breakfast option which fuelled us for two activity filled days.
The breakfast was plentiful, boasting your essential Irish fry with continental options and eggs benedict also available. It also helped the hotels dining area overlooked the ocean and golf course which looked glorious in the sunshine (we were lucky with the weather). Customer service at this establishment, particularly at the hotel reception and bar area was exceptional. Nothing was too big an ask.
Early Saturday we embarked on a surf lesson with Turf n' Surf Lodge and Surf School, one of five dotted around the town. The school provides surf and sleep packages (with guests staying in its hostel which features all ensuite rooms double, twins and dorm and sea views) at an affordable rate. A novice to surfing, we wriggled into our wetsuits and were driven to the stunning Tullan strand in jeeps that rivalled those from Jurassic Park. Our three hour lesson saw us learn how to paddle professionally alongside an expert instructor and balance on the board like true Baywatch babes. The majority of the lesson was spent in the water where laughter and plenty of wave riding induced alongside the 12 other people in our group. I've never been a fan of the cold and I was surprised to see how warm the wetsuits kept us. By the end of our lesson I like to think I resembled world pro surfer Kelly Slater however my photographs proved differently! Our instructor was especially helpful in aiding us with our balance and ensuring we caught decent waves.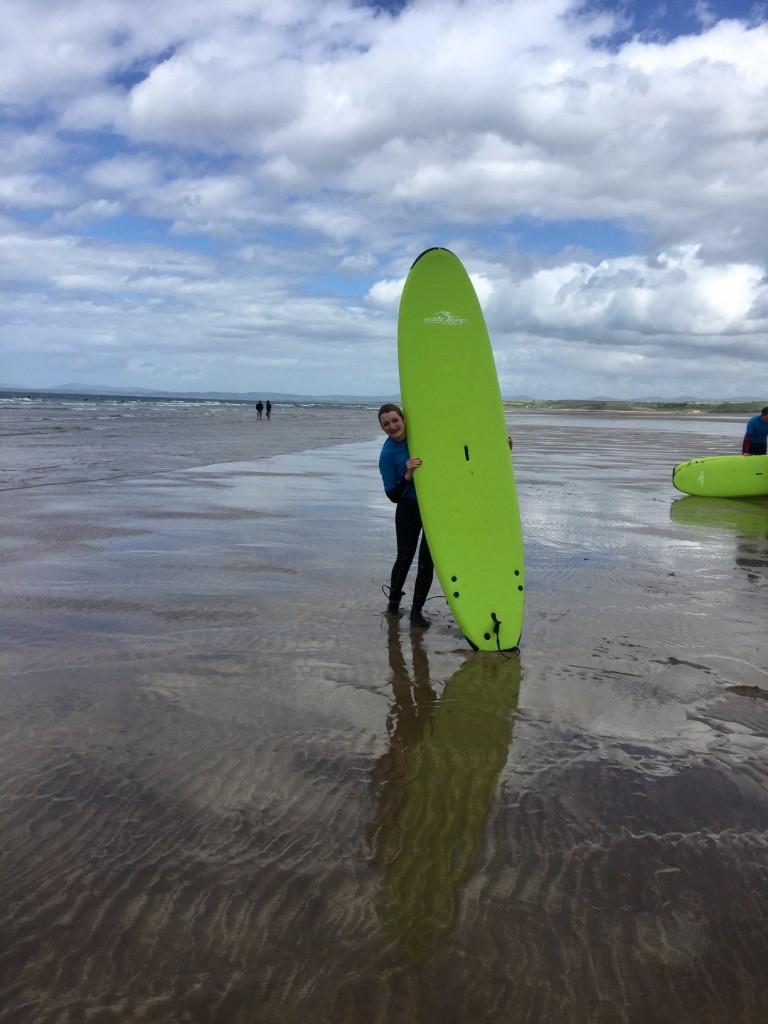 Following our thoroughly enjoyable lesson and fancying a bit of off-road action I drove us to nearby Kinlough for a spot of off-road 'blind-driving' with Wild Atlantic Crusades. What is blind driving you ask? It's when a driver wears a blindfold or in my case blacked out goggles and navigates their way around an off road track. I was fairly nervous as I'd seen blind driving on Top Gear before and lets' face it, I am no Jeremy Clarkson! I drove an adventurous looking 4×4 off road cruising through an obstacle course on Rachael's instructions. Hitting the odd stack of tyres and reversing into a tree, it proved to be a nail-biting, enjoyable experience that provided us with plenty of giggles and screams. 'Enjoyably traumatic' would best describe it. Both Rachael and I agreed it would make a great girls and guys day out. I think it's something everyone needs to try at least once in their lives and yes, you will live to tell the tale! Check out the video below!
Requiring a beer (or two) after all the action I paid a visit to the Donegal brewery located in Dicey's Bar in Ballyshannon, home of Donegal Blonde beer. There the manager very kindly gave us a tour of the microbrewery and allowed us to sample some original Donegal brews which quenched our thirst. Although the brewery is pint sized (pardon the pun) it makes for an interesting excursion and is open to groups provided they book in advance. Even if you don't manage to mangle a tour the bar itself is a lively establishment that provides plenty of Atlantic Way style craic agus ceoil.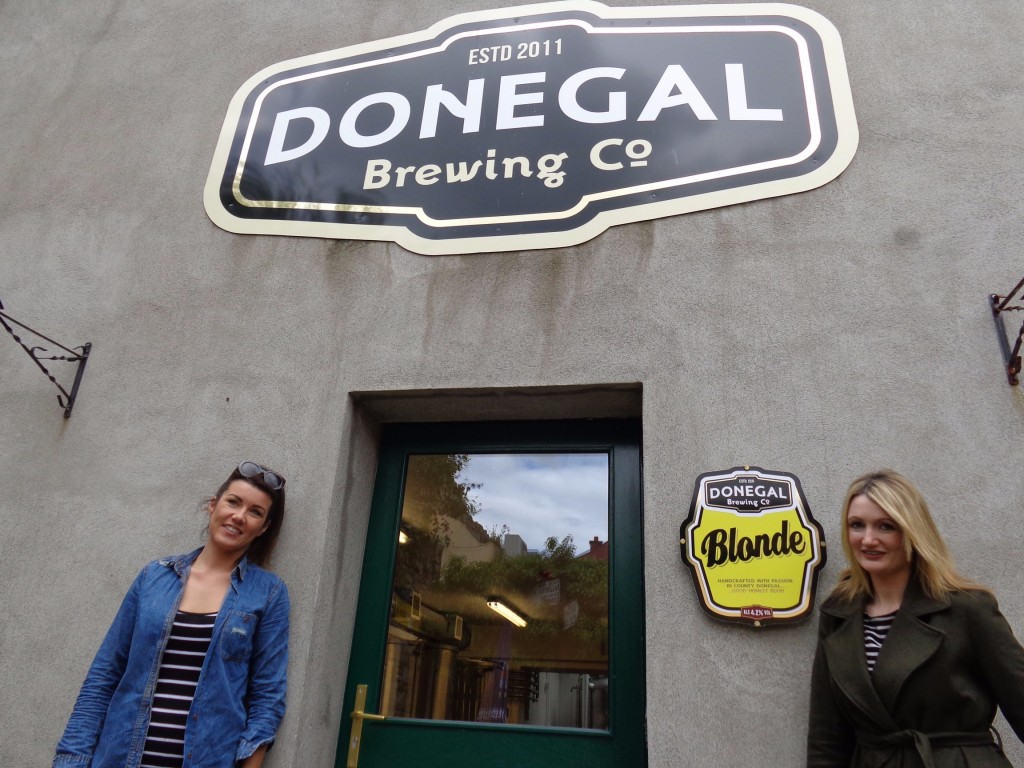 Bundoran town features a decent range of restaurants, cafes and takeaways. It must be said one of the highlights for Rachael and I was dining in The Peak restaurant, located halfway down the main street across from The Allingham Arms Hotel. The beauty of this eatery is its prime positioning over Eden Bay and the restaurants crystal clear glass front which provides picture perfect panoramic views of the sunset over Bundoran Bay. The food (which I am always particular about) and service was first class and they didn't know I was a journalist or a blogger looking to critique…that always says a lot! If you can try book a table so you're there to experience the sunset it truly is a special experience.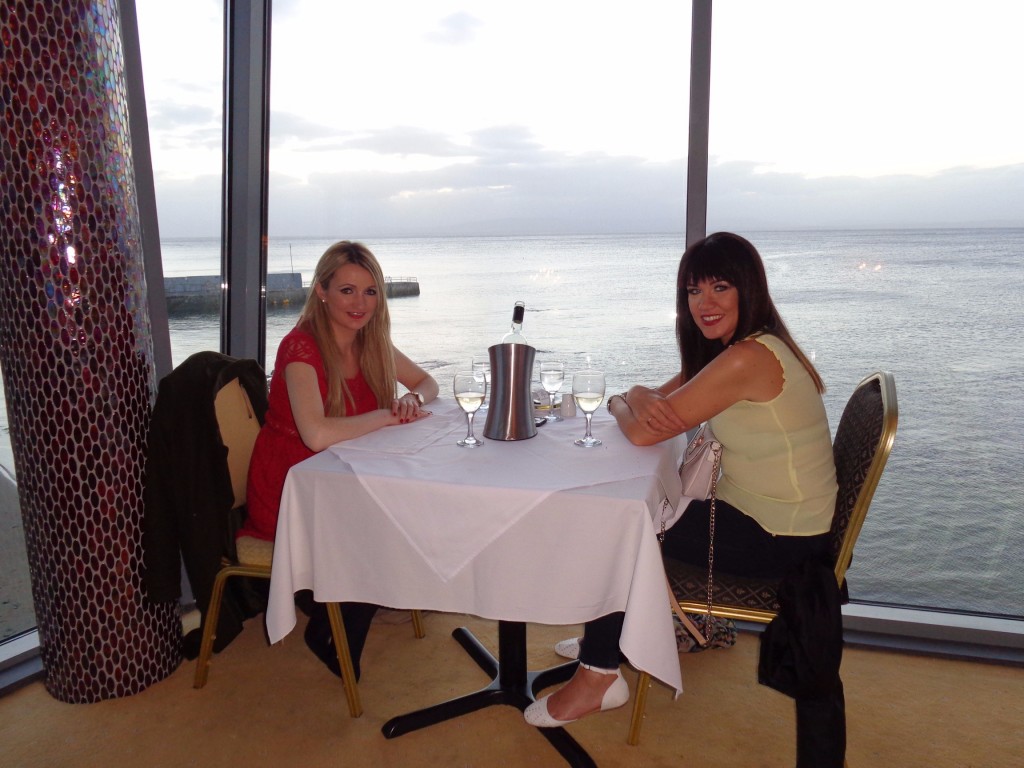 Other eateries worth a mention would be Waves Surf café on the main street which is a must for casual grub and is frequented by surfers. This hippie vibe establishment has a wide range of mouth watering sandwiches, salads and paninis on offer. It's a good spot for a cheap and cheerful lunch with a theme. The Hardy Baker, a mere five minute walk from the town centre in the retail park is also worth a trip; it's always a good sign when locals are spotted eating somewhere and this is one of those hotspots with freshly baked goods topping the menu. Although I couldn't possibly sample everything I know first-hand the Victoria Sponge is lip smackingly good as are the falafels.
Bundoran's nightlife is cool and casual. Country dance shows are prominent as are surfer bars. Some of the places we visited included Maddens Bridge Bar (which we found great for a spot of trad music) The Chasing Bull which features bands and a DJ most nights and Brennan's Bar, an old school establishment owned by two elderly sisters made famous by the recent Hophouse 13 ad. You could do a crawl of the street and everyone including the locals and their mothers would chat to you.
Sunday was spent sinking into Bundoran's seaweed baths located in the family favourite waterpark 'Waterworld'. There we soothed our well-travelled and sea beaten bodies in heated saltwater containing handpicked seaweed from the Wild Atlantic. Rates were reasonable with a seaweed bath, steam and shower costing just €25.00. They also take group bookings making it a great day out for ladies who love a spot of R n' R. Although not as dazzling as their rivals in Sligo, our session left us feeling replenished and relaxed and our session didn't break the bank either.
Bundoran makes an enjoyable escape for people of all ages with plenty of activities on offer, most of which are within a stone's throw of each other. It's Cliffside appeal and chilled surfer vibes provides the town with a hipster edge over other seaside holiday hotspots. As the song goes 'Beautiful Bundoran by the silvery sea, your golden strand and charms so grand are ever calling me' and I'm pleased to report they are.
The Great Northern Hotel offer family packages from €299 for two nights bed and breakfast and one evening meal for two adults and two kids, which includes kids club and full use of leisure facilities, and bed and breakfast rates from €50 per person sharing. For more see www.greatnorthernhotel.com or call 071 9841204
Rebecca did surf lessons with TurfNSurf. A basic surf lesson including surfboard and wetsuit costs €35. For more see www.turfnsurf.ie or phone 071 9841091. She tried her hand at blind driving with Wild Atlantic Crusades at €30 per person. For bookings see www.wildatlanticcrusades.com or call 083 8118500. Rebecca also tried the Bundoran Seaweed Baths an individual seaweed bath, steam and shower costs €25 per person. For more see www.waterworldbundoran.com/seaweedbaths