Waterworld Bundoran retains Donegal's only White Flag to Gold Standard
At a ceremony in Kilkenny's Lyrath Estate recently, Waterworld Bundoran was once again awarded the Ireland Active Gold Standard White Flag – the only one awarded to a county Donegal facility this year.
The White Flag Scheme, is the most sought after accolade in the leisure and fitness industry, and is awarded to facilities that meet the operational standards for leisure and fitness facilities as set out in the scheme. The standard is designed to encourage continuous improvement within the sector and recognises facilities for their remarkable standards in the areas of safety, hygiene, customer service and human resources.
The award was presented to Waterworld General Manager Anderson Keys on the night who said "this award is a testament to the hard working staff and rigorous systems in place in Waterworld to ensure a safe and healthy environment for all of our guests throughout the season. We are thrilled to be awarded the White Flag again to gold standard as we work hard every year to ensure the facility maintains all of its high standards so that all of our guests can have an enjoyable and safe visit. Thanks to the staff at Waterworld who have once again made this possible and to the Waterworld directors who, as always, endorse and recognise the value of this award to the company's operation, profile and development.  I would particularly like to acknowledge the operational team of Anna Rafferty, Noreen Sweeney and Tom Losey for their assistance in preparation for the award.'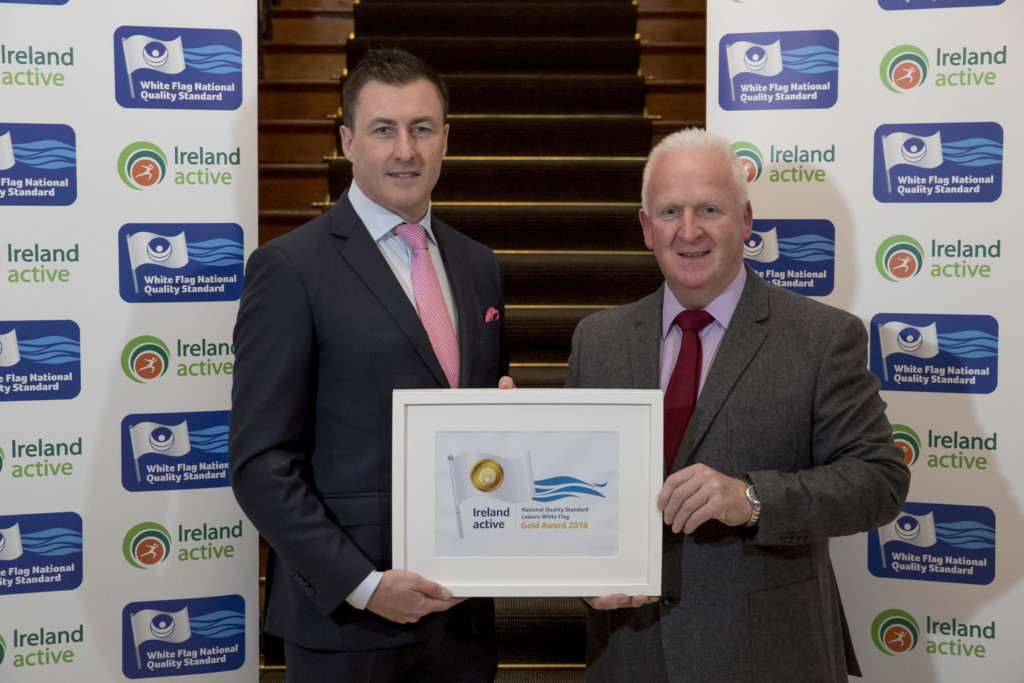 Seamus Neely is Chief Executive of Donegal County Council who are operators of Waterworld and congratulated the team on another accolade saying 'the high standards held at Waterworld are once again recognised and deservedly so. From operational to safety standards, I am very pleased to see Waterworld is at the top of its game when it comes to leisure facilities in the county.  I'd like to congratulate Anderson and his team on another great achievement and wish them all the best as they prepare for their 27th season in 2018.'
Conn McCluskey, CEO of Ireland Active said 'The leisure, health and fitness industry has an important role to play in Irish society both in terms of providing physical activity opportunities for people right around Ireland but also as a significant contributor and employer in those communities. We are really proud of the standard of the facilities of our members and it is fantastic to get the opportunity to bring the industry together and reward those who have stood out in terms of service delivery to customers and staff. I would like to take this opportunity to congratulate them on their achievement and on the vital role they play in ensuring more Irish people become more active more often.'
For more details please contact Anderson Keys, Waterworld – +353 719841172 or info@waterworldbundoran.com