SEA SESSIONS 2018 Delorentos, Chasing Abbey, Jerry Fish, Kormac and more added
SEA SESSIONS 2018
Delorentos, Chasing Abbey, Jerry Fish, Kormac and more added
"It might just be the best festival in Ireland" RTE.ie
Already being heralded as one of the best line ups of the summer Sea Sessions Surf Music Festival is going all out for its 10th birthday with even more acts being announced.
This time it's Irish acts all the way. Dublin rockers Delorentos alongside Radio favourites Chasing Abbey will join The legendary Jerry Fish, Kormac and more to help celebrate Sea Sessions 10th Birthday. The full announcement also includes Delta Fuse, The Salty Sea Dogs and BPM.
The 2018 lineup already includes, Dizzee Rascal, Walking On Cars, Rudimental, Everything Everything, Hannah Wants, Dusky, Delorentos, Chasing Abbey, Hudson Taylor, Le Galaxie, Jerry Fish, Kormac (Av Show), Fekky, The Blizzards, Versatile, DJ Yoda (AV Show), Wild Youth, Greg Wilson, Stomptown Brass, Fabio, Ryan Mc Mullan, The Hot Sprockets, DJ Deece, David Keenan, Wille & The Bandits, Slow Place Like Home, Waldorf & Cannon, Amber & The Bear, Marc O Reilly, Get Down Edits, DJ Mek, Brave Giant, New Valley Wolves, Elaine Mai, The Clandestinos, 1000 Beasts, Vernon Jane, Thumper, Alan Finan, Delta Fuse, Salty Sea Dogs, Bpm, Colin Perkins, A Different Animal, Order of The Mess and Ciara Brady.
Winner of IMRO Festival of the year at the 2017 IMRO awards alongside picking up the gong for Festival of the year at the "Excellence in local Government Awards", Sea Sessions has gone from strength to strength and has firmly established itself as one of the most important dates on the Irish Festival circuit.
The unique blend of quality acts and the stunning location right on the beach in Bundoran on the Wild Atlantic Way means festival goers can relax and watch international surfers battle it out in the water wander through the six different areas that make up the Sea Sessions experience.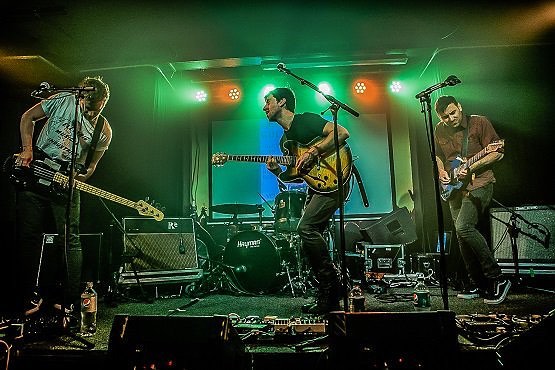 Festival director Ray O'Donoghue says "We're more than happy with this latest announcement. There's so much Irish talent out there it's great that we can make such a significant announcement with purely Irish acts. We're big fans of Delorentos and thrilled to have them back. Chasing Abbey have been played off the Radio and are definitely going places. Jerry Fish will be performing and also on MC duties for the weekend. With just over 2 Months to go we can't wait for our 10th Birthday this year.
"And while the music is crucial, Sea Sessions is about so much more with our Barefoot Olympics being played throughout the day including volleyball, beach soccer, tag rugby and this year a colour run around the scenic Roguey head.
Early Bird tickets have now sold out but Tickets are still available from all Ticketmaster outlets nationwide, www.ticketmaster.ie Priced from €109.90 for 3 days and €134.90 including 4 nights camping. There's also limited single day tickets available from €49.50, Surfer Bar (VIP) Upgrades from €50 extra plus Glamping options. Check: www.seasessions.com  for more details.
Over the years such luminaries as Tinie Tempah, Paul Wellar, Bastille, Seasick Steve and loads more have graced their unique stages. The Festival started way back in 2008 as an after party for a Surfing Competition. Now it holds the top Surfing Competition in the country as well as hosting the worlds top skateboarders, BMX'ers and loads of beach sports. Supported by and working with Donegal County Council and Failte Ireland the event has become an important kick start to the tourist season for the capital of Irish surfing in Bundoran.