Top Drink options for Bia Bundoran
Food and drink in Bundoran go hand in hand and as well as a multitude of food options this festival weekend, there's also plenty of drink available too, including our very own exclusive limited edition Roguey Pale Ale brewed just four miles away in Ballyshannon at Donegal Brewing Company!
Check out the options below!
Roguey Pale Ale
This exciting new addition to the market will be exclusive to the Bia Bundoran Food & Drink Festival across the weekend of the 20th-22nd September 2019! Inspired by the famous bracing Roguey Walk which hugs the coastline of Bundoran in south west Donegal, Roguey Pale Ale captures the refreshment you feel as you stroll this stunning headland with its breathtaking views of Donegal Bay on the Wild Atlantic Way.
It will be available on draught in Madden's Bridge Bar, The Chasin Bull and Dicey Reilly's Ballyshannon and in bottle at outlets right across town.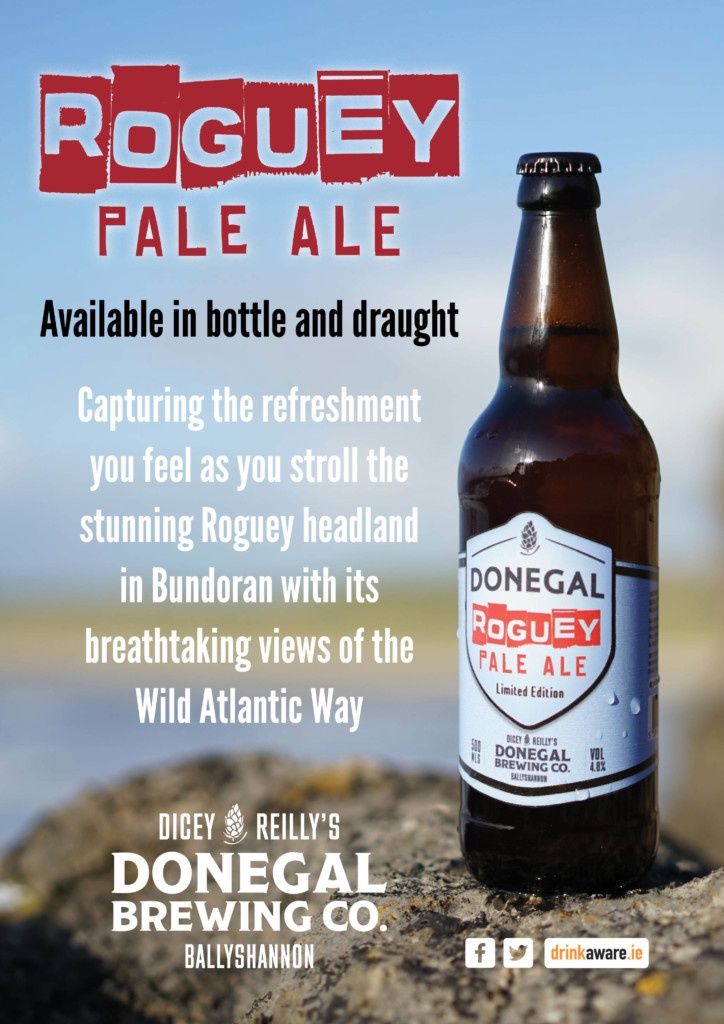 Gin Master Class
Are you a gin fan? Here's your chance to prove yourself alongside an expert from the Sliabh Liag Distillery across Donegal Bay in Carrick! From 2-5pm on Saturday 21st September, take part in a Gin master class at Madden's Bridge Bar.
Welcome Drink,
Meet the Sliabh Liag Distiller,
Tasting Plate,
private gin tasting session (groups of 6 with Gin Expert, more informative with smaller groups)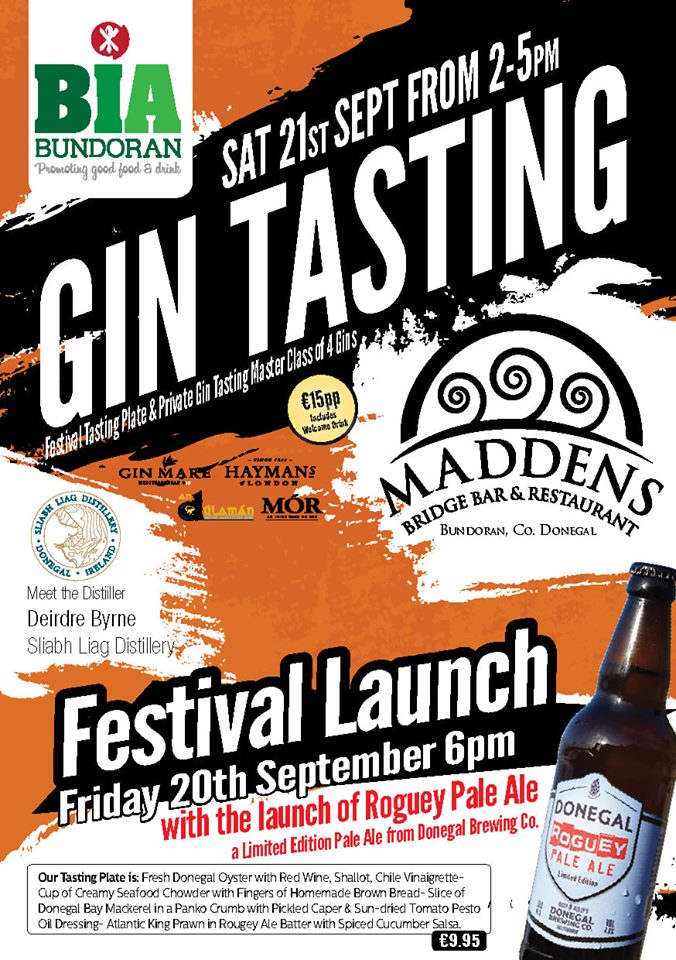 €15pp. Pre-booking essential – call 071 9841586
Quay West Premium Solero Cocktail
Looks like we have an Indian summer and what better way to enjoy it than with a cocktail that tastes like Ice Cream! The premium Solero cocktail is available across the weekend to celebrate the launch of the brand new cocktail menu at the Allingham Arms Hotel. With fresh and tropical flavours it tastes just like the ice cream! There's special offers on all cocktails for the Bia Bundoran weekend only.
"The Birth of Roguey Pale Ale" – Beer Tasting & Brewery Tour
Saturday 21st September – 17:30-18:30 | Dicey Reilly's, Market Street, Ballyshannon | €10pp. Pre-booking essential – call 071 9851371
You've tasted the beer, now see how it's made. Take a behind the scenes look at the creation of the brand new Roguey Pale Ale in this exclusive tour at Donegal Brewing Company in Ballyshannon. Learn how the barley, hops and water are brought together to give that smooth taste which is released exclusively for Bia Bundoran on tap and in bottle. Relax afterwards with a taste of some of the beers brewed there.
For more click here
Wine Tasting – Fitzgerald's Bistro – THIS EVENT IS NOW FULLY BOOKED
Friday 20th September – 19:00-21:00 | Fitzgerald's Bistro, West End | €35pp. Pre-booking essential – call 071 9841336 – This event is now booked out. 
We barely had the event programme released before we were told that this event was already booked out!!
The Bistro in association with one of Ireland's most reputable wine Merchants will host an evening Wine Tasting. This will include 6 wines both reds and whites for tasting paired with matching plates of food both individual and shared plates. There will be a complimentary glass of sparkling wine and canapés/nibbles on arrival followed after the wine tasting by cheese and port. Details and a brief discussion about each wine will be given and guests will be welcome to participate in the discussion. We envisage a relaxed and comfortable evening for all those taking part.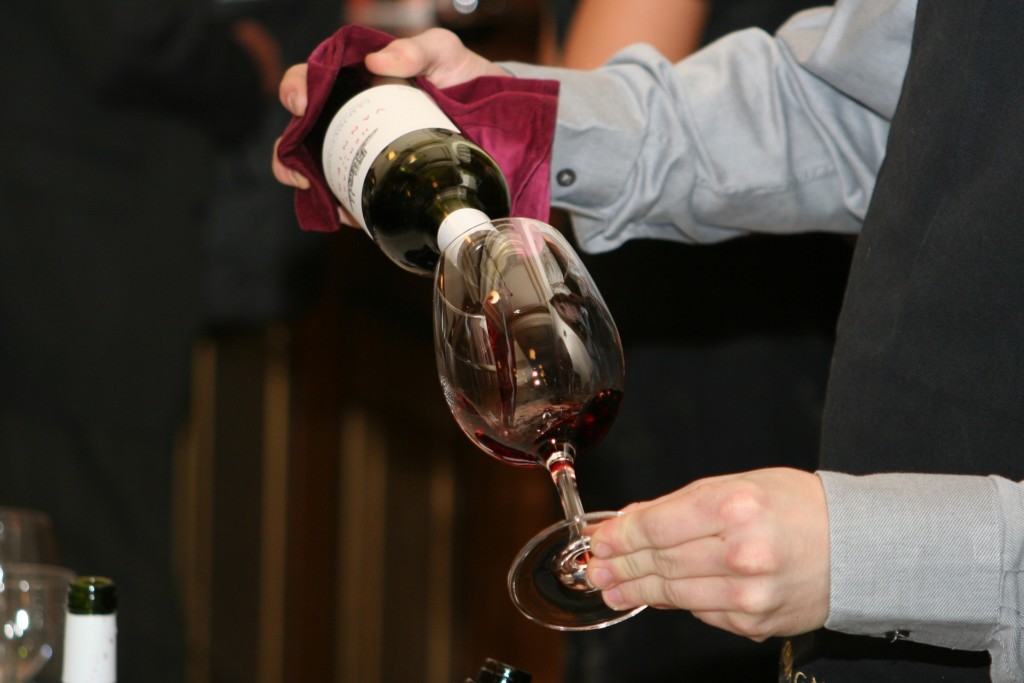 Fancy a burger for the weekend? Read about the top burger options for the weekend 

here
Sit and relax with a homebaked goodie! Check out the info here
There's also lots of seafood options! Read about them 

here