Top Seafood options during Bia Bundoran
One food item you'll find a lot of available this weekend for Bia Bundoran is seafood! Sitting right on the Atlantic Ocean, Bundoran is a prime location to get the freshest of fish with over 70 species available in Donegal Bay alone!
Here's just some of the seafood options available for the festival weekend (Friday September 20th – Sunday September 22nd 2019 only):
Madden's famous chowder
The chowder at Madden's Bridge Bar will have you coming back for more. Available as part of their taster plate across the weekend, you can also try some fresh Donegal Bay mackerel and award winning Traigheanna Bay Oyster!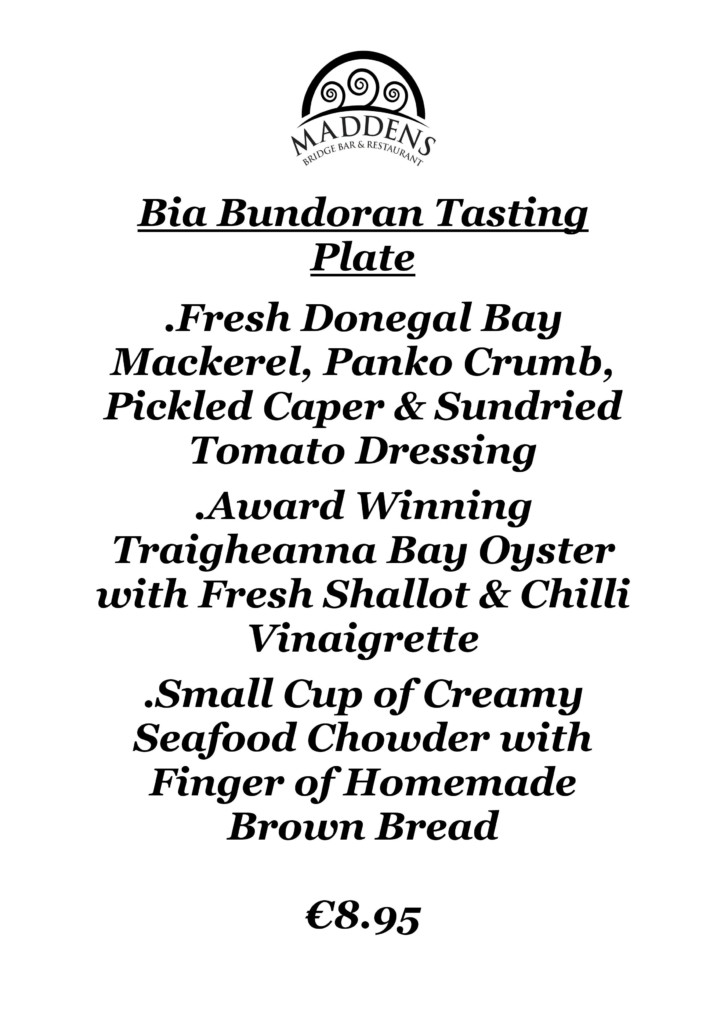 Fruits of the Sea at the Holyrood Hotel
We are lucky to be based down the road from Killybegs, the largest fishing port in Ireland so the Holyrood Hotel are celebrating fresh fish. They are proud to serve, support and promote local and sustainable fishing. Their menu will showcase some of the best fresh fish available.
Fisherman's  Pie – A Selection of Fresh Fish in a Creamy Sauce Topped with Velvety Mashed Potato – Available on the Carvery Menu 12.30- 8.30pm
Fresh Beer Battered Cod Served with Mushy Peas, French Fries and Tartare Sauce – available on the bar menu – 5pm – 8.30pm
Due of Cod & Sea Trout Served with a Rich Saffron Sauce – available on the Dinner Menu – 6pm – 8pm
Stakes "By The Sea" special
Also well known for their delicious chowder, Stakes restaurant on Main Street will offer 2 Bundoran seafood specials for the weekend!
Fancy a burger for the weekend? Read about the top burger options for the weekend 

here
Sit and relax with a homebaked goodie! Check out the info here
Check out all the great drink options for the weekend here
For more on what's happening across the weekend see www.discoverbundoran.com/bia