Reeling in Bundoran – 2015
Bundoran 2015 continues with more media coverage, the World Boat Angling Championships and a damp night for fireworks! As usual we remind you that this is not a comprehensive retrospect of everything that happened – just a few memories which we hope you enjoy.
Brochure Cover
The cover photo of the brochure was taken by Claudio Salviato at our fireworks display the previous July.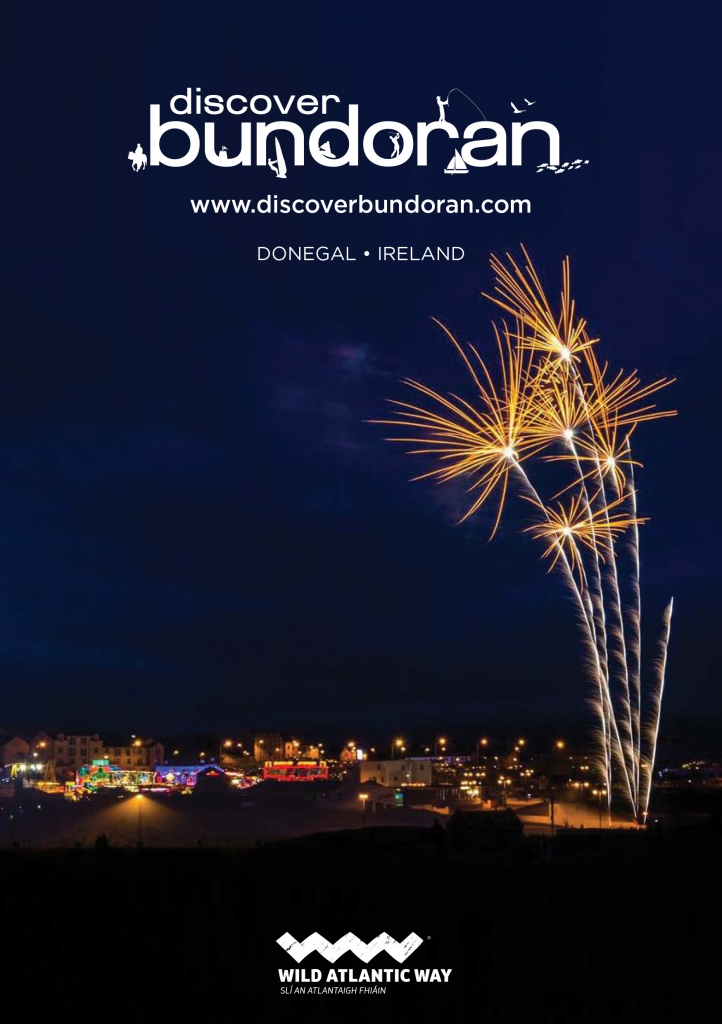 Kicking off UTV Ireland
A good start to 2015 as Bundoran featured on an ident for the new UTV Ireland. This video was played hundreds of times before various programmes on the channel throughout 2015.
Stormy!
A little bit of foam on the beach on January 12th!
Winter Conference
The legendary Irish goalkeeper Packie Bonner was on hand to launch the 2nd annual Transatlantic Connections conference in January. He is pictured below with Institute of Study Abroad Ireland directors John O'Connell and Niamh Hamill.
Still wintry
A light dusting of snow in mid January
Back to Belfast
Our Holiday World promotions brought us to Belfast where UTV's Julian was more than happy to help us promote Bundoran. He is pictured with Tourism Officer Shane Smyth and Waterworld general manager, Anderson Keys.
Funny man
Donegal's funniest man Conal Gallen performed in the Great Northern and became one of the first people to pose with our new Discover Bundoran logo board.
50 shades
BMG Hardware were more than willing to get involved in the promotion of the newly released 50 Shades of Grey at Eclipse Cinemas in February.
Fan of Bundoran Bressie stopped by to say hello in March.
And it snowed again…
Dustin loves us… really.
Having once called Bundoran a kip (!!) we managed to convince Dustin to have a read of our new brochure!
Cara 5k introduced.
The Cara 5k was introduced in 2015 on Friday 13th of March with another record crowd taking part in the main 10 mile event on Saturday 14th.
We had quite the lineup for St Patrick's Weekend!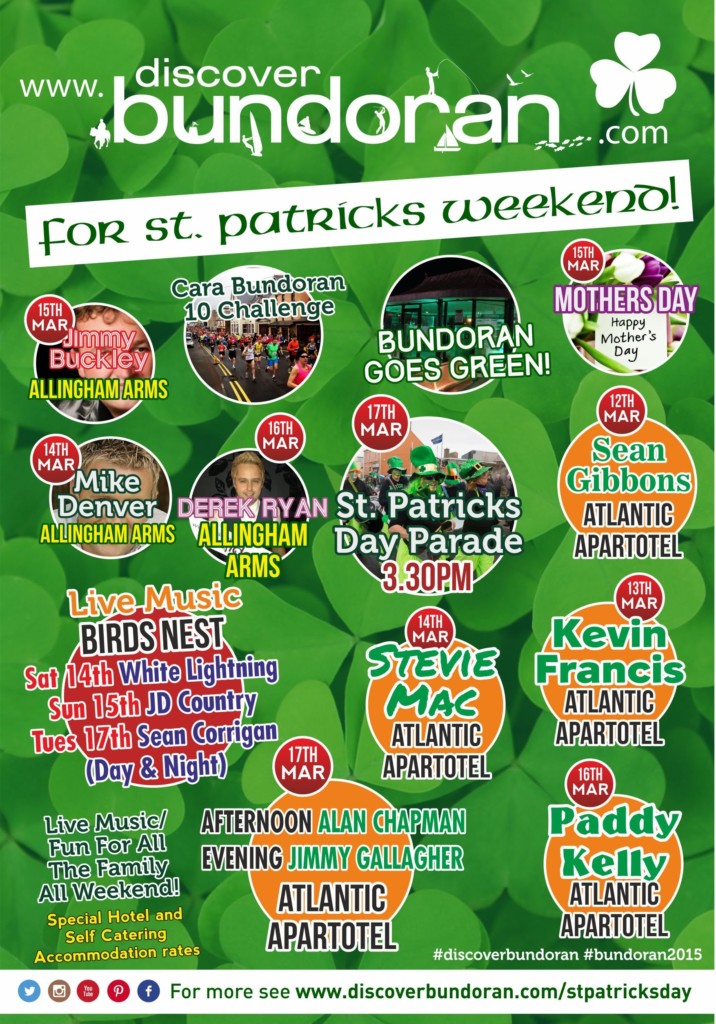 And we turned some of the town green!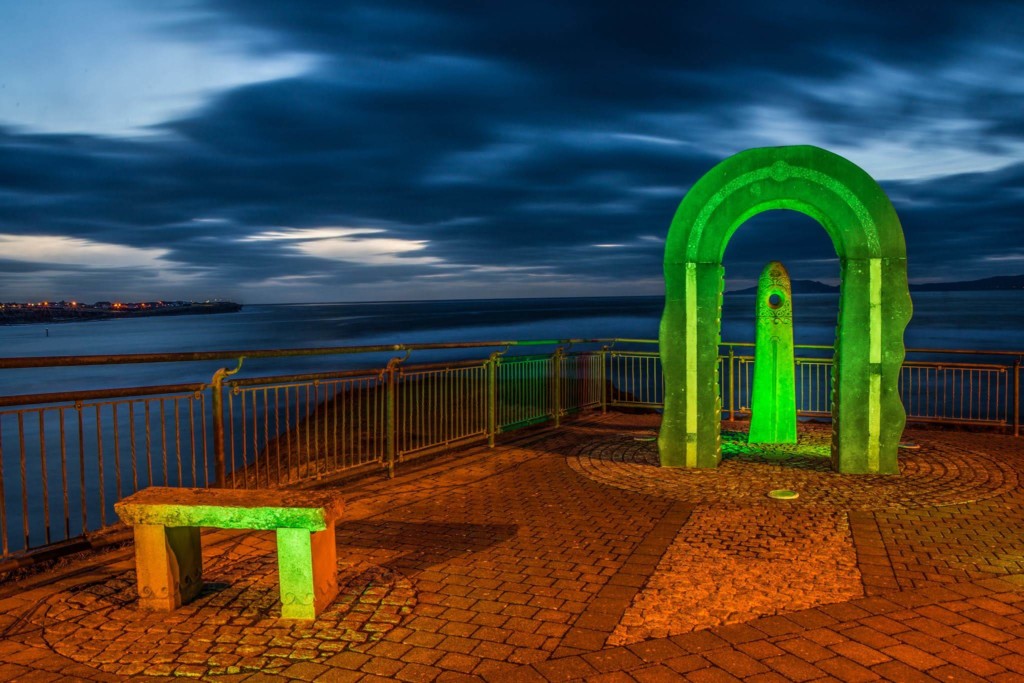 This slideshow requires JavaScript.
Check out more images here
Sea Sessions
Sea Sessions in June welcomed Example, Seasick Steve, Maverick Sabre, Black Grape and more!
This lad was definitely in Bundoran for a good time at Sea Sessions!
Mullingar Band "The Academic" were just one of the bands playing Sea Sessions in 2015
Flying the flag
The Blue Flag was once again awarded in 2015 – it is proudly held here by lifeguarding brothers Brian and Tommy Patton.
It was carnival time again in July….
This time we weren't so lucky with the weather for the fireworks though. It rained like never before before and during the fireworks display. We still managed to get some great pictures though!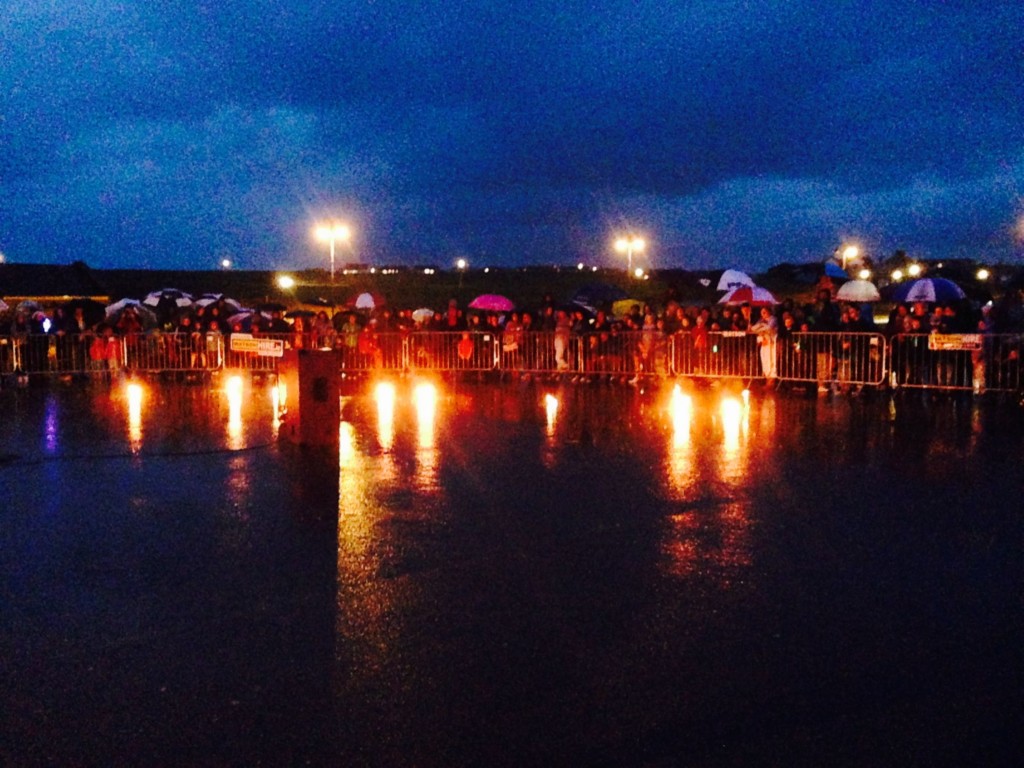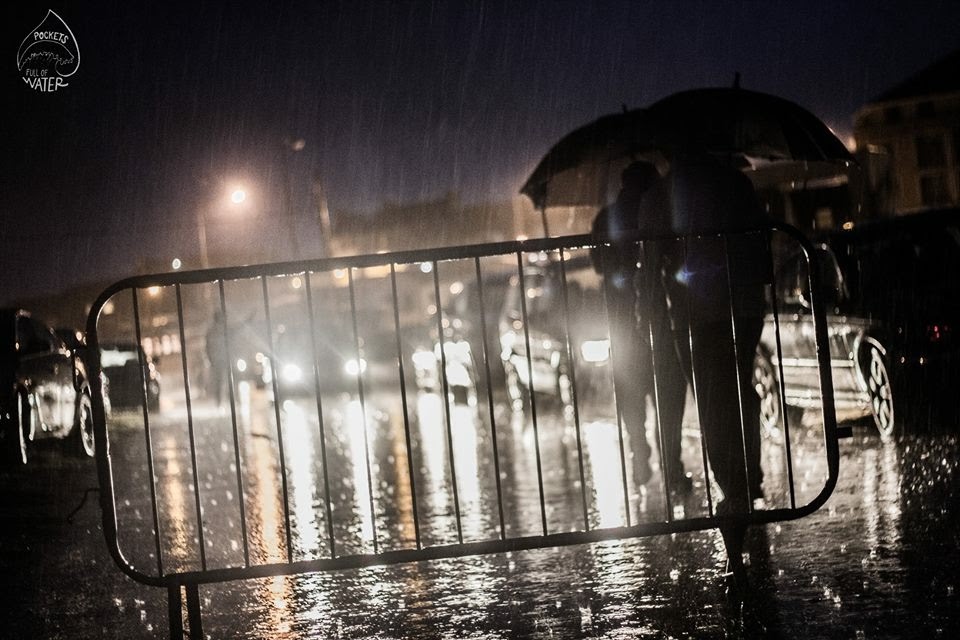 Finally sunshine
The sun shone the next day though – Sunday 19th July for the first annual Vintage & Classic Car Show that would take place in the West End Car Park – where it continues each July to this day!
The sun also kept shining for our Street Party on Main Street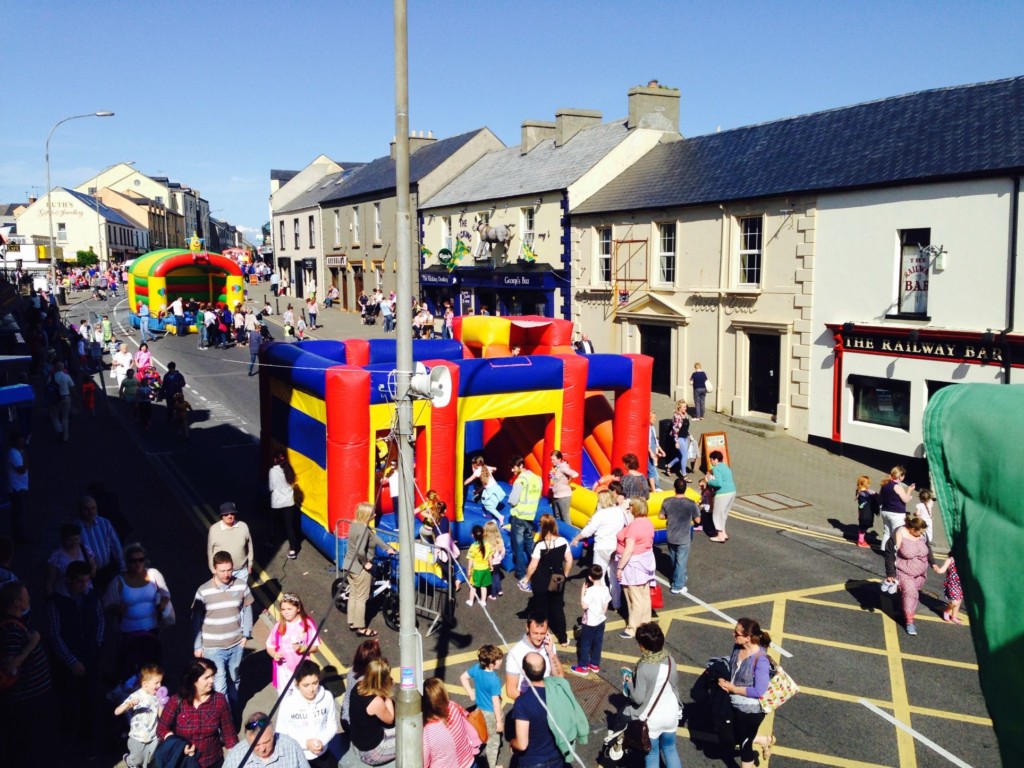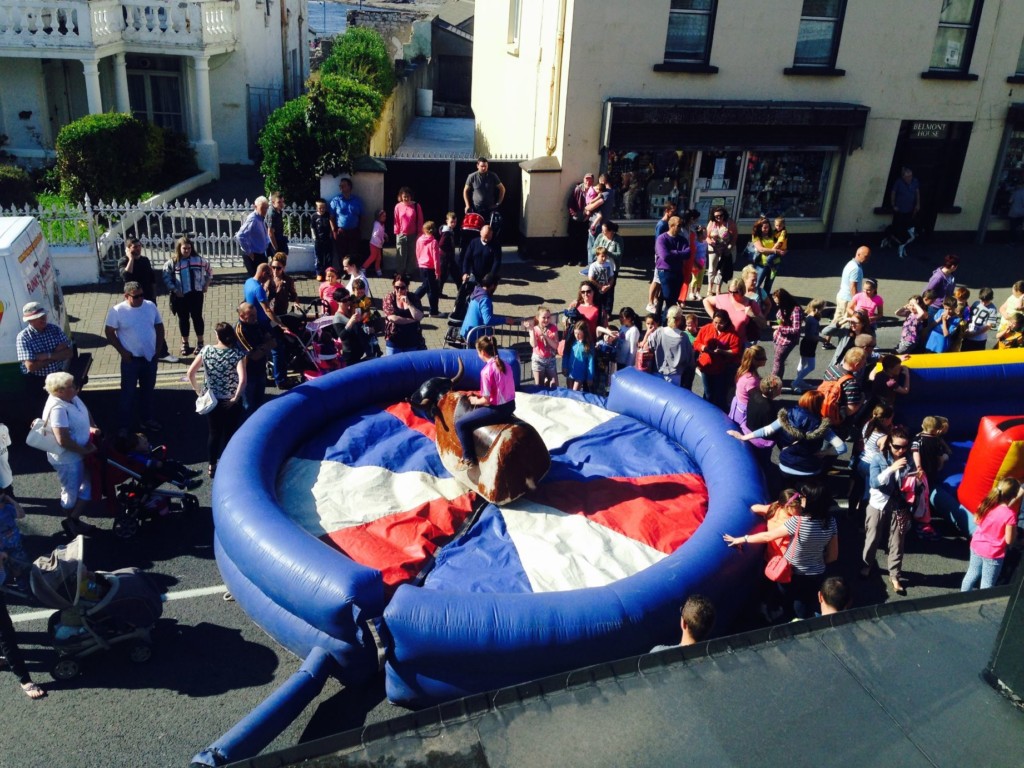 Imagine…
On the 5th of August the John Lennon Educational Tour Bus pulled up outside the library and offered local young musicians the chance to have their music recorded in its on board studio.
Fishy events…
As September rolled around we got ready to welcome anglers from across the globe to Bundoran and Mullaghmore for the World Boat Angling Championships which were being held between the two locations with the headquarters for the event at the Great Northern Hotel.
On the 13th of September, the opening parade took place which saw each nation march down the Main Street and up to the Great Northern.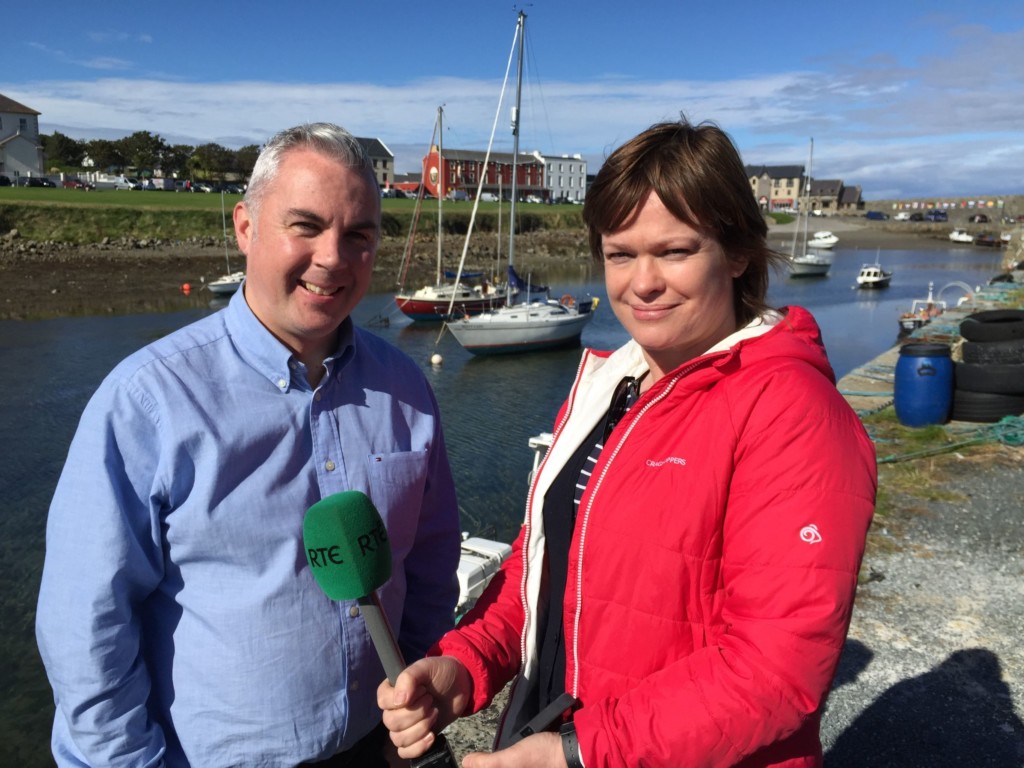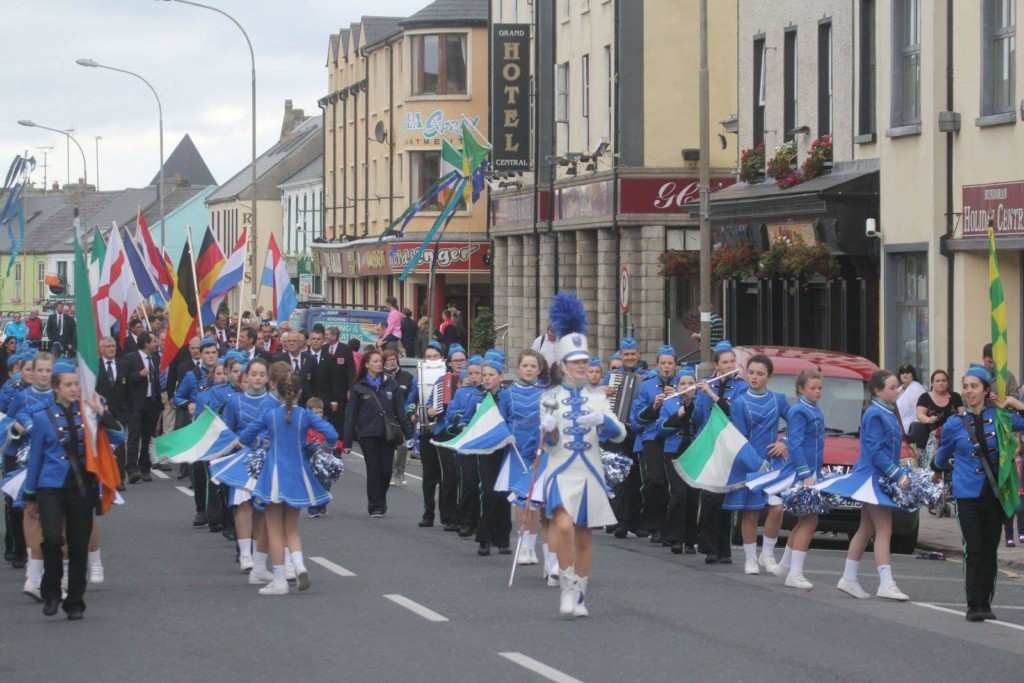 You can see more pictures from the opening ceremony below
Morris Dancers in town
At the start of October we welcomed the Wessex Morris Men to Bundoran. They are affiliated with our English twin town of Sherborne through the Douzelage Town Twinning Network. They went to Magh Ene College, St Macartan's and also did some "Dancing by the Sea"!
#Realt
Our local football team Realt Na Mara (Senior Squad) got to the Donegal intermediate club final and played Naomh Colmcille in Letterkenny on October 25th. They won the game becoming intermediate county champions. They went on to play Glenavy of Antrim and beat them 1-12 to 1-07  to reach the Ulster Intermediate Club Championship Final v Loughinisland which they sadly lost on Sunday 29th November.
Check out the highlights package for that year's dinner dance.
Daniel and Majella.
Daniel and Majella O'Donnell's B&B Road Trip was a new programme on UTV Ireland. Where better to start than on beautiful Tullan Strand!
Enterprising
Bundoran hosted the Bank of Ireland Enterprise Town event on November 13th with special guest Tyrone GAA football manager Mickey Harte.
Christmas Day
If you've been following each year up until now you'll have noticed the swim crowd getting gradually bigger year on year! Here's the lineup from December 25th 2015.
Check out the rest of our decades blogs here:
Don't forget to check us out on Instagram here