Ballyshannon Folk Fest this weekend
The Ballyshannon Folk and Traditional Music Festival, the longest running folk festival in the country, returns this bank holiday weekend!
For the past 45 years on the last weekend of July, the historic town of Ballyshannon in County Donegal has presented a Folk and Traditional Music Festival. The last two years we had to go virtual, but we are delighted to announce that we are back and our 2022 festival will take place from the 28th to 31st July.
Rock n'Roll Kids On Thursday 28th July, our first concert will come live from the Abbey Arts Centre at 8.30pm – join Ballyshannon's own Charlie McGettigan and Paul Harrington as they celebrate their 25th anniversary of winning the Eurovision. Mick Blake who won last year's 'Song for Ballyshannon' will also perform on the night.
Where Music & Art Meet This year, Ballyshannon Folk and Traditional Music Festival is delighted to again present an exhibition of original art by their resident artist, Barry Britton. This exhibition will be launched on Thursday 28th July at 7.30pm in the Abbey Arts Centre and will be live in the centre over the weekend. Dee Armstrong (Kila) who features on this year's iconic poster will also be in attendance. This is also be the opening event of this year's festival.
Showcase Our Showcase, took place on Thursday 30th June in the Abbey Arts Centre. This event allows Ballyshannon Folk and Traditional Music Festival to showcase emerging talent, with the winning groups and solo artists winning cash prizes and a platform to perform on our main festival stage. The winners of this year's Showcase are: Seannach, Enda McGloin and Friends, Padraig Bennett and Michael Hagan.
Jam at the Dam This is a unique concert on the banks of the Erne, Jam at the Dam takes place on Saturday 30th July at 11am in Cathaleen's Fall Hydro Electric Power Station on the Belleek Road in Ballyshannon.   This free fringe event of the 45th Ballyshannon Folk and Traditional Music Festival will feature an intimate concert with music from local musicians, Meitheal.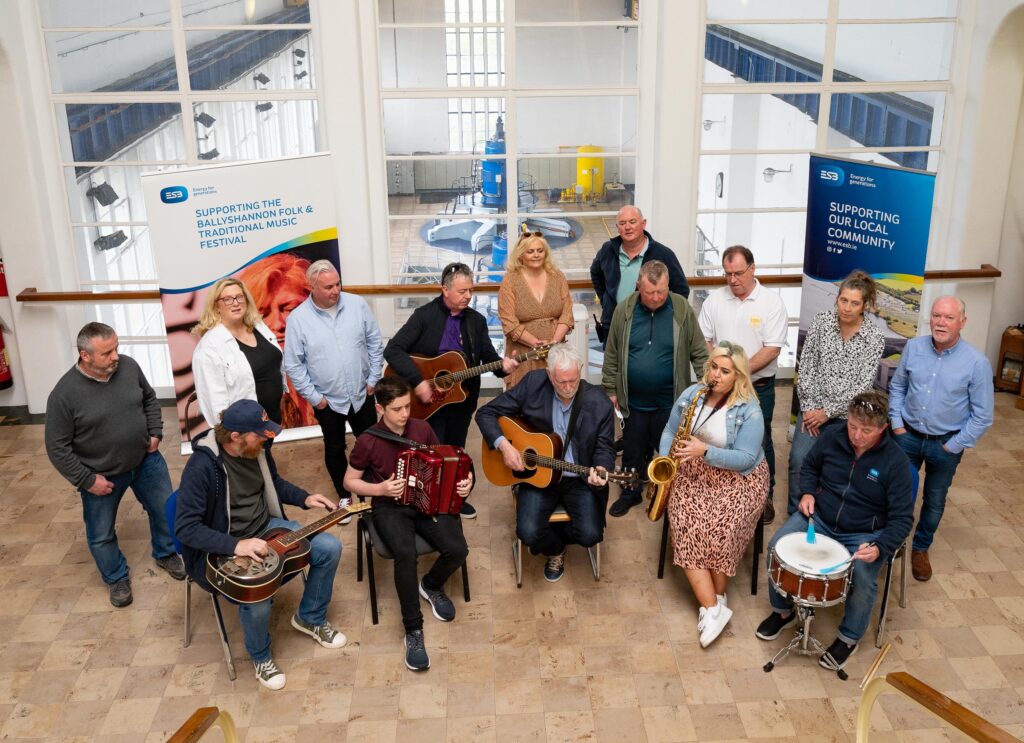 Legend Sessions – WHERE JOHNNY MEETS In the sixth of the series of LEGEND SESSIONS a tribute session of two musical greats who, although no longer with us in this life continue to have a major influence on our musical heritage, will be hosted. This year Sandy Denny (Fairport Convention) will be joining the music of Donegal fiddler, Johnny Doherty who died in the Rock Hospital in Ballyshannon in 1980. This gig attempts to create the session that might have taken place if they had travelled through time and space to Ballyshannon. This year's session will be recreated by Cathy Jordan (Dervish) and Seamie O'Dowd and really will be one not to be missed! It will take place on Saturday 30th July at 12.30pm in the Bridgend Bar.
The Sunday Folk Club ONE of the most influential guiding hands of the Irish folk scene joins us for our Sunday Folk Club. Nearly everywhere you look in the development of Irish folk music in the last forty years you'll find the hand of Declan Sinnott. He was a founding member of both Horslips and Moving Hearts, spent 13 years guiding the career of Mary Black and played guitar for folk luminaries including Mary Black, Sinead Lohan, John Spillane and the great Christy Moore. Declan Sinnott plays The Thatch, Ballyshannon on Sunday 31st July at 12 noon for a very special intimate concert. Declan will be joined by singer, Victoria Keating.
Masterclass – Declan Sinnott Declan Sinnott and Victoria Keating will also host a singing and guitar Masterclass in the Green Room, Abbey Arts Centre on Saturday 30th July at 4.30pm. This will be a unique opportunity to sit and learn from a master of his craft.
Festival Concerts – Live in the Marquee –Friday/Saturday and Sunday at 7.30pm:
Featuring Dervish, Kila, Mairtin O'Connor, Cathal Hayden, Seamie O'Dowd, Eleanor Shanley and Garadice, No Crows, The Messages, Dave Munnelly Band, The Muddlers Club, The Red Cortinas and lots more.
Add to the mix some great Street Entertainment all weekend featuring The Ronan Gallagher Band, The Porter Bellys, Mickey Joe Harte, The Red Cortinas, Brian Sweeney and Friends and lots more, lively pub sessions, fringe events and workshops – this leading festival still has something to cater for all tastes 45 years later!
Thanks as always must go to our overall corporate sponsors the ESB for all their help and support with realising our dream. Speaking at the launch of their sponsorship, John Gallagher, Plant Manager, Erne Stations said that the "ESB is delighted to be the main sponsor once again for the 45th annual Ballyshannon Folk and Traditional Music Festival. For 70 years, ESB has been generating electricity in Ballyshannon and we are proud to continue our long history of support for the festival, local artists and the community. The 'Jam at the Dam' at ESB's Cathaleen's Fall station is always one of the highlights of the festival. We would like to wish the organising committee and everyone involved the very best of luck for the weekend ahead."
Ballyshannon Folk and Traditional Music Festival would also like to acknowledge Diageo, Failte Ireland, the Department of Tourism, Culture, Arts, Gaeltacht, Sport and Media, Donegal County Council, The Sandhouse Hotel, Argento Jewellers and our local sponsors for their assistance.
The people behind Ballyshannon Folk & Traditional Music Festival hope you will join us in appreciating some great music, song and laughter as they celebrate their 45th Ballyshannon Folk and Traditional Music Festival – the oldest festival of its genre in the world – coming to you from the oldest town in Ireland.    For a full list of all events check out www.ballyshannonfolkfestival.com
The Bundoran Weekly Podcast
Check out the latest episode of our weekly podcast below! To find out more click www.bundoranweekly.com