At home with Johnny Gallagher
Johnny Gallagher is a renowned guitarist across the world but loves nothing more than playing a gig to his home town crowd. Shane Smyth caught up with him ahead of one of those gigs. Watch the video of this interview below.
– What's so special about a hometown gig?
– Well, I need a home gig fix. It's a seasonal thing. I need my winter fix and my Spring fix. And you know, whatever happens then in summer. I love playin' in Bundoran. I've been playing in Bundoran for a long time now and it's still one of the most magical places to play out of everywhere else.
– I'm sure you've no shortage of you're looking down in the Apart or wherever you're playing in Bundoran and you're seeing all the familiar faces and I know with your legions of fans all over the world as well that you have, you'll be seeing familiar faces popping up in front of you, but I'm sure it's pretty special.
– Ahck, it's special all the time. I love looking down at people that I know and that I share something with. It's nice to look down at people, too, who you don't know and, you know, give them something. Share something with them. Share maybe a wah with them or you know. Yeah, but Bundoran, as I said, is special. It's lovely. Bundoran is a great town, always was. It's a fantastic time to play music, you know, still.
– Of course, Sean obviously thought that would be where the influence came. What age did you start picking up an instrument?
– Well I was playing, I was touring out of Europe at a very young age. I start to play music in my early teens, I suppose. Maybe even earlier. I can remember I used to play the drum. Not the drums. Single.
– Just the one drum.
– I played the drum.
– Right.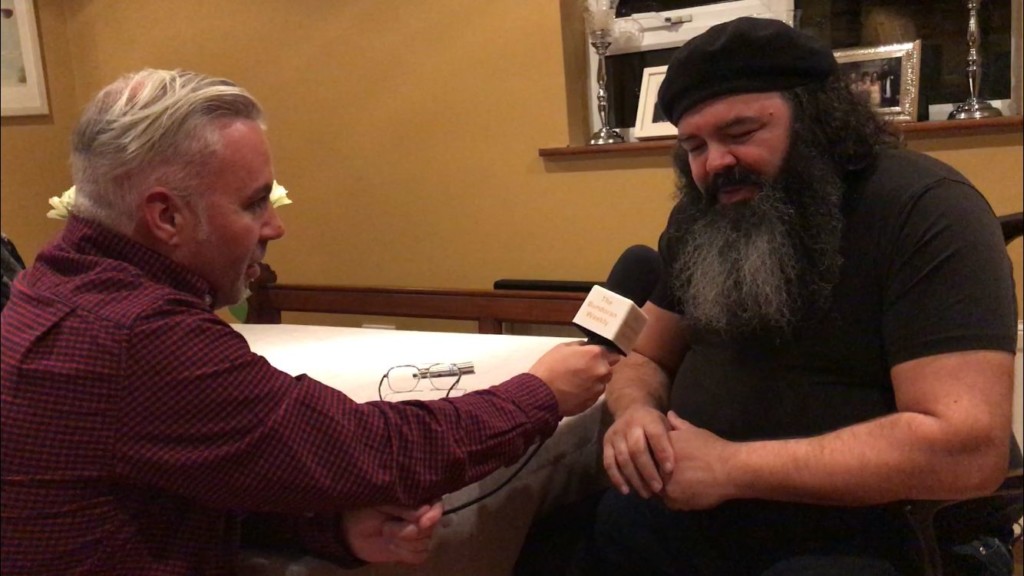 – I used to play a drum, an old snare drum, with my dad back at the very start of it. Myself, dad, and Pat Kelly. And we used to do the Arch Way Inn and we used to do the Long Lounge, the Fishing Lodge, the Royal, the Maghery. Then I aspired to the bass guitar. And then things got Johnny Mulreaney came into the band and we turned into a three piece band with a drum section. And that was all in the very early playing with dad, you know? I could have been 12 or 13 or something like that, you know.
– And was music the dream then? Did you think this what I want to do and this is, I'm going to do this, by God?
– Possibly not. Because I was a cub. And sure as a cub, you know, I would of dreamt of possibly motorbikes and things like that, you know? The music was given to me possibly without a choice. I just took it for granted that was the way it is. You know? Where once upon a time, I did believe in time travel and all of this and I wanted to be this and I wanted to be that. But there's no mistakes. You know? Following whatever way it came my way, the musical way. You know, I went with it and shoot, that's it.
– And then there comes a lot of travel with your profession. You're just back from Monte Carlo. Like Monte Carlo sounds fantastically exotic to me and to be a lot of people that will be listening. Do you ever tire of places like Monte Carlo? What kind of gig do you prefer to do?
– Really and truly all you have to do is plug me in and tell me to go.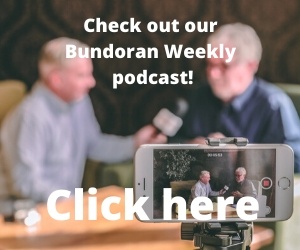 – Okay.
– And I just do it. I have to say. I have to say. Monte Carlo was an incredible place to play music. Especially when you're brought to play in the Grand Opera House. I have to say I've never been in a place like it in my life. It's absolutely spectacular. And to perform there was totally overwhelming. We fronted for Buddy Guy along with my good friend Manu Lanvin from France. That was the three acts on the night. And then Buddy called me up onto the stage with him to play with Buddy Guy and that was totally, I still haven't come down from that. I'll come 'round. I'll come around half-way through the gig in the apart.
– Talk to me then about who you have played with. You've supported the likes of Iron Maiden and ACDC and all of these guys. Is there anybody left that you want to play with? Or, you know, do you get starstruck when you're asked to perform with these guys?
– Ahck, you don't get starstruck. I was when we
– I know you're a professional at this stage but
– Ahck, I don't know if it's starstruck, but yeah you would be, you'd be in the position where you'd sometimes be in awe. Like we were, when we were dining out in Munich there with Iron Maiden, you know, I said to the guy, he's in a , I said, "Hey Johnny, pass me over the mustard", you know? Ah no bother, right? You know, we were all in the sub part tunes and Sean and we're sittin' 'round sort of, you know, grinnin'. But nah, you don't get, it's not stage struck. But I just love gettin' into it and bein' stirred around and havin' the craic, you know? But then you have to do your show. And you have to be in form to go on the stage. You have to give that 100%. So you have to be on tune and plugged in all the time, you know? Because you're there, obviously, for a reason. And that reason is them. For us to perform good music. But it's great. I love playing with the big bands. And, like, as you said, this year was a great year. It was probably one of the best years we ever had working with the bigger shows and playing in some of the stadiums. But it's, um, yeah.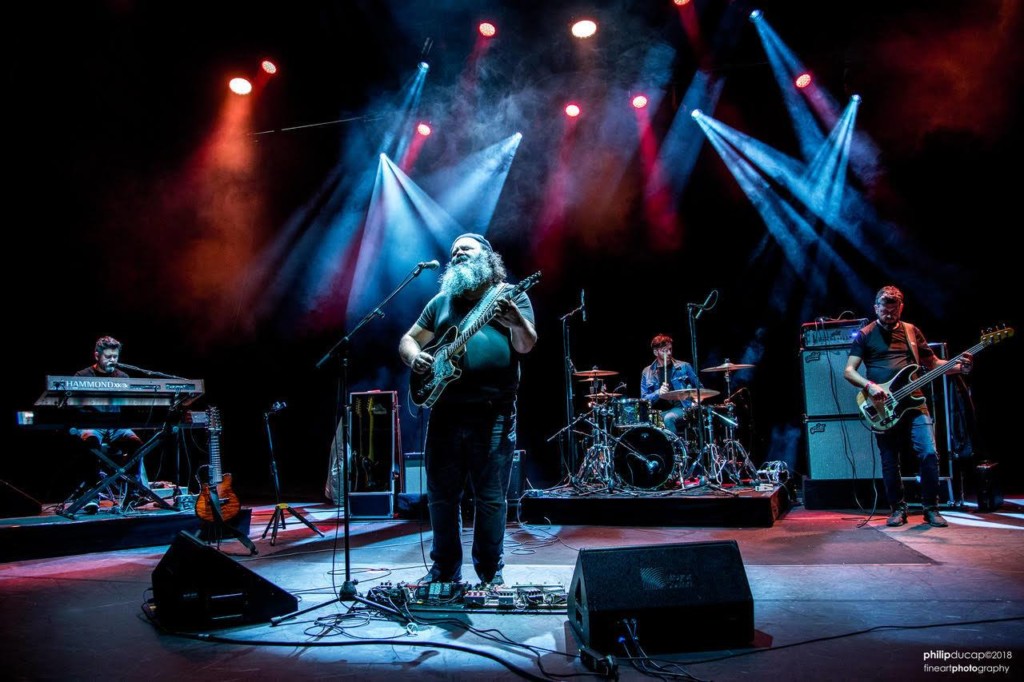 – You're one of the very few lucky people, I suppose, that get to what you love for a living and you also get to do it with your two brothers, which must be amazing as well.
– Aye yeah, me self, Pauric, and James. I think. We're pretty much inseparable now at this stage. We might as well see it through to the bitter end. You know, we've come this far. And sure, I love it. Because I do be on my own. I spent some of the part of the year this year touring with a sort of a road show. And it was myself and five other guitar players from around the world and we were touring around and doing gigs and I was on my own. And I was pretty much my own man and I'm not used to that. You know? I didn't know if I was lonely or if I didn't know if I was bored but I just wasn't myself. You've nobody to talk shite with or you've nobody to thump or do a bit of wrestlin', you know? So I love being with Pauric and James and Sean. It's very much part of me and it sort of completes me and it completes the whole unit. But as I say, it's great to be away and I'm sure it's no harm for a wee bit of change to work with other people like. But the whole Boxtie thing, it's very much the four of us, you know?
– In terms then of deciding for a Saturday night like, your sets, I know obviously have your staples that you go to all of the time but are you thinking sort of mid-week, it's like, God you know what, we'll root that one out or we'll root this one out or do you kind of plan?
– The funny thing about the Boxtie Set is we have about six songs in the Boxtie set that sort of turn the night. These six songs that we play normally sounds like something we don't change our set because of the power of these six songs that we have. We could be swapping them, changing six other songs but they seem incoherent. But there's a few songs in the Boxtie set that will never be taken out. They'll always be there and they'll always be very much a part of what I do. And that's well and good, you know, that decision's made. But, as I said, we always bring in old songs that we would have played 10 years ago and 20 years ago. But we constantly try and bring in new songs, new original songs. Like the last album there we made. We were playing four or five songs off the last album every night. Which is cool. But Bundoran and the likes of the Apartotel, it's different because we'll be throwing everything from the kitchen sink into the program. And Black Betty will be comin' out, and Honkey Tonk Woman will be comin' out, some U2 will come out, some Cure will come out. That's just because that's Bundoran and Boxty does that in Bundoran. But when we are, for instance, over the last few nights there, we're just left of doing 21 nights away. We only got back yesterday. We have pretty much a routine set. A set that we don't even have to look at each other. We, you know? It's sort of written in stone from February we start working the set out and January and February, and then we tour that set for all the bigger concerts and all the bigger shows and it's a sort of a set between 45 minutes and 120 minutes. Give or take six songs. I work in sixes.
– Right.
– But, yeah. But everything and anything could come out at the Apartotel gig, you know.
– Well I know everybody is looking forward to it and I know we always love having a Boxtie Gig in Bundoran and we look forward to many more and Johnny, thank you very much for joining us.
– Well thank you very much. I'm delighted to be part of this Bundoran Weekly thing. Hey! Do you want a coffee?
If the video doesn't load, please click here
Find out what gigs are on in Bundoran by clicking here or on the button below.